For Cal Fans, Revisiting the Disappointment of 2004 Is Filled with Mixed Emotion
December 20, 2011
Ezra Shaw/Getty Images
Since the bowl matchups were announced on December 4, sports pundits have been busy crafting compelling storylines for this year's games. 
Among the narratives, the Fiesta Bowl's been labeled a gun-slinging showdown between the NFL's certain No. 1 pick, Andrew Luck of Stanford, and the NCAA's prehistoric equivalent, 28-year old Brandon Weeden of Oklahoma State. 
The Rose Bowl's been hyped as the convergence of Pac-12 athleticism against the ground-and-pound of the Big 10, and the National Championship Game offers the intrigue of Alabama coach Nick Saban vying for the title against his former team.  But perhaps no bowl matchup features more genuine acrimony than the California vs. Texas, Bridgepoint Education Holiday Bowl. 
Why the bad blood?  Following Texas' 26-13 victory over Texas A&M in the 2004 season's final week, Longhorns coach Mack Brown publicly lobbied for his team's inclusion in the Rose Bowl.  With an identical record, and despite having trailed Cal in the BCS rankings for several weeks, Texas got its wish, denying Cal its first trip the the Rose since 1959. 
As a fourth-generation Cal grad and senior at the time, I watched the announcement in disbelief.  What had been our undoing?  Were we being punished for not thoroughly drubbing Southern Miss in the final game or was Brown's meddlesome behavior to blame?
The frustration that builds from your team's greatest success occurring more than 50 years ago can be formidable, and Mack Brown's eleventh-hour stumping triggered an all-too-familiar disappointment.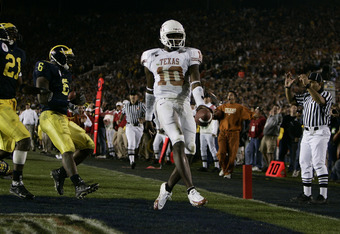 Donald Miralle/Getty Images
It reminded Cal fans of their history's cyclical nature: That with every taste of success and hint of expectation, a larger dose of frustration had always been dealt. 
After enjoying brief success in the early '90s, and following a 10-2 season and Citrus Bowl victory, Coach Bruce Snyder left for Arizona State and passed his headset to alleged offensive guru Keith Gilbertson.  "Gilby" promptly sent the program into a nosedive, totaling just 11 conference wins in 32 tries. 
Then, after one season as head coach and following the optimism of Cal's first bowl game in four seasons, Steve Mariucci left to head the 49ers, but not before he could appoint Tom Holmoe to replace him.  Through some perverse cosmic force, Holmoe clung to his job for five stomach-churning years without ever winning more than three conference games in a season.
Such was the backdrop for Cal's 2004 reaction.  Witnessing Brown's effort to coerce votes and sway public opinion was incensing, and reeked of hypocrisy.  How could the same man who annually declares that his most important job is developing upstanding citizens undercut notions of fair play and purity of sport?  
But Brown's pre-selection stumping wasn't all that rankled Cal fans.  Upon receiving the bid, he about-faced and further infuriated "Old Blues" with offers of his folksy sympathy.  "As happy as we are today," said Brown, "I really feel sorry for Cal.  Cal is a great football team.  The system doesn't work and we understand that." 
Translation, Brown manipulated the system then had the audacity to criticize it, and whether deniability was an effort to cloak his misbehavior or he simply failed to see the contradiction, Cal fans reacted to his maneuverings with similar indignation.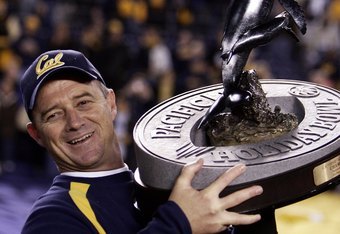 Donald Miralle/Getty Images
Now, 7 years later, and with a head-to-head matchup looming, Cal fans are in no mood for contrition on the part of Texas.  But while retribution is unquestionably on our minds, it is not the game's only storyline.
In Jeff Tedford's 10 years at the helm he has compiled a 70-47 record.  Compare that to the previous decade's 42-71 profile and it's easy to see why optimism abounds.  The Bears have won five bowl games against the likes of Virginia Tech, Miami and Texas A&M.  They've won seven of the last nine Big Games and suffered just one losing season. 
Simultaneously, Cal has produced some of the NFL's most exciting talent, notably Aaron Rodgers, Desean Jackson, Marshawn Lynch, Nnamdi Asomugha and Jahvid Best. 
And while the product on the field has galvanized Cal fans, the effect off it has been equally transformative. 
The most telling evidence has been the renovation of Memorial Stadium and the construction of the Student-Athlete High Performance Center.  Spanning more than 142,000 square feet, the SAHPC training facility has been on Tedford's agenda since his appointment, and alumni answered the bell by donating more than 100 million dollars towards it. 
Alumni have responded in other ways too.  Cal's athletic department sold just 16,000 season tickets in 2002 compared to 41,000 in 2007, a figure that's sure to rise when Memorial reopens next year.
With kickoff less than two weeks away, there's no denying that revenge makes for a sexier tagline than a program's methodical maturation.  Yes, Cal fans continue to chafe at the mention of Mack Brown and no, we haven't forgotten 2004.  But to suggest that revenge is all that occupies our minds is too narrow a judgment. 
The optimism Coach Tedford has returned to the program is too celebrated and too conspicuous for any murky sense of retribution to weigh us down.  Seven years later and with new state-of-the art facilities, a winning resume, a history of producing NFL talent and the potential for Cal's best recruiting class yet, a win over Texas could portend the ascension of Bears Football once more, this time into the nation's elite.