Johnny Knox Injury: Knox Averts Disaster as Bears Lose Another Key Weapon
December 19, 2011
Justin Edmonds/Getty Images
Johnny Knox will be fine, and that will have to do as good news for the remainder of the Chicago Bears' season. 
There are moments when certain football games lose all their entertainment value. That tends to happen when one of the players' very livelihood is put in danger. That happened this past Sunday to Bears wide receiver Johnny Knox, who looked like he had nearly broken his back. 
When you see an injury like that, the game's result has little meaning. The video posted below shows a hit that looks benign until you see the final shot, Knox bent backwards in an awkward position. 
One thing crosses your mind, and that's, "the body should not bend like that." The updates are still coming in regarding Knox. 
Chicago Sun-Times columnist Sean Jensen tweeted the following: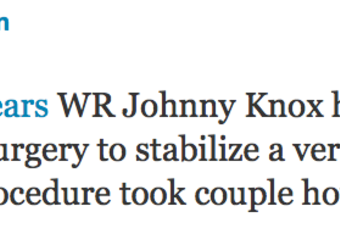 CBS News reported that Knox's future is bright, but he will not be on the field at any point in this season. The report cites a hopeful Lovie Smith on the outlook for Knox:
"He's out, of course, this year. But just looking to the future, it looks bright for him to play and to get back out there. So we're encouraged by that."
Back surgery is never anything to take lightly, but it seems that somehow, Knox will recover fully and get back on the field. That is the most pressing part of the story, but not the full tale. 
We of course have to state how much he will be missed as the Bears close out one of the stranger seasons in their history. 
Chicago was on their way to silently competing for the division and making their way onto another deep postseason run. Instead, they were hit with injuries, and hit hard. 
The Bears now cling to the hope that they can win out and see either the Lions or Falcons falter. It is a near impossible dream when you consider how abysmal the Bears' offense has been under Caleb Hanie. 
The Bears have not been able compete fully without Jay Cutler or Matt Forte, so it is hard to see how they will manage any amount of offense with one less receiver to target. 
Sometimes fate has a way of making the playoffs an impossible destination. The Bears will be happy just to get out of 2011 with a full roster at this point. 
There is hardly any good news for Bears fans to hang their hats on. At the very least, the affable Knox will be healthy, and that is definitely something to be happy about.