Neymar: Why Santos Starlet's Memorable 2011 Was Important
December 19, 2011
Lintao Zhang/Getty Images
A man locked away on the dark side of the moon for the past nine months would have had a hard time figuring what to make of Sunday's FIFA Club World Cup final. It was a strange match, mind you.
Lionel Messi scored twice and worked some magic. Barcelona ping-ponged the ball around the midfield and dominated the opposition. The Spanish giants won the match 4-0 and took another piece of silverware back home to Catalonia with them.
That wasn't the strange part. The strange part was that the game wasn't about Lionel Messi or Barcelona at all.
It's no big task to understand why. We've already witnessed Barcelona's greatness. We already know Lionel Messi is a living legend. Barcelona won Spain's La Liga and UEFA's Champions League last season, the two biggest, most prestigious trophies they were after. Lionel Messi collected another Ballon d'Or, the blinged-out hunk of hardware FIFA hands out to the best player on the planet each year.
Yawn. Excuse us all while turn our attention back to Jersey Shore.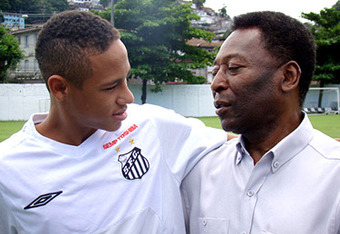 But this Neymar kid—yeah, he's interesting. With that mohawk he looks like Rufio, and with those moves he plays like a young Pele (though some would say he's more like a young Robinho, which we're all hoping isn't the case at all). He can do wild and crazy things with a ball, things only Messi—and in some cases maybe not even Messi—can do.
There's really nothing not to like.
Nine months ago, though, Neymar was just another skillful Brazilian. Talented, for sure, but still only known outside Brazil mostly by enthusiasts and connoisseurs.
In March, the 19-year-old scored twice for Brazil's full international squad as A Seleção beat Scotland 2-0 at London's Emirates Stadium. The aftermath almost overshadowed Neymar's performance. A banana thrown onto the pitch prompted angry words from Neymar towards Scotland's fans. Neymar's angry words in turn prompted angry reactions from Scottish officials.
The controversy went away, but Neymar's form didn't. In June, he led Santos to the Copa Libertadores title, the club's first since the days of Pele. Neymar scored six goals in the competition, including the opener in Santos' 2-1 win over Peñarol in the second leg of the final.
The inevitable media frenzy followed, highlighted by a report in November that Real Madrid had signed Neymar to a ridiculously lavish pre-contract. Less than a week later, he actually signed a contract extension that keeps him at Santos through the 2014 World Cup, which will be held in Brazil.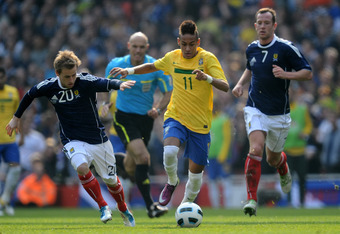 Mike Hewitt/Getty Images
Suddenly Neymar was hailed as a symbol of the new Brazil. As Sam Green wrote eloquently in the Independent:
The wider significance of the deal is not lost on Ramalho, who is known as "Professor" by his players. "Santos showed the world and all the other teams in Brazil that it's possible to keep hold of your best players. This was very important for Brazilian football. It means we can become better, our championship can become stronger. Foreign clubs always come to take our best players, but this time Santos showed it can be different."

While Europe has been tightening its belt, Brazil's economy grew by 7.5 percent last year, a record since 1986, with only China and India ahead in GDP expansion. Forbes reported this month that 19 new millionaires have been created per day in Brazil since 2007. Government figures showed in October that, for the first time in 20 years, the number of foreigners coming to live in Brazil surpassed the number of Brazilians leaving to work abroad.
Neymar played the role with gusto, too, filming a commercial that lampooned European stereotypes and reinforced his reasons for staying in Brazil. To understand those reasons, you don't need to speak Portuguese. This wasn't the first time beautiful weather and more beautiful women have influenced an important man. But it was the first time—or at least the first time in recent memory—that a Brazilian superstar-in-the-making had left the money on the table from a proposed move to one of Europe's biggest, most elite clubs.
And it had a welcomed side effect. For the first time, it gave the FIFA Club World Cup a decent storyline. In one corner stood Lionel Messi and Barcelona, world football's answer to the BCS, the elite-run, universally-hated, end-all, be-all decider of American college football championships.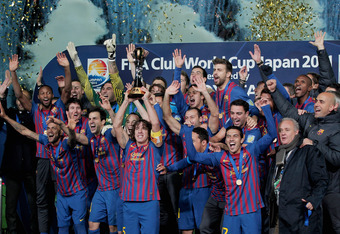 Lintao Zhang/Getty Images
Barcelona had what everybody already agreed was the best team in the world. They also had the best player in the world. And they had the pedigree, too: They played on the right continent and won the right league to be considered part of the world's elite.
In the other corner stood Santos.
Now, this isn't your classic underdog story. Santos is not Boise State, and Neymar is not Kellen Moore. Santos has long been one of Brazil's most famous and successful clubs. Pele played there, for heaven's sake. But they're not a European club, and they don't have all the fancy European-based (see: transplanted South American mixed with Europe's best) stars. But they did have Neymar, who stuck with his club and in turn did enough to get a continent truly pumped.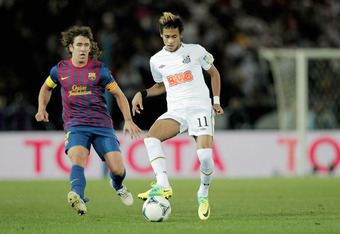 Lintao Zhang/Getty Images
Messi and Barcelona weren't down for the underdog nonsense, either. Messi conjured a cheeky chip for Barca's first goal after a defensive lapse by Santos in the 17th minute. Xavi and Cesc Fabregas made it 3-0 at halftime before Messi added his second goal, this time on a classic one-on-one around the keeper, to complete the four-goal thumping.
Santos could take some solace in the thought that Barca had, as recently as the week before, gone on the road to beat Real Madrid, its fiercest rival, 3-1. But afterwards, the consensus was complete: No one, not even Neymar, can beat Barcelona.
With that, Neymar, for the first time in God knows how long, experienced something going wrong. And the reviews weren't exactly kind.
But to dismiss Neymar so quickly would be a mistake. If you've seen his highlights, you know why his coach—and even Pele himself—really, actually think he could lead Brazil back to glory in 2014.
Even with Lionel Messi around for the party, the dream doesn't sound so outlandish.