Sugar Bowl 2012: Michigan Wolverines' Denard Robinson Will Run into Record Books
December 20, 2011
Gregory Shamus/Getty Images
Michigan Wolverines' Denard Robinson already holds numerous college football records.
Robinson has the most single-season rushing yards by a quarterback in the FBS. Robinson is the only quarterback in NCAA history with 1,500 passing and 1,500 rushing yards in one season, too, but he isn't done racking up the accolades just yet.
Robinson will face Virginia Tech's stellar run defense in the Sugar Bowl on January 3, 2012. The Virginia Tech defense ranks 17th against the run and 13th in total defense, so it isn't a stretch to say that Robinson will have his hands full.
But Robinson won't have to produce much to pass John Navarre and move into second place in total yards in a season for a Michigan Wolverine quarterback. So, who ranks first? You guessed it—Denard Robinson.
That's right, Robinson would have the two highest single-season yardage totals by a Michigan quarterback if he can manage 22 yards in the Sugar Bowl. 
If Robinson can run his way into the end zone against Virginia Tech three times, then he would tie Ron Johnson's 1968 Michigan rushing touchdown record with 19 as well.
The Virginia Tech defense won't let Robinson get into the record books easily, but he has rushed for three rushing touchdowns in a game already this season (against San Diego State), and he has had two rushing touchdowns in each of Michigan's last three games (Illinois, Nebraska and Ohio State). If any quarterback can have a multiple-touchdown game against Virginia Tech, it's Robinson.
In fact, he has had eight of the 10 best yardage totals by a quarterback in a single game for Michigan in his career. The only spots he doesn't own are seventh and 10th (held by Navarre and Scott Dreisbach), but he has all of next season to change that.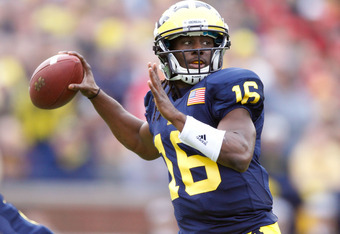 Gregory Shamus/Getty Images
Robinson is set to start next season by joining some elite company. Only seven other quarterbacks have ever thrown for 40 touchdowns and ran for 40 touchdowns in their careers. Robinson already has 38 passing touchdowns and 35 rushing touchdowns, so he could be a part of the club as early as Michigan's first game of next season.
He is on pace to break another rushing record as well. Pat White holds the FBS record for career rushing yards by a quarterback with 4,480.
Robinson gained 351 yards in his freshman season and had 1,702 rushing yards in a record-setting season last year. He has 1,163 rushing yards this season with the Sugar Bowl still left to play (Robinson has averaged 96.9 rushing yards per game this season). Combined, Robinson has 3,216 rushing yards, and he only needs 1,265 yards to become the all-time leading rusher for a quarterback in the FBS (probably around 1,200 after this season is done). 
With Robinson's tremendous running ability, the record held by White is clearly within his grasp.
Robinson has accumulated 8,030 total yards and a combined 73 rushing and passing touchdowns during his career at Michigan. Now, Robinson's eye is on a Sugar Bowl victory and the Heisman Trophy for next season. One shouldn't be surprised if he keeps filling up the record books along on the way.