Miami Marlins: Reyes Signing Great Theater, Lousy Baseball
December 19, 2011
Jamie McCarthy/Getty Images
Jose Reyes, the brand-new shortstop for the Miami Marlins, is a very talented man. He is a formidable force offensively, despite not possessing a level of patience that you would hope for in a leadoff hitter, and though he commits too many errors for a tenured player, his range and power arm allow him to influence games defensively to a sometimes dramatic degree.
He is, then, by all accounts, an impact player. As any observer of the Mets and Reyes would tell you, however, sometimes that impact leaves a depression rather than an impression on the team as a whole. It's really a combination of realities that tend to take the shine off of Reyes resume, though arguably the one issue that stands out above all others is his pathological inability to stay on the field.
It is for this reason, among others, that Miami's decision to throw big money at Reyes might very well be a decision that they regret. While it should be noted that Reyes did enjoy a four-year run where he averaged 158 games, specifically from 2005 through 2008, he is three full seasons removed from that period.
When you consider that Reyes has averaged just 117 games or so over his nine-year career, however, and just 98 over the past three seasons due to a 2009 season that saw him appear in just 36 contests, it's appropriate to wonder what the Marlins were thinking when they locked Reyes up for six years guaranteed.
Had Reyes' string of injuries been varied in nature and scope, or the result of unavoidable freak accidents of some kind, then it would be reasonable for Miami to presume that Reyes will be in the lineup more frequently over these next six years than he has in the past. Unfortunately, for Miami at least, this is simply not the case. In reality, Reyes has missed the vast majority of the time that he has due to serious issues he's had with his legs, primarily his hamstrings.
Is Reyes still young? Yes, at 28 he is still young. His youth, however, has not seemed to serve him well in terms of aiding him in keeping healthy and on the field. As he ages, then, can the expectation really be that he will avoid injuries to his legs, the very legs that elevate his game and contribute to him being the force that he is?
Not coincidentally, when Reyes was averaging those 158 games per season he also averaged right around 65 stolen bases a year. Over these past three seasons, though, there has been a decided decline in Reyes' running game.
Focusing on the 2010 and 2011 seasons, and throwing out 2009 due to Reyes having only played 36 games, the former Mets shortstop stole a combined 69 bases. Though Reyes averaged just 130 games played across those two seasons the reality is that this fact does not compensate for such a dramatic decline in stolen bases. A quick comparison shows us that whereas Reyes stole a base once every 2.4 games from 2005 through 2008 it took him 3.7 games to do the same over 2010 and 2011.
These numbers are not offered as some form of petty analysis, not by any means. The fact is that Reyes' value is very much tied to his speed and the affect that speed has on his team's performance. His OBP is a relatively healthy .345 over his career in seasons where he plays at least 126 games as he did this past season, and he's achieved that level in Mets' lineups where the support has not historically been what it projects to be with Hanley Ramirez and Mike Stanton behind him.
Translated, Reyes should expect to see his OBP number rise with a better cast behind him. If this is how things develop then the likelihood is that Reyes' ability to swipe bases would be a welcome asset. While the Marlins would be careful to not run themselves out of innings, of course, Reyes' ability to advance a base without need of outside assistance would add a lethal element to what figures to be a much improved Marlin offense. In short, if the speed element is removed as a factor of Reyes' game, or it continues to decline as it has, the overall value that Reyes represents will be diminished.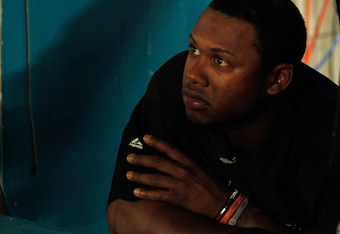 Mike Ehrmann/Getty Images
As daunting as this challenge associated with Reyes' health may be, it is not the only issue associated with his joining the Marlins. The Marlins, you see, already had a shortstop in the person of Hanley Ramirez, and he was perhaps one of the best two or three in the game at that. With Reyes aboard there are just two possibilities available, and neither figure to necessarily be beneficial to the Marlins organization as a whole.
The first and most likely option available would be to move Ramirez to 3B, and this was of course one of the components in the grand plan associated with acquiring Reyes. Ramirez is a large man, 6'3 " and 230 pounds to be exact, and so in the long term perhaps he was destined for the move away from short regardless.
Neither Ramirez nor Reyes are consistently stellar defenders at this point in their respective careers, though with that said each is steady enough so as not to be a liability by any measure. The Marlins don't lose anything or gain anything defensively by replacing Ramirez with Reyes, however what they may lose is the already narrow attention span that Ramirez has a tendency to display. Let's face it, Ramirez was disgruntled when he was the star of the show, playing fiddle 1A might just cause him to go Viking.
The other option available would be to move Ramirez now, right in the middle of his incredibly inexpensive contract. With just over $46 million due to him over the next three seasons Ramirez is the definition of a steal, and there are any number of teams that could use a shortstop that can hit 35-40 HRs and drive in 100+ runs while hitting above .300. Ramirez does not have a no-trade clause to junk up the works, and perhaps the most obvious suitor would be the team that Ramirez originally came from, the Boston Red Sox.
The Red Sox have a large payroll as it is, of course, however they have missed the playoffs for two consecutive seasons in a city that doesn't accept mediocrity from their sports teams. Boston has a number of highly touted prospects that are blocked at the major league level, one of which just so happens to be a 3B prospect in Will Middlebrooks that could be the primary return from Miami's perspective. Middlebrooks would be part of a larger package, of course, and the package would undoubtedly have to include a player or players either on the Red Sox roster in 2011 or who figure to play a role in 2012. Think OF Josh Reddick, rookie C/1B Ryan Lavarnway, OF Ryan Kalish, and perhaps a top tier pitching prospect or two.
Mike Ehrmann/Getty Images
Regardless of which direction the Marlins decide on, it can be said that the signing of Reyes may have created more issues than it solved. Understood that they have a brand-new ballpark to fund, however bringing Reyes on board has committed major budget to a brittle player and possibly created tremendous friction in terms of the anticipated reaction of Hanley Ramirez. Throw the ever-flammable Ozzie Guillen into the mix as manager and we could be looking at the beginnings of a long, bloody campaign.
What the Marlins organization has done with the signing of Reyes and others is signal to the remainder of the baseball world that they understand that they have to at least maintain the appearance that they are interested in competing.
It remains to be seen if this dramatic departure from previous form will bare fruit, but what cannot be denied is that the entire process has already been enormously entertaining. Kudos to Miami management for owning the offseason spotlight as long as they did, but the question that must be posed is whether owning it will be ultimately be worth the cost.