Mario Balotelli: Manchester City Striker Is Making the Right Headlines
December 19, 2011
Alex Livesey/Getty Images
It has become something of a recurring theme this season for a story of Mario Balotelli's latest antics to emerge on the eve of a big game for Manchester City.
Back in October, the Italian striker set his house ablaze after shooting fireworks out of his bathroom window. The very next game, he scored the first two goals of City's 6-1 rout of local rivals Manchester United at Old Trafford.
The weekend before last, a report emerged of him spending £150,000 on a night out with friends that supposedly included an impromptu sword fight with rolling pins from the kitchen of a curry house. A couple of days later, he scored the opening goal against Chelsea in only the second minute at Stamford Bridge.
Most recently, ahead of Sunday's meeting with Arsenal at the Etihad Stadium, Twitter was alive with reports of the 21-year-old going around Manchester city centre dressed as Santa Claus, indiscriminately handing out wads of cash to delighted passers-by (reported here by New York Post). He may not have scored against the Gunners, but he had a big hand in David Silva's winner in the 1-0 victory for the Premier League leaders.
Regardless of the validity of all the different tabloid reports about his shenanigans and people's opinions of him, Balotelli's status as a one-stop shop for crazy news stories is obscuring the fact that he has been one of City's most exemplary performers this season.
After moving from Inter Milan in August 2010 for a huge £24.8 million fee, Balotelli struggled to immediately adapt to his change of surroundings. So much so, in fact, that he admitted "my season has been s***" in a live television interview on the Wembley pitch just after winning the FA Cup.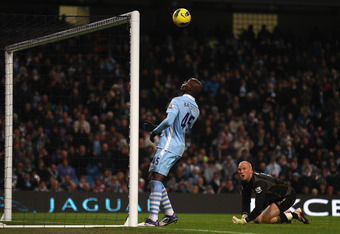 Clive Brunskill/Getty Images
This season, however, he has been in the form of his life. Already he has 11 goals to his name in just 16 club appearances. Not since his first two City games of the season has he gone more than one match without scoring.
In among those goals are some impressive strikes. There was the first of that brace at Old Trafford, a coolly slotted finish right inside the foot of the far post from the edge of the area which was followed by him turning to reveal his now-iconic "Why Always Me?" T-shirt. 
There was the overhead kick against Aston Villa which acted as the ideal riposte to the teasing he had endured from the Villa fans—seemingly one in particular—for earlier slipping over on to his backside in front of them.
And then there was his 88th-minute goal against Norwich, the fourth of a 5-1 win, in which his original effort was partially saved by Declan Rudd only for the ball to loop up off the keeper and fall perfectly for the awaiting Balotelli to nonchalantly nudge over the goal line with his shoulder. If there were a prize for coolest goal of the season (the Arthur Fonzarelli Award?) you would be hard pressed to find a more worthy recipient.
In pure numbers, too, his performances have been impressive. He has scored eight goals for City in the Premier League so far this season. One more will see him match his best haul for a Serie A campaign while playing for Inter.
Five of those league goals have been the openers in a game and two have been winners, so it's fair to say he has not simply been chipping in with efforts to massage scorelines. His goals have mattered.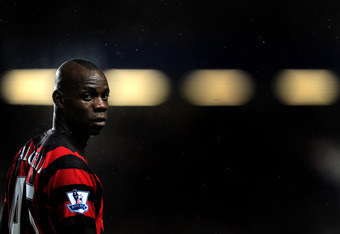 Michael Regan/Getty Images
However, it is not only Balotelli's goal return which is impressive, but also his goals-to-shots ratio. His eight Premier League goals this season have come from just 15 shots on target, making for a conversion rate of better than 50 percent.
With the sad loss of Antonio Cassano, most likely for the rest of the season and potentially for Euro 2012 too, Balotelli's importance for his country has also increased. When Roberto Mancini signed the young tyro he knew as a teenager at Inter, suspicions that he had used City's considerable spending power to buy himself a high-maintenance vanity project looked to to be fairly founded.
However, the manager's expensive punt is already paying dividends. Despite Edin Dzeko's rapid-fire start to the season—seven goals in his first four matches of the season including four in one game at Tottenham—Balotelli has taken his first-team chances with aplomb.
The odd training ground bust-up and trash news item—within reason—are a small price to pay for the results Balotelli is delivering on the pitch. The longer he continues the run of form like that which he is on at the moment, the better chance of his exploits on the back pages overshadowing those in the showbiz columns.