NHL: New York Rangers Defense in Shambles, Tough Choices to Be Made
December 19, 2011
Bruce Bennett/Getty Images
With the exception of a slow start to their season, the New York Rangers have played exceedingly well through their first 30 games of the 2011-2012 season. They seem to know who they are as a team, and they're getting solid, sometimes spectacular play from the veterans they rely on such as Marian Gaborik, Brad Richards, Ryan Callahan, Henrik Lundqvist and Dan Girardi. Perhaps most amazingly, despite his penchant for über-tinkering, Head Coach John Tortorella seems to have settled on some basic, foundational combinations as well.
Add to this the much needed spark provided by Carl Hagelin, who along with Stepan is potentially one of the most exciting and promising offensive talents produced by the Rangers organization over the past 20 years—plus the confirmation that Michael Sauer, Michael Del Zotto and Ryan McDonagh are legitimately above average defensemen—and there are good things to find in every direction.
Despite these realities, however, the Rangers are faced with a developing issue that could at some point derail what has become a truly promising season. Specifically, the Rangers are running out of defensemen, due to serious injuries, and the organization may not have the internal resources to compensate.
With Marc Staal's concussion an issue since Day One, it was imperative that some of the younger defenseman step up to solidify the unit as a whole. This has happened—and then some—as the Rangers have proven to be one of the stingiest defensive teams in the league. The goals-against number has of course been aided by superior goaltending, in addition to Tortorella's insistence that his forwards play solid two-way hockey; but the performance of the defense corps cannot be overstated.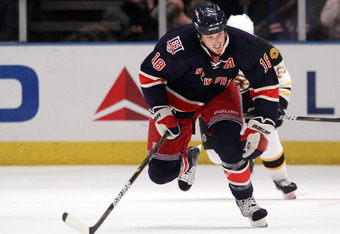 Bruce Bennett/Getty Images
Due to the recent string of serious injuries, of course, there is simply no possibility that the solid play of the defense will prove to have been overstated.
We say this because the Rangers' will likely find themselves struggling to adjust to what appear to be long-term injuries sustained by both Steve Eminger and, even more troubling, Sauer.
The loss of Sauer is troubling in and of itself—he is currently considered an untouchable in trade discussions by Rangers management, clearly indicating just how highly he is thought of by the organization—but that it's due to a concussion makes it exponentially more so.
As it stands heading into their contest with New Jersey on Tuesday night, the Rangers have just six active defensemen on the roster. That they do not currently have additional, experienced defensemen in reserve is troubling, however what is perhaps more troubling is that the six occupied slots are not all occupied by the personnel that the team would ideally prefer.
In a true sense, just three of the defenseman on the current active roster—Girardi, Del Zotto and McDonagh—projected to be part of this team at this stage of the season. That Eminger was considered a vital piece to the defense corps prior to his recent injury tells you all you need to know about how depleted the unit is. Eminger began the season as the sixth, perhaps seventh defenseman; and though he has played admirably with more responsibility thrown his way, there is no dismissing the fact that he did not project to play as frequently as he has, either in terms of games played or minutes.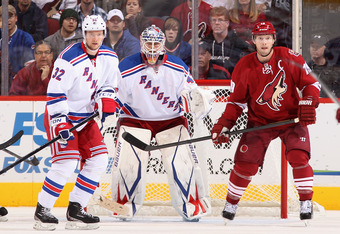 Christian Petersen/Getty Images
It is fortunate, then, that early season pick up Anton Stralman is in the mix at present. Stralman played with authority over the two previous games vs. St. Louis and Phoenix and demonstrated that he can be both offensively relevant and defensively consistent. His minutes will go up considerably due to the injury bug, and the Rangers can only hope that Stralman continues to impress.
Jeff Woywitka, another early season pick-up, appears to have settled in after a somewhat inconsistent start to his Ranger career. Though his ice time has hovered around the 11-minute mark, he does figure to get a healthy dose of extra time moving forward; and his reaction to the added responsibility will be a huge factor in how the Rangers respond to the injury crisis.
The question that the Rangers will have to answer for themselves is whether they want to supplement from within or go the acquisition route. It is unlikely that GM Glen Sather had any intention of dangling any of his prized possessions so early in the season, if at all. However, it's quite possible that the team will have to forfeit some assets that it would rather not to in an attempt to bolster the defense corps.
Regardless of the Rangers' intentions, though, with defensemen at a premium in today's NHL, there is simply not an abundance of team-changing deals to be made. This means that Sather will have to get very creative and/or give up more than he would like. And for a team that has built its future around the draft and internal player development, it is always distasteful to have to sacrifice an asset or assets before it's absolutely necessary or desired.
In the years leading up to the Rangers' Stanley Cup run of 1994, the team made a calculated guess that giving up players like Tony Amonte and Doug Weight would pay off. In the end, those transactions returned players who did in fact contribute to the Cup win. Having said that, these deals also left the team depleted and propelled the organization down a path that saw prospect development take a back seat to the acquisition model.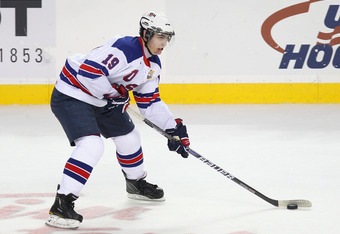 Rick Stewart/Getty Images
The Rangers of 2011-2012, however, find themselves in a different position than the Neil Smith-led 1990s version, perhaps most definitively in the sense that the organization is deeper in talent now than it was then. This reality, however, only serves to increase the dilemma of how to proceed in that the choice becomes whether to go for broke now or wait until some of your assets develop and/or recover from injury.
Everything will depend on how the organization evaluates its realistic chances of competing for the Cup at the end of this season. Though the club has demonstrated thus far that it can compete at any level, the truth is that this is not the time to forfeit assets in an attempt to shore up a weakness, in this case the injury-depleted defense.
The team is simply not ready to challenge for a Cup, not yet, at least, and so giving up a Carl Hagelin, Chris Kreider, Tim Erixon or Dylan McIlrath, for example, is not just unnecessary but foolish. Those players and others are either the building blocks that will bring a Cup within the next several years or they will be the chips that bring in some of the final, critical pieces. The likelihood that the careers of Sauer and Staal are over is remote at best, so in essence these two players returning from injury might be the best "acquisitions" that the organization can make.
Rangers GM Glen Sather has somehow navigated the waters of the New York press for over a decade now, and he's done a masterful job of developing talent in one of the most intense win-now environments in sports.
It would be a stunning turn of events if Sather were to dismiss years of careful trading and shrewd drafting to overcome this current injury crisis, but stranger things have happened. Rangers' fans should hope that the days of strange happenings are over, otherwise they may be forced to wait much longer than necessary to see their team to bring home another Stanley Cup.