Mark Ingram Injury: Updates on Saints RB's Week 16 Status and Fantasy Value
December 19, 2011
Al Messerschmidt/Getty Images
This has not been an easy season for New Orleans Saints rookie running back Mark Ingram. He's battled a couple of injuries, and has had to sit out some key games.
Most recently, Ingram had to sit out a second straight game in Week 15 with a nagging turf toe injury. The Saints ended up being just fine without him, as they beat the Minnesota Vikings, 42-20, but they and thousands of fantasy owners are hoping Ingram will be back before long.
We're going to be keeping tabs on Ingram's status and fantasy value throughout the course of the week. Check back here periodically for updates.
Update: Friday, Dec. 23 at 3:10 p.m. ET by Zachary D. Rymer
There is good news and bad news regarding Mark Ingram's status for Monday night's game against the Atlanta Falcons.
I'll let Saints beat writer James Varney explain: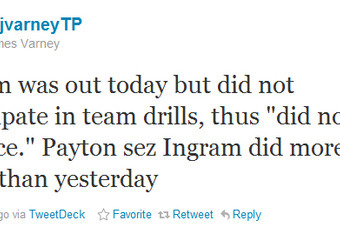 So Ingram is getting better, but he's still not up to speed.
The tricky part now is deciding whether or not to keep Ingram in your lineup. You could keep him in and trust that he'll be good to go, but that's a pretty big risk seeing as how he's playing on Monday and all other running backs are playing on Saturday on Sunday.
Honestly, I would sit him. His status sounds iffy, and he'll be going up against the league's No. 4 rush defense even if he does play. Insert other options if you have them.
If you're committed to starting Ingram, be sure to keep an eye out for more updates.
Update: Monday, Dec. 19 at 4:15 p.m. ET by Zachary D. Rymer
The good news for Ingram is that the Saints don't play again until Monday, Dec. 26. That gives him a few extra days to recover from his turf toe problem after missing each of the last two games.
Per the New Orleans Times-Picayune, Saints head coach Sean Payton is hopeful that Ingram will at least be able to return to practice this week. If he does and is able to avoid any setbacks, you have to think that he will be good to go on Monday night against the Atlanta Falcons.
If you're an Ingram fantasy owner, you should be cautious of Ingram either way. His toe could very well keep him out of action for a third straight week, and the Saints may not be willing to risk it seeing as how the playoffs are fast approaching.
If Ingram does play, he will be going up against the league's No. 4 rush defense.
For now, keep Ingram on your bench.