Yu Darvish: Why He Will Be the Next Big Thing in Baseball
December 19, 2011
Yu Darvish is somewhat of a legend in Japan. At the ripe age of 25, Darvish has been somewhat of a larger-than-life figure in his country. The gem of the Nippon-Ham Fighters looks as if he will soon be leaving the Fighters and making his way to North America.
The rights to negotiate with Darvish began Wednesday. A handful of teams submitted offers. The Cubs and Yankees were said to submit offers, but reports have said those two teams did not win the bid. It is believed that the Rangers or Blue Jays won the bid, according to SportsNews.com.
Rumors circulated this past weekend that the Blue Jays have submitted a winning bid worth $48 million (via Business Insider). That report was disputed when a rumor that Darvish's winning bid was higher than Daisuke Matsuzaka's $51.1 million bid surfaced.
No one knows what sources to believe, but we will find out who won the bid this evening. As mentioned before, the speculation around this situation suggests that the Blue Jays or Rangers will win the bid. Those reports will prove to be true or false tomorrow.
Regardless of which team lands Darvish, he will have an immense amount of hype to live up to. Darvish is expected to immediately become one of baseball's best pitchers in the game. Some people don't believe Darvish will be great in this league. Some even take it as far as to comparing him to Matsuzaka.
Darvish and Matsuzaka seem very similar at a glance, but a deep look into their statistics reveals a lot. Like Matsuzaka, Darvish will be making his MLB debut as a 25-year-old. That's where the similarities stop.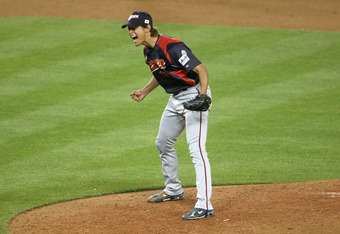 Stephen Dunn/Getty Images
Darvish's stats blow Matsuzaka's away. Darvish's highest ERA in his career was 1.88 in 2008. Matsuzaka's best ERA in Japan was his 2.13 ERA in 2006. So, in Darvish's worst year, ERA-wise, he still had a lower ERA than Matsuzaka in Matsuzaka's best season, ERA-wise.
Darvish has accomplished an amazing feat of posting a sub-2.00 ERA in each of his five seasons in Japan. The half-Japanese, half-Iranian pitcher's stats are phenomenal. His ERAs in Japan are 1.82, 1.88, 1.73, 1.78, and 1.44 respectively.
Darvish has also pitched more than 200 innings in four of his five seasons in Japan. He pitched 182 innings in 2009, the only year in which he did not accumulate 200 innings pitches. Darvish has been very healthy in Japan and has never suffered from any major injuries.
It should also be noted that Darvish's K/9 has risen in each of the past three seasons, and his BB/9 has decreased over the past three seasons.
Darvish has thrown 40 complete games in four seasons, along with nine shutouts. His sub-1.00 WHIP for his career is yet another amazing stat. Pair those stats with his career K/9 of 9.2 and his career BB/9 of 2.1, you know Darvish is something special.
This kid's stat line is just awe-inspiring. There is an amazing statistic for every column, and we all know statistics don't lie.
The Japanese leagues are said to be a notch below the talent of the MLB and tad bit higher than the talent level in Triple-A. That would suggest that Darvish would be capable of an ERA around 2.30-2.50 in the major leagues.
Darvish also has a great pitcher's body. At 6'5" and 185 pounds, he provides a good frame for a top-notch pitcher. He could put on some weight and become an even more muscular pitcher without sacrificing any of his athleticism.
The right-hander possesses a deep array of pitches. He's been said to throw a four-seamer, two-seamer, cut fastball, changeup, gyro ball and an occasional slider. Darvish's pitches have been said to all be plus pitches.
None are amazing, but each one is above average. He doesn't have overpowering pitches, but his command and movement help him dominate. He has a fastball that sits around 95, and it also has some tight, late break. He also controls it very well.
Darvish's curveball is a very slow one. He throws it at around 60 mph to keep hitters off balance. Darvish also possesses two sliders—one with a horizontal break and one with a vertical break.
Darvish is also an amazing fielder on top of all of his other skills. He has won Japan's equivalent to the Gold Glove several times, along with a couple of MVP awards.
Darvish is much better than any Japanese pitcher to ever come to North America. The comparisons of him to other Japanese pitchers are unfair. Most Japanese pitchers have turned out to be flops, but I strongly believe that Darvish will become one of the first Japanese pitchers to become extremely successful.
The young stud will be making his way to MLB this season, and fans are very excited to see him pitch. I expect him to be a fantastic No. 2 pitcher and possibly a solid ace down the line. I am looking forward to seeing Darvish pitch in MLB this season, and everyone else should be too. Expect Yu Darvish to set the baseball world ablaze.
Update: The Texas Rangers have won the bidding rights for Yu Darvish at $51.7 million. MLB has confirmed.