Liverpool FC: Has Jonjo Shelvey Set a Precedent for Liverpool's Youngsters?
December 19, 2011
Stanley Chou/Getty Images
Toward the end of the 2010-11 season, various injuries to first team players caused the promising youngsters of Liverpool to acquire starting positions. 
The likes of John Flanagan, Martin Kelly, Jack Robinson and Danny Wilson gained much desired experience in playing for one of the "big four."  Each had come through the ranks in under-21 England squads, so it was an obvious choice to utilize their growing potential. 
Whilst not always producing standout performances, each gave a solid representation of himself in a manner that would lean toward the possibility of further action at the same level. 
Eventually, they would form an integral part in Liverpool's second half of the season comeback. Yet, with multiple new signings during the summer, opportunities in the 2011-12 campaign have become harder to come by.
Flanagan, for example, has found himself on numerous occasions relegated to the bench.  His rare starts in the new campaign have come from league cup fixtures where he has had less attention focused. 
Kelly gained some vital experience in place of an injured Glen Johnson, but has sacrificed that position upon the England defender's return.
And then there was Jonjo Shelvey, who was shipped off on loan to Blackpool after openly confessing his frustration at not having consistent first team starts. 
For Shelvey, however, there has been a massive shift in opinion.  His form at Blackpool has been nothing short of sensational. 
Blackpool boss Ian Holloway expressed a large amount of gratitude at the lift Shelvey's emergence gave to the morale of the championship side.
You can't help but wonder if Holloway was slightly bitter when Liverpool manager Kenny Dalglish needed to call upon Shelvey's talents when seasoned midfielder Lucas Leiva joined captain Steven Gerrard on a long-term sick list.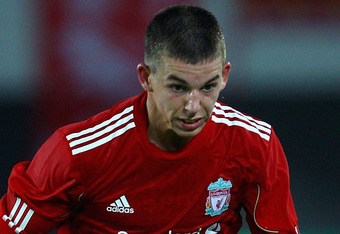 Feng Li/Getty Images
After scoring six goals in 10 games at Blackpool, including an eye-catching hat trick against Leeds, Shelvey had caused a stir. 
After an all too short return as a late substitute against QPR, he made a full return as Liverpool traveled to Villa Park at the weekend. 
In the 83 minutes he played, Shelvey highlighted a confident display of progression that will give food for thought to other youngsters at the Liverpool squad. 
To have witnessed Shelvey's transformation from occasional first team player to a wanted entity will be an inspiration. 
Intelligent play—especially for his age—against Villa saw Shelvey set up the first goal for Craig Bellamy.  Throughout the game's entirety, Shelvey proved to be swift and clever on the ball. 
There is subsequent hope that he has set a positive and polished precedent for himself. 
With the transfer window just around the corner, there is a possibility that other youngsters on the fringes of the bench, or first team squad, will seek a move to a squad offering regular first team action. 
Ponder the benefits that Dalglish could create if he replicates the journey given to Shelvey. 
By letting the likes of Flanagan and Robinson head off to championship sides to develop their ability and experience at a high level, he could produce more enhanced and quality-encompassed players. 
By doing so, Dalglish could afford himself a collection of talents capable of standing in amidst injury-prone parts of the season, or even better, producing individuals who will, on merit alone, demand a place in the first team squad. 
What you worry about happening is youth players seeking permanent moves due to the unhappiness at being sidelined for too long. 
With the announcement that the Great Britain Olympic football squad has been opened up to non Euro Final players, there is an added incentive for Liverpool's young players to find regular football elsewhere. 
After all, if they were to find this alternative and forge a credible run of results, then they could gain themselves a place at London 2012, leaving Dalglish without essential back up.