2011 NFL Year in Review: The Worst Loss for Every Team This Season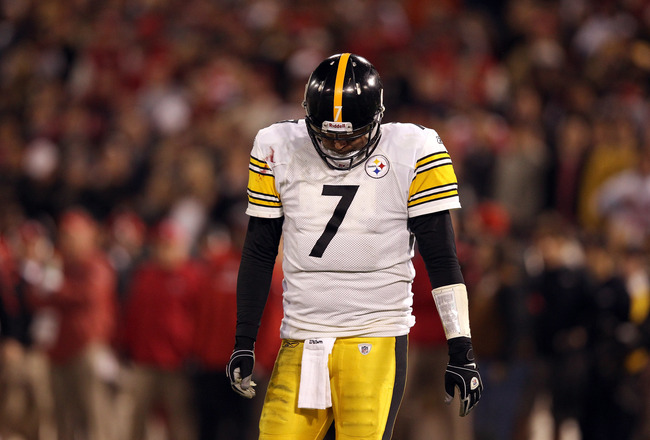 Ezra Shaw/Getty Images
Week 15 delivered the goods as far as great NFL weekends.
You had upsets that doomed a team's playoff chances, teams climb back into the race with well-timed victories and teams squandering opportunities.
We also reached the point where now everyone in the NFL has at least one victory and every team in the NFL has at least one loss.
Now's as good a time as ever to take a look at every team's worst loss of the season.
For some teams, these losses were just plain blowouts. Everything that could go wrong did, and everything that could go right for the opposition did.
For other teams, it was that heartbreaking loss when they know they should've won. Whether it be an amazing fourth-quarter comeback or a disaster down the stretch with a big lead, the losing team came away from that game knowing "man, we should've won that one."
Then of course there's the chance to take advantage of a golden opportunity. There it was, the playoffs, home field advantage or a division title, right in their grasp, and poof: They lay an egg right at the 50-yard line.
All of these types of losses will be covered. So strap in because this will be a long one. I'll go in inverse order of each team's record—like the NFL Draft—and give you all of the bloody and gory details of each team's worst loss of the season.
Indianapolis Colts: Losing 62-7 Against New Orleans (Week 7)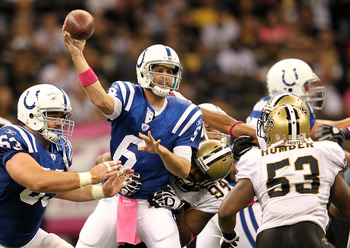 Jamie Squire/Getty Images
Only one Indianapolis Colts game didn't qualify for this list of obvious reasons (Sunday's victory at home against Tennessee, which *spoiler alert* we're going to talk about later).
You could say the real loss was Peyton Manning, but this is about losing games, not players.
This was the Colts' worst loss all season, which is an understatement actually, as it was the worst loss any team has had since the NFL-AFL merger.
To their credit, the Colts didn't blame this loss on the lack of Peyton Manning, much like they haven't blamed this lost season on Peyton's absence. After the game, these were Coach Jim Caldwell's words:
"That team played better than we did in every area and we just got whooped across the board. It's one of those things that once you don't do the little things right, there is a lot of bad things that happen to you. Obviously, I have to take responsibility for our team and the way that they played."
Peyton Manning at his best couldn't have saved the Colts from this thumping (although he would've made it seem more respectable, like say 38-14 or something like that). The Saints offense had their way with the Colts defense all day. Mark Ingram rushed for 91 yards on 18 carries, while Darren Sproles had 88 yards and a touchdown of his own on only 12 carries.
Drew Brees was an incredible 31-of-35 for 325 yards, five touchdowns and no interceptions, accumulating a quarterback rating of 144.9.
To make matters worse, this game was on NBC Sunday Night Football for the whole country to see. The idea for putting the game in prime time made sense: It was a rematch of a Super Bowl played only two seasons ago, and the idea of Brees vs. Manning always makes for good TV. Plus, when the schedule is made in April, no one foresaw Manning being hurt or the Colts being that bad without him.
Instead, this game served as evidence that maybe the NFL might want to start employing Flex Scheduling during Week 4 instead of at the halfway point of the season.
St. Louis Rams: Losing 28-16 Against New York Giants (Week 2)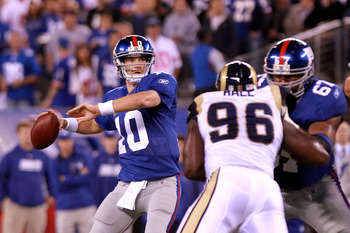 Nick Laham/Getty Images
Here's another team where finding the "worst loss of the season" was a difficult one.
St. Louis is 2-12 despite coming into the season with so much promise. Starting 0-1 surprised very few (remember, the Eagles were considered a "Dream Team" at the beginning of the season), but it was this second loss that really set the tone for the Rams' disaster of a season known as 2011.
The Rams would stall each time they got into the red zone and settle for three very short field goals. Their lone touchdown came in the third quarter when the Giants had the game firmly in hand (a 19-yard touchdown pass from Sam Bradford to Danario Alexander).
Meanwhile, each of the Giants' points came as a result of St. Louis mistakes. The first touchdown came after Greg Salas muffed a punt at the St. Louis 39 halfway through the first quarter. The Giants offense took over, and just six plays later, would score their first touchdown of the game.
In the second quarter, a Sam Bradford fumble on an attempted halfback screen was recovered by Michael Boley and returned for a touchdown. Later on in that same period, Domenik Hixon scored thanks to busted coverage by St. Louis' secondary.
In the third period, the Giants scored their final touchdown of the game thanks in part to a pass interference penalty on Justin King on a 3rd-and-6 from the Giants 41. The penalty would give the G-Men a fresh set of downs from the Rams 24, and after a Manning to Bradshaw pass that went for 23 yards, Brandon Jacobs would give New York a touchdown with a nine yard run.
After that game, St. Louis, who was favored by many to win the NFC West this season, would continue their tailspin until finally getting a victory in Week 8 against the Saints.
Minnesota Vikings: Losing 26-23 in OT Against Detroit (Week 3).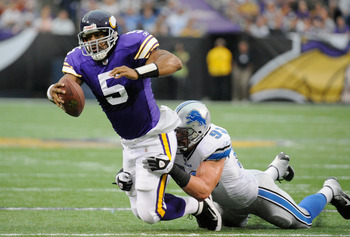 Hannah Foslien/Getty Images
Minnesota started 0-2, but their two losses came against teams that, at the time, we thought were good (San Diego on the road, Tampa Bay at home). The Vikings lost those games by a combined 14 points as well despite Donovan McNabb's shaky play, so there was reason to have hope in Minnesota going into their Week 3 matchup against the hot Detroit Lions, who came in at 2-0.
The first half also gave Minnesota hope, as they jumped to a 20-0 lead at halftime thanks to two Ryan Longwell field goals, a six-yard run from Adrian Petersen and an eight-yard touchdown pass from McNabb to Visanthe Shiancoe.
But in the second half, Minnesota's defense, who in the first half produced three sacks and a forced fumble (that would be recovered by Detroit), completely broke down in the second half allowing Detroit to score 23 unanswered points.
Ryan Longwell would tie the game with less than two minutes left in regulation with a field goal, but in overtime, the Vikings offense wouldn't even touch the ball, as Matthew Stafford and the Lions drove it 59 yards to give Jason Hansen a 32-yard field goal attempt.
Hansen's kick was good, and the Lions moved to 3-0, while Minnesota dropped to 0-3. Later on that season, McNabb would be released and Ponder would become the Vikings' starter; however, the Vikings are looking at finishing the season at 2-14.
Had they held on to win this game, who knows; their season likely goes just a little bit different.
Jacksonville Jaguars: Losing 16-10 Against Carolina (Week 3)
Brian A. Westerholt/Getty Images
I can take hopelessly bad like the Rams and Colts. That's easy to talk about.
I can take bad and exciting, like the Carolina Panthers. They won't win much and only have five wins so far this season, but it's been an exciting ride for the Panthers.
I can take hot and cold bad, like my Miami Dolphins, or just plain bad, like the Vikings.
I can also accept boring and good. Hey, at least there's some kind of payoff there, right?
But to be bad and boring, I'm not interested, and neither are you.
Bad and boring is the best way to describe the Jacksonville Jaguars. It's easy to point out their signature win of 2011 (Week 7 on Monday Night against Baltimore), but to find their worst loss of the season was tough.
Not just because they had so many, but because none of them were really shocking blowouts (nobody was surprised when they lost to Atlanta lost week), and it's not like you expected them to go to the playoffs anyways.
The most exciting thing about this team: their new owner, Shad Kahn's, mustache. Have you seen that thing? It's glorious!
With that being said, I guess we can go with a game they blew: Week 3 against Carolina.
The Jags held Cam Newton in check for the most part, as he went 18-of-34 for 158 yards and a touchdown. However they couldn't force any turnovers, but Blaine Gabbert threw an interception for them.
Let's just move on. Seriously. People in Jacksonville are pretty sick of the Jaguars right now.
Cleveland Browns: Losing 27-17 Against Cincinnati (Week 1)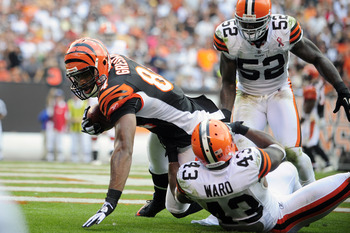 Jason Miller/Getty Images
The Cleveland Browns looked to have a promising season on their hands. A new head coach, Colt McCoy at quarterback and Peyton Hillis made it seem so.
However, that promising season turned into a nightmare from the very start, as the Browns would blow a 17-13 lead in the fourth quarter to the Cincinnati Bengals and wind up losing, 27-17.
In this game was that Ohio would have their quarterback of the future. However, his name wasn't Colt; instead, it was the Red Rifle Andy Dalton. Dalton would go only 8-of-15 for 81 yards and a touchdown while splitting time with Bruce Gradkowski (who himself went 5-of-12 for 92 yards and a touchdown), including the game-winning touchdown pass to A.J. Green.
Cedric Benson would be the real killer of the Browns, running the ball 25 times for 121 yards and the game-icing touchdown in the fourth quarter.
The Browns would wind up going 4-10 and will likely attempt to replace Colt McCoy in this season's draft, while the Bengals are now 8-6 and in a dogfight with the New York Jets for the final playoff spot in the AFC.
Tampa Bay Buccaneers: Losing 48-3 Against San Francisco (Week 5)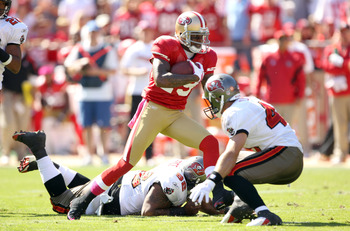 Ezra Shaw/Getty Images
The Buccaneers were 3-1 going into their game against the 49ers in what looked at the time like a possible playoff preview.
They left San Francisco hurting after a 48-3 shellacking, and would only win one more game the rest of the season. Tampa Bay would never be the same after this game.
The 49ers took advantage of the nine penalties and 96 penalty yards for the Bucs. For a comparison, Tampa Bay rushed for 86 yards during the game.
Turnovers played a part, too. Bucs quarterback Josh Freeman would throw two interceptions while Bucs receiver Mike Williams would chip in with a fumble.
Meanwhile, San Francisco's offense was amazingly efficient. Frank Gore rushed the ball 20 times for 125 yards and a touchdown, while Alex Smith went 11-of-19 for 170 yards and three touchdowns.
The Bucs would beat New Orleans at home the next week, but after that, they'd go onto lose eight straight.
But the slide really started at Candlestick in Week 5.
Buffalo Bills: Losing 28-24 Against New York Jets (Week 12)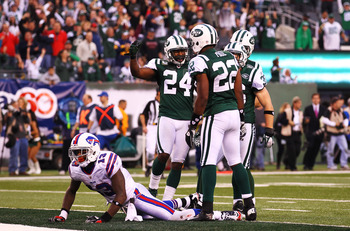 Al Bello/Getty Images
Going into this game, the New York Jets and Buffalo Bills were tied for second in the AFC East with a record of 5-5. Odds are the winner would jump back into the playoff race.
That's exactly what happened, as the Bills allowed Mark Sanchez to pull off his first Al Bundy special and throw for four touchdowns in one game.
The loss was really punctuated when Stevie Johnson, who made a fool of himself with his horrendous touchdown celebration earlier in the game, would make a bigger fool of himself catching two touchdown passes in the same drive.
Since this game, the Jets went 3-1 and control their own destiny into the playoffs, while the Bills have had yet to win another game and in fact have found themselves in a very familiar place: last place in the AFC East.
Washington Redskins: Losing 18-16 Against Dallas (Week 3)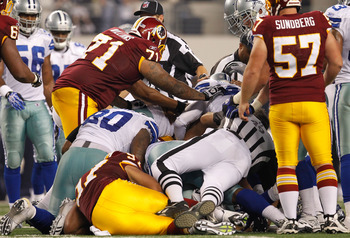 Tom Pennington/Getty Images
It was a tough call between both Redskins-Cowboys games, but I chose the first one because the Redskins came into the game 2-0 and because the Cowboys were decimated by injuries.
Washington would score the only touchdown in the game; however, they couldn't overcome their own flaws.
One of those flaws: a blocked field goal in the second quarter. Dallas would go on to score a field goal of their own on the ensuing drive.
But the biggest flaw? That would be Rex Grossman.
Grossman would turn the ball over twice. The first turnover was an interception that led to a Cowboys field goal.
The nail in the coffin, however, would be at the end of the game when Grossman was attempting to lead the Redskins on a game-winning drive. Grossman wound up fumbling the ball, which was recovered by Sean Lee with 28 seconds left.
Dallas would run out the clock and go 6-5 the rest of the season and are now currently in first place in the NFC East. The Redskins would only win three more times the rest of the year.
Carolina Panthers: Losing 28-21 Against Arizona (Week 1)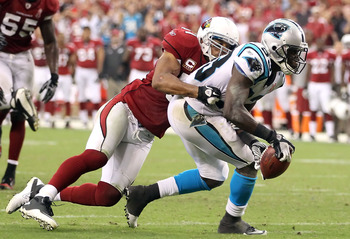 Christian Petersen/Getty Images
Carolina wasn't ever expected to contend for a playoff berth; however, they've been an entertaining team to watch.
We saw a taste of this Week 1 against the Cardinals. Cam Newton would go 24-of-37 for 422 yards, two touchdowns and one interception while rushing for 18 yards and a touchdown on eight attempts.
But it was the Panthers defense that let them down, which would become a theme for the season. Cardinals QB Kevin Kolb went 18-of-27 for 309 yards and a touchdown, while Beanie Wells rushed for 90 yards and a touchdown on 18 attempts.
This game serves as a perfect microcosm of the Panthers season.
Miami Dolphins: Losing 17-16 Against Cleveland (Week 3)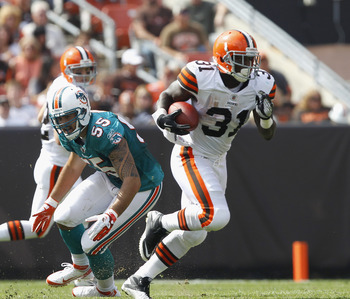 Matt Sullivan/Getty Images
Miami came into their game against Cleveland at 0-2. However, both losses game against teams who would wind up winning their divisions. Cleveland was Miami's first real winnable game of the season.
Win they didn't do.
If you're really that interested in the gory details, feel free to read my live blog from that game here.
But here's a quick summary of the game.
Too many field goals, failures in the red zone, Henne losing the confidence of his team with a fourth quarter interception on a potential game-winning drive and the fact that the Dolphins lost a game that they had the lead in for 57 minutes.
It was the game where Miami's "Suck For Luck" campaign was born, that started getting the clock ticking on the Sparano-era and where Dolphins fans officially jumped ship on the team.
Anything else to say about it?
Kansas City Chiefs: Losing 31-3 Against Miami (Week 9)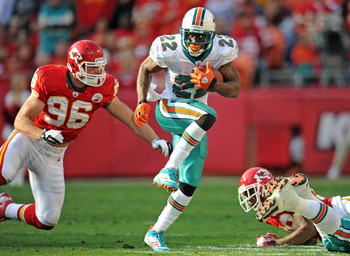 Peter Aiken/Getty Images
Going into their Week 9 tilt with the then-winless Miami Dolphins, the Chiefs were 4-3 and had clawed their way back atop the AFC West thanks to a four-game winning streak after starting 0-3.
Their biggest win came the week before on Monday night at home against the San Diego Chargers.
There were some who expected a letdown game against Miami, but no one would've imagined that the Chiefs would not score a single touchdown while allowing a winless team like Miami, who had blown fourth quarter leads in two straight games prior to this one, to score 31 points.
Just like that, the Chiefs went from leading the AFC West to going 2-5, and thus, effectively knocking themselves out of the playoff chase. They would fire their head coach, Todd Haley, and are now looking to 2012.
I understand one letdown game, but this game led to a letdown month.
Philadelphia Eagles: Losing 21-17 Against Arizona (Week 10)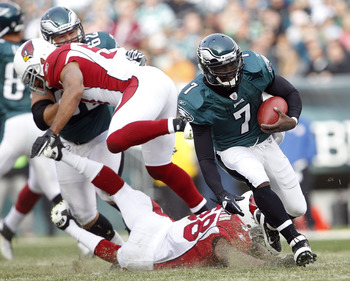 Rich Schultz/Getty Images
The 2011 Philadelphia Eagles, the so-called "Dream Team," has plenty of losses this season to choose from.
So why did I go with their game against Arizona?
Well, they blew a fourth-quarter lead (a habit they've had all season), they lost the game at home to a backup quarterback and the game wound up costing the Eagles Michael Vick for the next three games (where they went 1-2).
Philadelphia is still in the playoff race. If they are able to win out, the Jets beat the Giants next week, and the Giants beat the Cowboys the next week. The Eagles are NFC East champions.
No, seriously.
Tennessee Titans: Losing 27-13 Against Indianapolis (Week 15)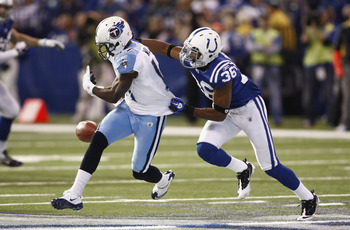 John Grieshop/Getty Images
Prior to Sunday's game against the Colts, the Titans were in good shape. Coming in at 7-6, the Titans had a shot at the playoffs simply by winning out.
But you have to beat teams you're supposed to beat. If you're 7-6 and hoping for a playoff berth, there's no excuse as to why you'd lose to a winless team.
Turnovers doomed the Titans. Matt Hasselbeck threw two interceptions, with one of them returned for a touchdown. Wide receiver Jared Cook would contribute a fumble of his own.
The Colts, meanwhile, would cut down on the turnovers that plagued them all season, while their defense held Chris Johnson to 55 yards on 15 attempts.
Arizona Cardinals: Losing 22-21 Against Washington (Week 2)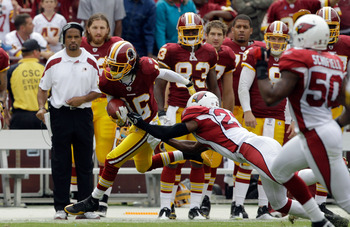 Rob Carr/Getty Images
A week after a thrilling win over the Panthers to start the season, Arizona figured that they'd be off to a great start after going up 21-13 over the Redskins in the fourth quarter.
But then, it all collapsed in the final five minutes.
First, Grossman hooked up with Santana Moss for an 18-yard touchdown pass. The two point conversion would fail, but so would Arizona's offense. Then, on the ensuing Arizona drive, they would go three and out, followed by a field goal that would become the game-winner.
That game-winning field goal only became so after the Cardinals got the ball back. On the very first play of the drive, Kolb would complete a 12-yard pass to Chansi Stuckey. Only problem is, Stuckey would fumble the ball after being hit by Byron Westbrook. Reed Doughty would wind up recovering the ball and give the Redskins the victory.
The Cardinals now are 7-7 and are still contending for the final playoff spot in the NFC. But if they fail, they'll look back at this game as one that they should've had.
San Diego Chargers: Losing 23-20 Against Kansas City (Week 8)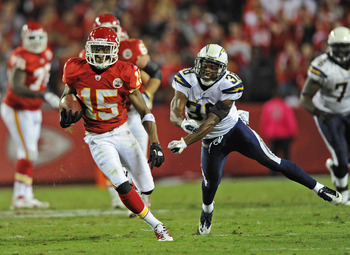 Peter Aiken/Getty Images
San Diego is having a schizophrenic season. If it were any other team, it would be shocking, but coming from the Chargers you just tend to brush it off.
San Diego started off 4-1, but would then go on to lose six straight in the middle of the season before going on a 3-0 clip in the last three weeks.
Now, they sit at 7-7, and as long as they win out while Denver loses at least one game, they're AFC West champions.
But they wouldn't be in this precarious position had they beaten the Chiefs in Week 8.
Instead, the Chargers would fall behind to the Chiefs early before rallying back to tie the game up at 20. But four turnovers and 12 penalties that cost the Chargers 105 yards was more than enough to doom them.
Chicago Bears: Losing 13-10 in OT Against Denver (Week 14)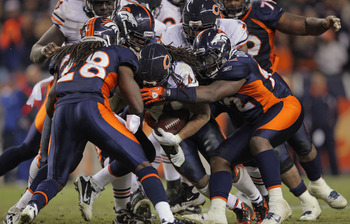 Doug Pensinger/Getty Images
First things first: The real biggest loss for the Chicago Bears was Jay Cutler. Prior to Cutler getting hurt, the Bears were a contender in the NFC at 7-3 that had a defense capable of stopping the Packers (no defense has given Green Bay more problems in the last two years than the Bears) and an offense that could take advantage of that.
Since Cutler got hurt, the Bears have gone 0-4 and have now lost Matt Forte and Johnny Knox as well.
Obviously, the choices for worst Bears loss came during this four-game losing streak, and while I'm tempted to say it was the Chiefs game, I'm going to go with their game against the Broncos.
Too many fluky things happened, as the Bears were blowing a 10-0 lead in the fourth quarter. You had Marion Barber, usually a player with great football IQ, manage to run out of bounds while the Bears are attempting to run out the clock.
Then there's Barber's fumble in overtime, which led to Matt Prater's 51-yard field goal to win the game.
Barber got blamed for losing the game; however, while carrying the load that usually goes to the injured Matt Forte, he did rush for 108 yards on 27 carries and scored a touchdown.
It was just one of those fluky games, or in 2011, what we call a typical Tim Tebow game.
New York Giants: Losing 23-10 Against Washington (Week 15)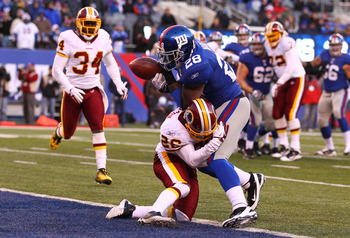 Al Bello/Getty Images
The Giants were swept by the Redskins, but I'm focusing on their last loss to the 'Skins for one simple reason.
It couldn't have come at a worse time.
New York had just come off a thrilling come from behind victory in Dallas the week before and were in the driver's seat in the NFC East. Win out, they're NFC East champions; simple as that, right?
Well, again, part of winning out is beating teams you're supposed to beat. The Rex Grossman-led Washington Redskins at home counts as a game you're supposed to win if you want to win your division.
Thanks to that terrible loss, the Giants need to win their next two games, and even then, a division title isn't guaranteed. Philadelphia actually owns the tiebreaker over them.
This forces the Giants to cheer for the Cowboys on Saturday in addition to beating the Jets, thus setting up a winner take all battle for the NFC East on New Year's Day in the Meadowlands.
Had they beaten the Redskins, though, their road to the playoffs wouldn't nearly be as tough as it is now.
Oakland Raiders: Losing 38-35 Against Buffalo (Week 2)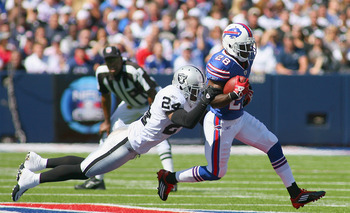 Rick Stewart/Getty Images
Oakland has a litany of losses this season that shouldn't have been. But their Week 2 loss to the Buffalo Bills takes the cake.
The Raiders were ahead 21-3 going into halftime; then, in the second half, watched as the Bills scored a touchdown on every possession in the second half.
The Raiders would claw back in the fourth quarter and take a 35-31 lead late in the game, but a six-yard Ryan Fitzpatrick to David Nelson touchdown pass would give Buffalo a 38-31 victory.
The Raiders are 7-7, but had it not been for their loss to Buffalo, would stand at 8-6. This would've also helped with their tie-breaker against the Broncos, as it would give them the same conference record as the Broncos (that's the tiebreaker where the Broncos hold the advantage; Oakland still has two division games left while Denver only has one, so technically, they're tied).
Instead, the Raiders are likely to find themselves outside of the playoffs for the ninth straight season.
Seattle Seahawks: Losing 33-17 Against San Francisco (Week 1)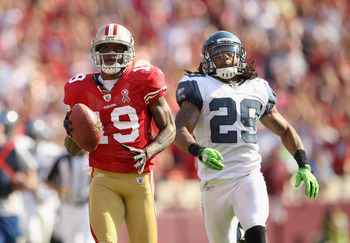 Ezra Shaw/Getty Images
I can't really say the Seahawks have had a bad loss this season.
For the most part, they beat the teams they should've beaten, pulled off a couple of upsets (Baltimore in Week 10, beating the Giants in New York in Week 5) and lost mainly to teams you would expect them to lose to (Cincinnati, Pittsburgh, Atlanta, Dallas). Their loss to the Browns was the only one I could really say where they choked, but even then, it was on the East Coast.
So we'll go to Week 1 against the 49ers. Why? Well, the score indicates a loss that wasn't too close, but look closer.
Yes, Seattle didn't lead once in the entire game, but, up until Ted Ginn, Jr. and his family had his 102-yard kickoff return, the Seahawks were always within striking distance.
Next time these two play will be in Seattle on Saturday. The Seahawks will be better prepared to avenge their loss to the 49ers and attempt to not only finish with a better record than they did last season (when they won the division), but also with some help, could find themselves in a do or die matchup for the NFC's final playoff spot against the Cardinals the last week of the season.
My tip for the Seahawks is if they want to stop Ted Ginn, force Alex Smith to throw him the ball. He's deadly on kickoff and punt returns, but he's still a bit iffy on catching the ball.
(There, I've fulfilled my personal quotas by including one reference to Ted Ginn and his family, one joke about Ginn dropping passes and poked fun of the Seahawks and their fans for winning their division with a 7-9 record last year. If you've read me long enough, you know those are my go-to jokes; all that's missing is me mocking the New York Jets somehow, but we'll get to that.)
New York Jets: Losing 17-10 Against Miami (Week 17)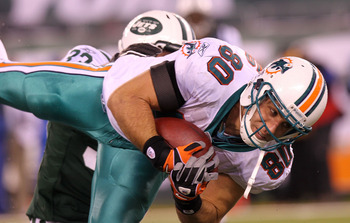 Nick Laham/Getty Images
Coming into the game at 9-6, the Jets knew what they faced.
Win and get into the playoffs; lose, and get eliminated.
The Dolphins, meanwhile, were playing for pride, while interim head coach Todd Bowles was coaching for the chance to drop the interim from his title and become Miami's permanent head coach for 2012.
However, Mark Sanchez and Gang Green would have problems in sunny Miami this New Year's Day, as the Dolphins would come up with a 17-10 victory thanks to two key turnovers by Mark Sanchez in the fourth quarter.
Oops, sorry, that's just the story I'm preparing for the New Year's day game in Miami.
By the way, even though I might not be the most unbiased observer, I do see something like this happening. But this isn't the type of slideshow where I speculate on the future. So, move onto the next slide, and you'll see the game that really is the Jets' worst loss of the season (so far).
New York Jets: Losing 17-13 Against Denver (Week 11)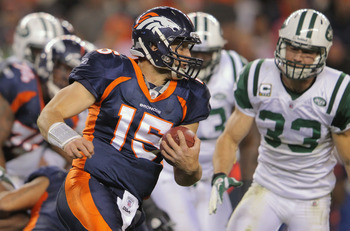 Doug Pensinger/Getty Images
Hey would you look at that! A team is leading Denver in the fourth quarter only to lose it in the end!
Who would've ever thought that would happen?
In all seriousness, this was a big game for the Jets and a bad one to lose. They had just lost to the Patriots only three days earlier and needed a big bounce back in order to keep their playoff hopes alive.
Instead, the Jets would turn the ball over twice and then have to watch as Tebow did Tebow things to lead the Broncos to victory.
The Jets had plenty of losses to choose from (including their two losses against New England), but so far, with the Broncos being a conference game, this is the worst.
Jets still control their own destiny, though, but that could easily change with a loss to the Giants on Saturday.
Cincinnati Bengals: Losing 20-19 Against Houston (Week 14)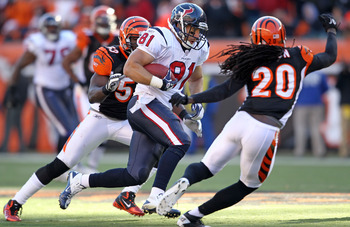 Andy Lyons/Getty Images
Conference record is usually the first tie-breaker in determining a wild card spot.
The Bengals record within the AFC is 6-5, tied with the Jets. The Jets own another tiebreaker, which is why they're in the driver's seat, and the Bengals need to become the biggest Giants and Dolphins fans in the world in the next two weeks.
But the Bengals would be 9-5 with a conference record of 7-4 and one game ahead of the Jets firmly in control of their own destiny had they beaten the Texans in Week 14.
The Bengals could've done so too. Going against T.J. Yates at home, the Bengals led 19-10 going into the fourth quarter. They had forced the Texans to commit four turnovers and looked on their way to victory over a division leader.
However, the Texans found the moxie to come back. First, Neil Rackers kicked a field goal with less than six minutes remaining. Then, Yates led the Texans 80 yards down the field in the last 2:33 of the game to score the game-winning touchdown on a six-yard pass to Kevin Walter.
Now, the Bengals are going to need help and plenty of it, a position they wouldn't have been in had they held on to a nine-point fourth-quarter lead.
Dallas Cowboys: Losing 19-13 in OT Against Arizona (Week 13)
Jason Garrett just isn't a good coach.
Anytime the Cowboys fail, it's Tony Romo's fault even though Romo is having a spectacular season. There's even a small threat that the Cowboys might toss their hat into the ring for Peyton Manning.
Garrett, if he were a good coach, he would take some of the heat. But he doesn't. The real problem is the Cowboys defense, and partly Garrett.
Which brings me to the Cowboys' Week 13 game against the Cardinals.
Who ices their own kicker? Seriously?
Yes, I could've named their game against the Eagles in October, or the disaster against Detroit earlier in the season, but I'm going to go with their game against Arizona because, again, who ices their own kicker?
Just watch the interview, which says it all. Not once does Garrett just admit that he made a mistake, and instead of clocking it, should've instead tried a running play with DeMarco Murray, then called a time out. It would've gotten the Cowboys a closer field goal, and his own kicker wouldn't have been iced.
Instead, Garrett just defends his decision by saying he didn't want to screw up.
You know what they say: When you play not to lose, you don't win.
Denver Broncos: Losing 45-10 Against Detroit (Week 8)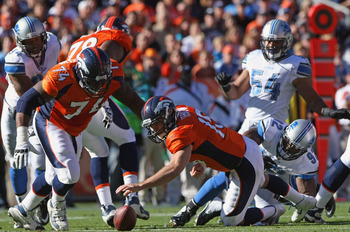 Doug Pensinger/Getty Images
For this piece, I decided to stick to the Tim Tebow-era of the Denver Broncos because, well, let's face it, they're a last place team with Kyle Orton.
While Denver is still in control of their destiny (and might have a different game in this slot sometime in the next week), their worst loss is getting blown out at home against Detroit.
That Broncos defense that everyone wants to give credit to for keeping them in games in the fourth quarter to take over? They allowed the Lions to get 376 yards.
As for the Broncos offense? Three turnovers, two fumble and an interception.
Yikes, what an ugly game, a game that inspired the infamous ESPN comments to be trolled with comments saying anything was > Tebow.
Detroit Lions: Losing 31-17 Against New Orleans (Week 13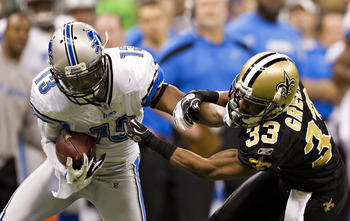 Wesley Hitt/Getty Images
If there's one thing that concerns me about the Lions, it's their performance against playoff teams this season.
While they have been dominating at times against inferior opponents, the Lions' record against other playoff teams (playoff teams as of today) stands at a paltry 2-4.
One of those four wasn't even close: against the Saints in New Orleans.
The Saints managed to gain 438 yards, and at times, seemed like they scored at will against a Lions defense missing Ndamukong Suh. Drew Brees threw for 342 yards and three touchdowns.
A terrible loss, but it's not like the Lions will play the Saints in the playoffs or anything.
Oh wait, if the playoffs started today, that's exactly who the Lions would play!
Atlanta Falcons: Losing 26-23 in OT Against New Orleans (Week 10)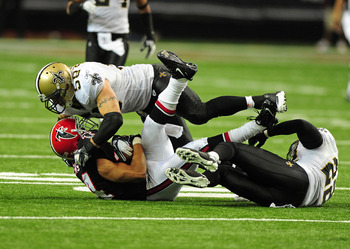 Scott Cunningham/Getty Images
Atlanta currently stands at 9-5, two games back of New Orleans in the NFC South.
Had they beat the Saints in Week 10, then their upcoming Monday Night Game this week in New Orleans would be a winner take all battle for the NFC South crown.
Instead, the Falcons will be playing for the wild card. Even if they beat the Saints on Monday, they still have to hope the Saints lose the following Sunday to Carolina in order to win the NFC South. As entertaining of a game as that is, I doubt the Saints will lose that game if they lose to Atlanta.
The Falcons' squandered opportunity of course is partly due to a questionable fourth down call in overtime. Everything about the decision to go for it can be questioned, both the call itself and the play used in that call.
But it is a call that will be the difference between a division title and a wild card.
Pittsburgh Steelers: Losing 20-3 Against San Francisco (Week 15)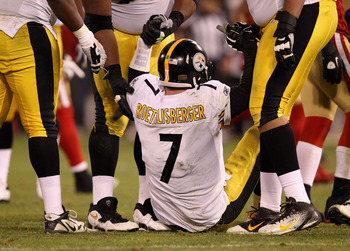 Ezra Shaw/Getty Images
The Steelers wound up getting a great gift just a week before Christmas.
The Ravens lost to San Diego, which meant that as long as the Steelers could pull off a win against the 49ers, they would be in the driver's seat for the AFC North crown and the No. 1 seed in the AFC.
Ah, but gifts can easily be squandered, which is exactly what the Steelers did last Monday, thanks in part to San Francisco's brutal defense, which is looking mighty "Super" right now.
Now, the Steelers have to win out and hope for at least one Ravens loss in order to get that bye in the first round (a Ravens loss is doable as their last game is the Bengals in Cincinnati and the Bengals will be fighting for that final AFC playoff spot).
As for home-field advantage, well, New England has it for right now.
Houston Texans: Losing 28-13 Against Carolina (Week 15)
I can't really find a bad loss in the bunch. Having a seven-game winning streak with a third-string quarterback and winning your first division championship in team history will do that.
The Texans did have a chance at possibly getting home field advantage and a first-round bye, but blew it losing to Carolina.
A letdown game where the Texans No. 1 defense had problems starting Cam Newton and the Panthers offense, Yates also let down Texans fans with his two interceptions.
Then, the insult to injury: the trick play.
Look, I'm grasping for straws here; this game isn't too bad of a loss. The Texans are riddled by injury and have already accomplished their goal of winning the AFC South. The hope in Houston is to be healthy in time for a playoff run.
It would just help out a bit more had they beaten Carolina, then they'd be in line for a first-round bye, which would help this team get healthier.
Baltimore Ravens: Losing 12-7 Against Jacksonville (Week 7)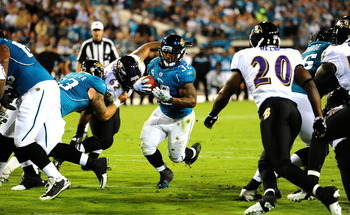 Scott Cunningham/Getty Images
Take a look at the Ravens' losses: all winnable games.
For a team that beat the 49ers, Texans and Jets, as well as the Steelers (twice), the Ravens have had some bad losses.
I'll go with the worst of the bunch, as in the worst football game I've seen this year (and there's been a lot of bad football, usually Mondays at 8:30pm on ESPN).
Baltimore managed only seven points against the Jaguars. The Jaguars are currently 4-10. Yes, the game was in Jacksonville, and yes, the Jaguars defense is underrated, but elite teams are supposed to beat teams like Jacksonville, right?
New Orleans Saints: Losing 31-21 Against St. Louis (Week 8)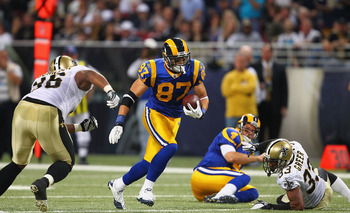 Dilip Vishwanat/Getty Images
The New Orleans Saints were riding high going into St. Louis.
At 5-2, the Saints had also just come off of a full throttle demolishing of the Indianapolis Colts in a game so embarrassing that it was the Colts' worst loss of the season.
Another dome, another winless team was on New Orleans' plate, as they came into St. Louis to face the then 0-6 Rams.
The Rams would go from 0-6 to 1-6, while the Saints would get what eventually became their last loss of the season (to this point) as the Rams won, 31-21.
St. Louis beat New Orleans thanks in part to two Drew Brees' interceptions and 159 yards and two touchdowns on 25 carries from Stephen Jackson.
While this was the last time the Saints lost, it still qualifies as their worst loss of the season due to the point differential (and the game wasn't even that close) as well as the quality, or lack thereof, of St. Louis' team.
San Francisco 49ers: Losing 27-24 in OT Against Dallas (Week 2)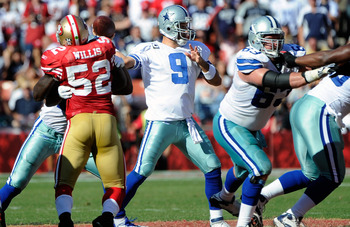 Thearon W. Henderson/Getty Images
Blown leads are bad losses, especially when they come at home.
The 49ers don't have too many losses, period, but their loss to Dallas in Week 2 still sticks out like a sore thumb.
The 49ers led the game, 24-14, halfway through the fourth quarter. Their opponent was a Cowboys team known more for blowing big leads than overcoming them. Plus, Tony Romo had suffered a fractured rib, and with a defense like the 49ers, you would think this would spell out doom.
It did, but for San Francisco. In the fourth quarter and in overtime, the Cowboys would score 13 unanswered points to prevail in the game, with Romo throwing for 345 yards and two touchdowns in the game, and most importantly, no interceptions. Let me remind you, he fractured his rib in the first quarter of the game.
For Dallas, it looms as one of their biggest wins of the year, but for the 49ers, it's their worst loss of the season. For now at least.
New England Patriots: Losing 34-31 Against Buffalo (Week 3)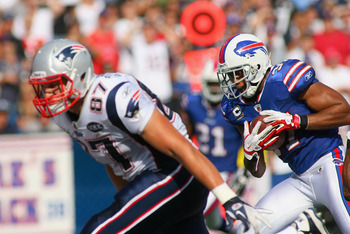 Rick Stewart/Getty Images
I was tempted to include either the Giants game or the Steelers game as the Pats' worst loss of the season, but if anything, Buffalo's current record made this one seem more appropriate.
Sure, losing to the Giants is always tough, and if they lose any of their next two games, that Steelers loss will be the difference between the first seed and possibly the third seed, but the Bills loss seems tougher to stomach in so many ways.
Prior to this game, the last time the Bills beat the Patriots was in Week 1 of 2003. Since then, a Patriots-Bills game was pretty much a given. New England would come into Buffalo, dominate, leave, have a nice day.
However, on this day, Tom Brady would find himself throwing four interceptions, including one that looked as fluky as you could get by Drayton Florence returned for a touchdown. This is interesting because Brady has only been picked off seven more times in the other 13 games he's played all year.
The Bills offense was also on point, with Ryan Fitzpatrick throwing for 369 yards and two touchdowns, while Fred Jackson carried the ball 12 times for 74 yards and a touchdown.
The same two teams meet the final weekend of the season, and odds are, neither team will have much on the line. Don't expect the same fireworks you saw in Week 3.
Green Bay Packers: Losing 19-14 Against Kansas City (Week 15)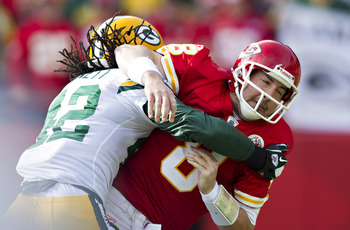 Wesley Hitt/Getty Images
If somehow the Chiefs exposed a flaw in the Packers that can be exploited by any other team, this loss will feel more ominous than it is.
However, I see it for what it is: an eventual letdown game by the best team in the NFL on the road against a team who's not quite in the playoff race, but at the same time, has a lot of pride to play for (as well as one of the best home-field advantages in the NFL).
The only reason it's on this list is because it's the only loss the Packers have for right now.
With a win on Sunday against the Bears and a 49ers loss to Seahawks, the Packers will wrap up the No. 1 seed in the NFC. Since I think the Seahawks can beat the 49ers in Seattle while the Packers will be hungry to win at home after a loss, I think it's safe to say that this game will be the Packers' worst loss of the season (even if they lose to the Lions the last week of the season, odds are it will be because they'll rest starters and have nothing to play for).
So this game is on the list and not really described much because it's only here by default.
However, if the Bears somehow do beat the Packers, then that game will move into this list without a doubt.
Keep Reading