Minnesota Vikings: Bad Record Puts Stadium Effort to the Ultimate Test
December 19, 2011
Hannah Foslien/Getty Images
Now it's apparent the Minnesota Vikings indeed are one of the worst teams in the league and that they will finish a 51-year franchise-worst 2-14. While in preseason I picked them to go 5-11 on the basis of a bad secondary and never-ending LA relocation distractions all season long, they are even worse than my most pessimistic predictions.
We all know they need to completely redo their secondary first and foremost. There is no place in the NFL for worthless, overrated trash like Asher Allen, Hussein Abdullah and Tyrell Johnson, all of whom should have been released long ago.
Next, they need to get faster linebackers. Chad Greenway is vastly overpaid yet the team was in a bind because they couldn't afford to lose him as the most talented player in the starting trio.
Finally, Brian Robison and Jared Allen are the only two linemen that bring it on any given weekend. Kevin Williams has been inconsistent and Christian Ballard never got close to being the impact rookie many expected, myself included. Depth must be found here in order to get back to the rotations we have become used to.
On the offensive side, the team must find a complement to wide receiver Percy Harvin and upgrade at tight end, as rookie Kyle Rudolph needs a youthful counterpart. Finally, in their most glaring need, Minnesota needs three new offensive linemen from center on over to the right. When Southern California guard Matt Kalil decided to return for his senior year, that didn't help matters.
I have told friends in a joking fashion: "All we need are three offensive linemen, a complementary receiver to Harvin, another defensive lineman, a linebacker and an entirely new secondary and we are all set! We are close!"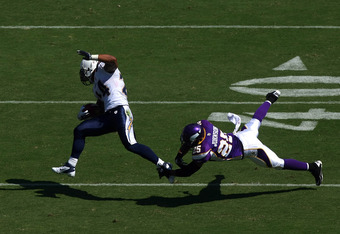 Donald Miralle/Getty Images
The good thing about the NFL is with such high turnover rate, it's not inconceivable to think this team could be back to their winning ways in just two or three years but it was obvious prior to the season that the division had passed the Vikings by, as they were, for the first time since 1984, the worst team in it.
Despite the fact he should be, the only reason Leslie Frazier isn't fired is because owner Zygi Wilf does not want to pay three coaches at the same time, having to also pay Brad Childress for the next season as well. Some people are better coordinators than coaches and it's painfully obvious by now that Frazier can't coach, but I can read the headlines now when he does get fired: "Down goes Frazier!" in reference to the late Joe Frazier of boxing lore.
Stadiums in Minnesota a Political Battle all the Time
The on-field product is a reason why there has been difficulty in getting a stadium passed but don't be fooled, it's not the only reason. For those of you reading this in places like New York, Chicago or Boston who don't know what it's like to lose a team and whose teams will never be threatened with relocation, know that this is a way of life as a Minnesota sports fan, for all four of the teams from the NBA to the NFL have been threatened with relocation or contraction at one time or another.
You snap your fingers and the money is there for your markets, end of the story. In Minnesota, where children's education, road construction and healthcare issues always come first to "frivolous" sports venues, each one is a long and arduous battle that takes roughly a decade or more.
The anti-stadium forces are loud and out en masse. I remember a 1998 political campaign where a candidate ran an ad saying "Those people who want to support a new Twins stadium can always buy a ticket" as she holds it up to the camera and freeze-frames to the end.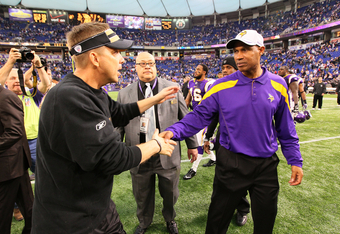 Adam Bettcher/Getty Images
People that use this idiocy are of the same crowd that still makes the argument you can read and hear today that "They have a place to play; it's called the Metrodome, and it's perfectly fine with its new roof." Those people fail to realize it's not about a workable venue, or just fixing a roof or painting some walls; it's about game-day atmosphere and generating revenue, which Forbes Magazine and the NFL have consistently proved it does not, in contrast to other teams.
The Vikings don't make much on suites or parking compared to other clubs. Suites are what it's all about. They don't even have personal-seat licenses, but even if they did, it's projected to only raise about $5 million more in revenue each year, making it a non-starter.
Record Not Helping Matters
I've actually got some emails back from some Republican state senators who have complained that the team's 2-8 record (at the time of correspondence) isn't helping their case and it would actually go a little better if their on-field product was better.
That is the dumbest thing I've ever heard. We shouldn't have to argue on the team's right to exist in Minnesota, nor should this year's record play any role since we all know they aren't going to suck forever. Politicians who are taking this into account are missing the five decades of impact the team has had on the state of Minnesota and they haven't always been winning. To me, this is just a crutch to hide behind, along with the economy, by people who never supported the stadium effort in the first place.
As the title of this piece suggests, we are about to find out come January how valuable and important the team is to the state because of the fact they will be coming off their worst record of all time. The timing could not be worse, but it is a good litmus test.
In the end, I am starting to believe the stadium will happen; how, I am not sure. Where, I am not sure, but far too much time, effort and money has been spent to just throw up arms in St. Paul and give up and allow the team to move to Los Angeles. Even the anti-stadium losers would have a hard time with it, likely saying "You mean to tell me we had to read for years about doing something, all the battles, all the senate hearings, which cost taxpayer money and in the end you are going to do...nothing?"
That just doesn't add up and never did.
As someone who honestly believed the Twins' stadium would never get built and it did, if that could get done, surely this can get done. I am guessing that the final bill will be some sort of "take it or leave it" offer from the state legislature to Zygi Wilf, thus washing their hands of the issue once and for all and leaving the ball in his court.
I think that is why we are hearing bits and pieces of what is going on through the media. These legislators know they don't want this issue but it's one that finally has come to the forefront and they have to find a resolution one way or the other. If the team moves, it's on their watch and they'll likely lose reelection, and rightfully so.
I imagine many Capitol conversations are "You know, Senator, you know we have to pass the damn thing, right?" To which another replies, "I know, I don't like it either but I am afraid there is no other way. I just don't see how we are supposed to do this."
And that is what is dragging this thing out. They really don't want to do it—they really would rather ignore this issue—but they know they cannot because of the permanency of a move and the fact it would taint their political legacy.
Either way, soon, after 14 years of legislative battles, it is going to end one way or another and I honestly say I am emotionally ready however it goes. Just reach a resolution once and for all and be done with it.
Informational references from the Minneapolis Star Tribune contributed to this article.