College Bowl Predictions: Favorites That Will Destroy Point Spread
December 19, 2011
Streeter Lecka/Getty Images
The following teams are going to make a mockery of the point spreads in their game. They are all clearly better than the team they are playing and they have the matchups going in their favor.
That will lead to double digit victories and easy money, should you happen to be on it.
Capital One Bowl: South Carolina vs. Nebraska
Line: USC -3
Nebraska is going to get embarrassed in a bowl game for the second straight season. Last year they were shut down by a Washington team that they destroyed earlier in the season, and this year they will be trampled by South Carolina.
The Cornuskers defense is a real liability and—as they displayed in blowout losses to Michigan and Wisconsin—Nebraska is vulnerable to teams with a strong rushing attack.
On the season, Nebraska allows 4.1 yards per carry. The Gamecocks run the ball for 4.6 yards per carry and they used that average to gain 2,376 rushing yards this season.
That matchup is only part of the reason this game is going to be lopsided. Nebraska's offense almost exclusively relies on the run. They are 13th in rushing yards and 103rd in passing yards this season.
The Gamecocks have done a tremendous job of stopping the run. They allow just 3.7 yards per carry. If Nebraska can't run, they cant win.
Nebraska will not be able to run in this game.
Prediction: South Carolina 31, Nebraska 17
Rose Bowl: Wisconsin vs. Oregon
Line: Oregon -6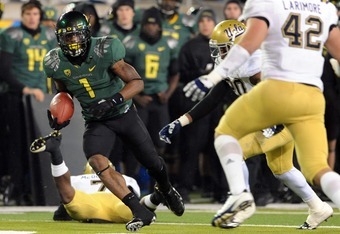 Steve Dykes/Getty Images
On paper, this matchup is a lot closer than it really is. For instance, the Badgers are fourth in points scored and sixth in points allowed. However, they are not as good as their stats suggest.
This team built a lot of their stats by beating up on weak teams.
Wisconsin played one game in particular that indicates the kind of struggles they will have in this one. They lost to Ohio State, 33-29.
Ohio State runs a similar spread option attack to the Ducks. However, Ohio State does not do it nearly as well, or as fast.
Wisconsin allowed 30 of those 33 points in the second half of that game. Ohio State wore that defense down and then took advantage of them. There is no team that is better at doing that then the Ducks.
Oregon will have the Badgers' defense gasping for air and they will be running all over them. 
Prediction: Oregon 45, Wisconsin 30

Cotton Bowl: Kansas State vs. Arkansas
Line: Arkansas -8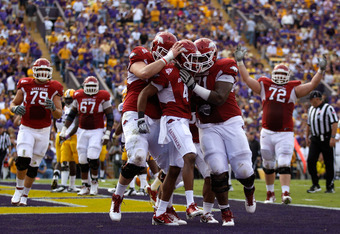 Chris Graythen/Getty Images
Kansas State put together an excellent season, despite having a horrible pass defense and playing in the pass happy Big 12.
The Wildcats allowed opposing QBs to throw for a rating of 132.8 against them. This poor pass defense led to them giving up 110 combined points in a two week stretch, where they played Oklahoma and Oklahoma State.
They will be facing a similarly dominant passing attack with the Razorbacks. Arkansas finished the season 13th in passing yards, at 307.8 yards per game.
The Razorbacks are going to light up the scoreboard and the run-heavy Kansas State will not be able to keep up.
Prediction: Arkansas 42, Kansas State 27
*Point spreads according to Bovada