Fantasy Basketball Rankings 2011-12: Top Sleeper at Every Position
Ronald Martinez/Getty Images
The start of the 2011-12 NBA season is under a week away, which means that the start of the fantasy basketball season is also within reach.
Anyone can draft a LeBron James or Kevin Durant early, but what makes a good fantasy basketball team are successful picks later in the draft.
Here's a look at the top sleepers at every position.
Point Guard: Jeff Teague, Atlanta Hawks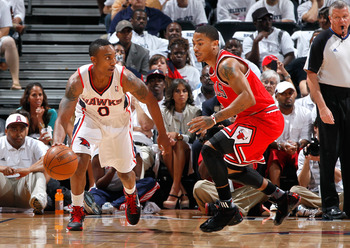 Kevin C. Cox/Getty Images
Teague's stock is on the rise, so it may require reaching for him slightly earlier than planned, but it will be worth it.
Atlanta is looking to run more this year and with Teague's pure speed they should do so very effectively.
He's nothing but upside and should put up good scoring numbers along with good numbers from the free-throw line and in both the assists and steals column.
Also Consider: Jerryd Bayless, Toronto Raptors.
Shooting Guard: Jared Dudley, Phoenix Suns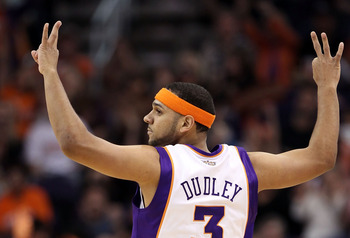 Christian Petersen/Getty Images
With the release of Vince Carter, Dudley is close to claiming the starting spot at shooting guard for the Suns.
He started 16 games at the end of last season and averaged 16.3 points, 5.9 rebounds, 2.1 steals and 1.7 three-pointer's made. He can help out in most categories and should be a good mid- to late-round pick in most drafts.
Also Consider: Gerald Henderson, Charlotte Bobcats
Small Forward: Paul George, Indiana Pacers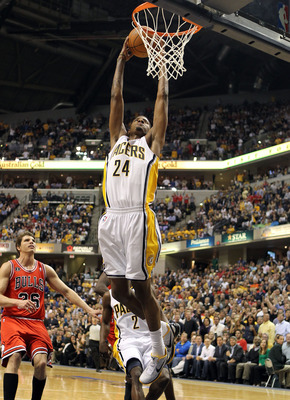 Andy Lyons/Getty Images
George is the Pacers starter at the 2-guard spot, but also qualifies at small forward for this season. He's a tough cover at either spot and will put up good numbers.
He averaged 13.5 points, 6.4 rebounds, 1.8 assists, 1.8 steals, 0.7 blocks and 1.2 threes per 36 minutes of play last year. Given the playing time, his actual numbers should soar from a season ago.
Also Consider: Austin Daye, Detroit Pistons
Power Forward: Ed Davis, Toronto Raptors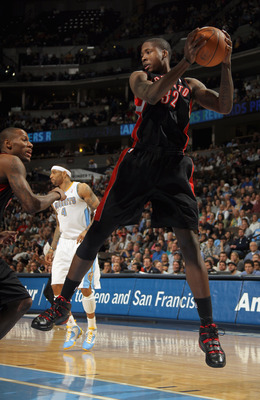 Doug Pensinger/Getty Images
Davis is still raw, but in 17 starts a season ago he averaged close to a double-double. He put on close to 20-pounds of muscle in the offseason and although he may not be in the starting lineup, he will give you what a big man should.
He's pretty bad from the free-throw line but should help in other categories.
Also Consider: Anderson Varejao, Cleveland Cavaliers
Center: Roy Hibbert, Indiana Pacers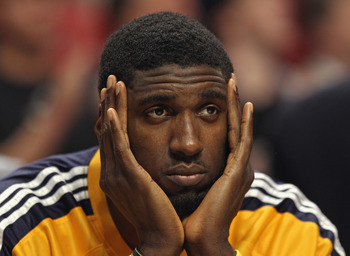 Jonathan Daniel/Getty Images
Hibbert could end up being the biggest surprise of the season.
A year ago he averaged 12.7 points, 7.5 rebounds and 1.8 blocks per game for the Pacers and you should see an increase across the board for Hibbert.
He's improved on almost a monthly basis since coming into the league and could be ready for a big breakout season.
Also Consider DeJuan Blair, San Antonio Spurs
Keep Reading