Miami Dolphins' Top 10 Quarterbacks Since Dan Marino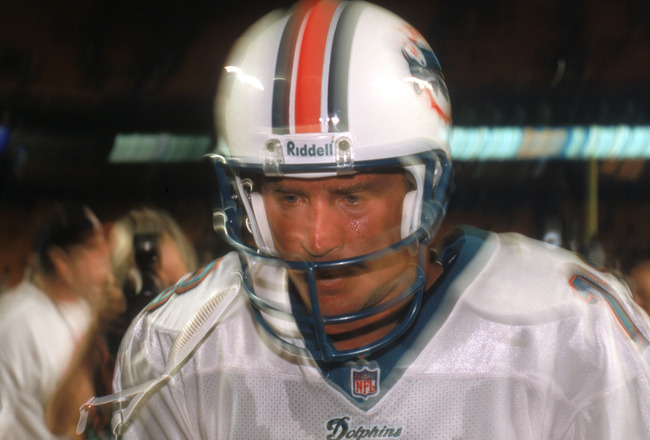 Vincent Laforet/Getty Images
Nearly twelve years ago, Miami Dolphins quarterback Dan Marino walked off the field for the final time, after a 62-7 playoff loss in Jacksonville.
Since that embarrassing defeat, things have actually gotten worse for the once proud franchise—and their quarterbacks.
The Dolphins finished their 2011 campaign with a losing record, their sixth since Marino retired.
While other organizations in NFL history (the 49ers, Colts, Cowboys and Packers) were all able find replacements to their respective quarterback legends, the Miami franchise (and their quarterbacks) are still lost in the shadow of the Marino legacy.
Sixteen different quarterbacks have started for the Dolphins since Dan Marino retired.
Few good. Most bad. Some terrible.
But before Miami Dolphins fans hold their breath and cross their fingers in this April's draft for "the next number 13," let's take a look back at the franchise's top 10 quarterbacks since Dan Marino retired.
1. Chad Pennington (2008-2010)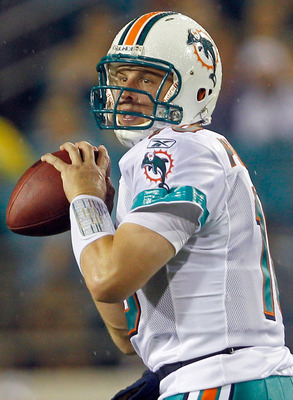 Sam Greenwood/Getty Images
Chad Pennington: 2008-2010
Record: 12-8
TD/Int: 20/9

The most disappointing statistic of Chad Pennington's tenure with the Miami Dolphins is that he lasted only 20 starts.

Pennington's career in South Beach was cut short after tearing the capsule muscle in his throwing shoulder in Week 3 of the 2009 season, and then re-injuring the same shoulder again in 2010. Although the Marshall graduate now has a successful career in broadcasting with the FOX network, few of the Dolphins faithful will forget Pennington's amazing 2008 campaign.

Pennington arrived in Miami as the franchise was still recovering from a 1-15 finish in 2007, the worst season franchise history. However, under the leadership and experience of the then-32-year-old quarterback, the Dolphins experienced one of the best turnarounds in league history.

Pennington's 2008 season was so good, he finished second in the MVP voting and captured his second Comeback Player of the Year Award. Pennington completed nearly 70 percent of his passes that season and threw for a career-high 3,653 yards—the most of any Dolphin starter in the post-Marino era.

Although Pennington's best targets included Tenn Ginn Jr., Anthony Fasano and Davone Bess, he still managed to toss 19 touchdowns to just seven interceptions in his first year with Miami. Pennington won nine of his final 10 starts in 2008 and led the Dolphins to just their second division crown of the decade.

Signature Game: December 28th, 2008 at New York Jets
Hollywood could not have written a better ending for the Dolphins 2008 season finale, especially when considering quarterback Pennington. After spending the first eight years of his career in New York, Pennington was released just a month before the 2008 season in favor of the recently un-retired Brett Favre.

Yet, as fate would have it, the Dolphin quarterback returned to the Meadowlands in 2008 with the division title on the line. Pennington performed admirably in his homecoming, throwing for 200 yards and two touchdowns, as he led the Dolphins to victory and an 11-5 finish on the year. To make matters sweeter, Favre—Pennington's replacement—threw three costly interceptions in the loss.
2. Jay Fiedler (2000-2004)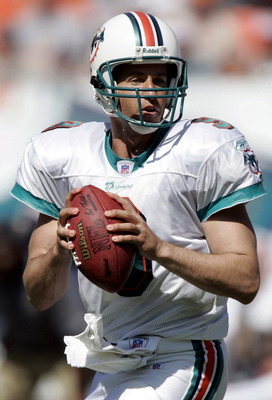 Eliot J. Schechter/Getty Images
Jay Fiedler: 2000-2004
Record: 36-23
TD/Int: 66/63
By far, Jay Fiedler faced the most difficult challenge of any Dolphin starter in the post-Marino era.

It was Fiedler who had the impossible assignment of first replacing the Miami legend to start the 2000 season. And when considering the immense pressure (and lack of offensive talent) surrounding him, Fiedler performed quite respectably in his five seasons with the Dolphins.

Fiedler started more games (59), threw for more yards (11,040) and appeared in more playoff contests (3) than any other Miami quarterback since number 13 hung it up. Undrafted out of the University of Dartmouth, he posted a winning record in four of his five seasons with the team.

Nevertheless, it was in Fiedler's absence that the hearts of Dolphins fans grew fonder. Both in 2002 and 2003, he endured injuries that cost him a combined 11 games. During that time, the Dolphins went a combined 5-6 without Fiedler and missed the playoffs in each of those years.

After the abrupt (and brief) retirement of running back Ricky Williams in 2004, Fiedler was one of the many casualties that found himself out of Miami the following season.


Signature Game: November 27th, 2003 at Dallas Cowboys

Thanksgivings have been good to Miami Dolphin quarterbacks over the years.

Jay Fiedler continued the tradition in 2003 in his first start after being sidelined for five weeks due to injury. Fiedler was 16-of-20 and threw for three touchdowns, as the Dolphins crushed the Dallas Cowboys 40-21.
3. Gus Frerotte (2005)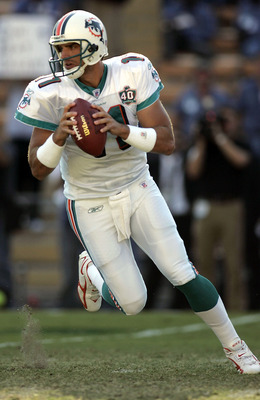 Chris Graythen/Getty Images
Gus Frerotte: 2005
Record: 9-6
TD/Int: 18/13

The legacy of Gus Frerotte is cemented (literally) in a wall in the nation's capital.

After scoring on a one-yard touchdown run for the Redskins in 1997 season, Frerotte celebrated by running head first into a padded wall behind the end zone. As a result of the bizarre play, Frerotte was ambulanced to a local hospital for further examination.

However, in his only season with the Dolphins, Frerotte was no joke. The 2005 Dolphins surprised much of the football world, as they finished 9-7 that year and second in the division.

To be fair, Frerotte was not great—he was average. Exactly average. Of the 32 teams that season, the Dolphins ranked 16th in passing yards and 16th in points scored.

In coach Nick Saban's first season with the franchise, Frerotte threw just short of 3,000 yards and won all of his final six starts. Unlike most of the quarterbacks who have succeeded the position since Dan Marino, Frerotte was one of very few who exceeded fan expectations.

Frerotte was intended to be the perfect "bridge" quarterback for the franchise, as they transitioned into the Saban era. To Miami's misfortune, the Saban era lasted just 10 months longer than Frerotte did.


Signature Game: December 11th, 2005 at San Diego Chargers

Although the Dolphins were all but mathematically eliminated from the postseason by early December of 2005, Frerotte and the Fish played with ferocious intensity in an attempt to spoil the playoff hopes of the 8-4 San Diego Chargers.

Frerotte threw for an impressive 229 yards in Miami's 23-21 win and completed two touchdowns to wideout Chris Chambers, as the Dolphins improved to 6-7 on the year.

The Chargers never recovered from the loss and missed out on the postseason.
4. Matt Moore* (2011-Present)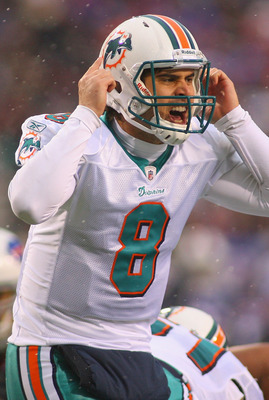 Rick Stewart/Getty Images
Matt Moore: 2011-Present
Record: 6-6
TD/Int: 16/8
Before Matt Moore started his first game for the 2011 Miami Dolphins, the franchise was on the perfect path to drafting Stanford quarterback and Heisman Trophy candidate, Andrew Luck. The team was 0-4 and ranked towards the bottom in nearly every offensive category.

However, under Moore, the Dolphins righted their disaster of a season and went 6-3 in their final nine games. Because of Moore's stellar play, Miami is in no position to draft Luck. In fact, the quarterback of the 2012 Miami Dolphins may already be on the roster.

For the first time in three seasons, the Miami offense has an identity. They are a run-first team that uses the ground game to set up Moore in play-action, where he is quite effective. He is mobile, accurate and capable of going through all of his reads.
Moore finished 2011 with more wins than losses against division foes, twice as many touchdowns as interceptions and a quarterback rating of 87.1.

Even if Miami does select a quarterback in the early rounds of next April's draft, Moore's play this year has earned him the opportunity to start the 2012 season.


Signature Game: December 18, 2011 at Buffalo Bills

There was nothing statistically outstanding about Moore's win over the Buffalo Bills in Week 15 of the 2011 season. He was 10-of-20 with 217 yards and two touchdowns. On the surface, the performance was good—but hardly great.

However, consider the scenario.

It came on the week that the Dolphins fired their head coach. It was a road game. In the division. In Buffalo. In the snow.
Then consider that Moore was battling head and neck injuries all week.

The Dolphins weren't playing for the playoffs. They weren't playing for their head coach any longer. And when the Dolphins play at home in Miami, they barely play for any fans in the stadium.

They were just playing for pride.

And in a Week 15 contest of pride, Moore prevailed.
5. Joey Harrington (2006)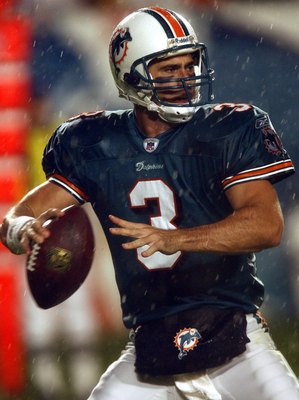 Eliot J. Schechter/Getty Images
Joey Harrington: 2006
Record: 5-6
TD/Int: 12/15

The 2006 Miami Dolphins were enormous disappointments.

Quarterback Daunte Culpepper led a group of Miami players who failed to fulfill expectations in '06. Others included running back Ronnie Brown, receiver Chris Chambers and tight end Randy McMichael.

A player who didn't disappoint was one Dolphin fans hoped they'd never have to see: Joey Harrington.

Harrington took over for Culpepper in Week 5 against New England. Early on, the former No. 3 overall draft pick struggled badly—just as he had in his first four seasons in Detroit. But Harrington soon found a comfort blanket in a gritty and undrafted slot receiver out of Texas Tech by the name of Wes Welker.

Harrington averaged over 200 yards per game in Miami, and he even had a 400-yard performance in Week 7 of that year—the first of post-Marino era.

He took over for a 1-4 team, but after winning five of six late that season, he put the 'Phins in a position to at least compete for a playoff spot. However, his last two starts were as disastrous and frustrating as the rest of his professional career, and Miami finished at 6-10.

But for a brief period in the late fall of 2006, Joey Harrington wasn't bad.


Signature Game: November 23rd, 2006 at Detroit Lions

Joey Harrington wasn't just disliked in Detroit—he was despised. Under Harrington, the Lions were a combined 18-37, and just 1-3 on Thanksgiving Day.

But even with Harrington out of the Motor City, the Lions were still stumbling their way to a 3-13 season in 2006.

Miami prevailed in their Thanksgiving showdown with Detroit, winning the game 27-10. Harrington was responsible for three touchdown passes and 213 yards through the air. Throughout the game, the Dolphins quarterback was visibly excited to be handing his former team their ninth loss and was especially animated on the field.

Even with Harrington out of town in 2006, the circumstances must have seemed all too familiar to Detroit fans. It was Thanksgiving Day, and the Lions had lost—and Joey Harrington was to blame.
6. Chad Henne (2008-2011)
Mike Ehrmann/Getty Images
Chad Henne: 2008-2011
Record: 13-18
TD/Int: 31/37
Bill Parcells is responsible for some very good quarterbacks.

First, he helped develop Phil Simms into a Pro Bowler and two-time Super Bowl champion with the Giants. Then he went on to help draft Drew Bledsoe, Chad Pennington and Tony Romo—all Pro Bowlers.

Unfortunately, he's also responsible for drafting Chad Henne.

Before things got bad with Henne (and they have gotten real bad) the future looked bright. He was the first quarterback since Marino's retirement that looked the part. Henne's build and frame nearly mirrors Marino's. Unlike the field of quarterbacks that preceded him, Henne wasn't purchased in free agency or acquired through trade. Like Marino, Henne was a Dolphins draft choice. And early on, he made throws that even looked liked Marino.

In just his second start in 2009, Henne and the Miami Dolphins squared off against Mark Sanchez and their division rival New York Jets on Monday Night Football.

That evening, Sanchez threw for 172 yards with a touchdown but was outdone by Henne and his late-game heroics, as the Dolphins edged the Jets 31-27. The Dolphin starter completed 20 of his 26 passes, to the tune of 241 yards and two touchdowns.

Both franchises walked away from that game with reason to believe that they had finally found the worthy replacement to their respective quarterback legends.

Since that Monday night affair, the Jets have won four playoff games and have reached their conference title game in each of Sanchez's seasons with the club.

Henne has yet to reach the postseason.


Most Non-Marino Like Performance: December 5th, 2012 vs. Cleveland Browns

With the Dolphins at 6-5 and very much in the thick of the AFC playoff hunt, they needed a solid game from their quarterback as they faced off against the 4-7 Cleveland Browns.

The score was tied at 10 late in the fourth quarter, as Henne took the field in attempt to redeem himself from a horrendous performance to that point. Instead of taking the Dolphins down the field into field-goal territory (or just killing the clock to force overtime), Henne threw his third interception of the game deep in Miami territory. The pick set up Cleveland for an easy 23-yard field goal, and the Dolphins fell to 6-6 on the year.

Miami would lose three of their final four games and fail to qualify for the playoffs.
7. A.J. Feeley (2004-2005)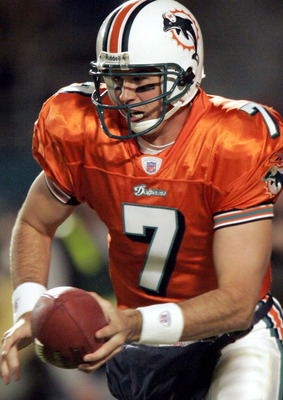 Eliot J. Schechter/Getty Images
A.J. Feeley: 2004-2005
Record: 3-5
TD/Int: 11/15
The 2004 football calendar finished with A.J. Feeley at quarterback for the Miami Dolphins. Surprisingly, the season started with even worse news than how it ended.
Just weeks before the Dolphins prepared to host the Tennessee Titans in their season opener, running back Ricky Williams—the cornerstone of the franchise—abruptly announced his retirement.
Early into the team's 2004 campaign, it became painfully clear to all Dolphins fans that Jay Fiedler was never going to be Dan Marino. Then, after a 16-13 loss the following week at the hands of the Cincinnati Bengals, it became equally clear (and painful) that Feeley was not even going to be Fiedler.
Over the next 14 weeks of play, Feeley helped quarterback the Dolphins to their worst finish since the Nixon administration, as he posted a sub-60 quarterback rating in half of his starts.
Feeley's only 300-yard passing game in Miami was accompanied with five interceptions—the most of any quarterback in a single game in the post-Marino era.
His sole shining moment came on a Monday Night Football contest against the eventual Super Bowl champion New England Patriots. Trailing 28-17 in the fourth quarter, it was Feeley who out-dueled Tom Brady and threw the game-winning touchdown. The Dolphins won 29-28.
Feeley was traded later the next season.
Most 'Non-Marino Like' Performance: September 26th, 2004 vs. Pittsburgh Steelers
In A.J. Feeley's first home start with the Miami Dolphins, his team was desperately hoping to avoid their first 0-3 start since 1969.
Their opponent, the Pittsburgh Steelers, had a new face at quarterback as well. Pittsburgh was starting their top draft choice, Ben Roethlisberger, for the first time. The rookie led the Steelers to a fourth-quarter touchdown, the only one of the game, and to a 10-point victory.
Feeley, on the other hand, completed less than half of his 27 attempts and was responsible for two interceptions. He only led the Dolphins on one scoring a drive—a fourth-quarter field goal.
8. Brian Griese (2003)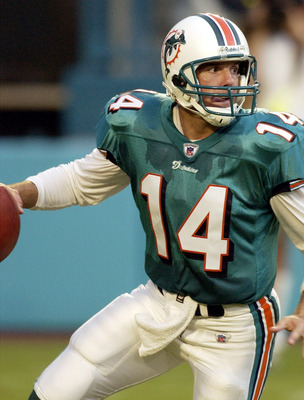 A. Messerschmidt/Getty Images
Brian Griese: 2003
Record: 3-2
TD/Int: 5/6
Unfortunately, there are cases where the apple does fall far from the tree.

Such is the case when reflecting on Brian Griese's short stint with the franchise where his father won two Super Bowls. Brian, the son of Bob, was brought to Miami in order to keep the team afloat in the event that Jay Fiedler went down with an injury, like he had the year before.

After a week six injury to Fiedler, Brian Griese got the chance he'd hoped for.

And at first, it played out much like a dream. The third-round draft choice, who failed to adequately replace Bronco legend John Elway in Denver, threw for three touchdowns in his first start for the Dolphins. However, Griese lost his next two games (both within the conference) and only eclipsed 200 or more passing yards once in his five starts.

Even Griese's modest 3-2 record as a starter is a bit misleading. In a Sunday Night Football showdown against the Washington Redskins, his final start with the Dolphins, Griese had two interceptions and Miami was losing 20-7 late in the first half. Earlier than expected, Fiedler returned to play in the third quarter and relieved the struggling Griese. Fiedler's return sparked the offense and he led the Dolphins to victory.

In the end, Fiedler did for Griese what his replacement didn't do enough for him. He got him the win.
Most 'Non-Marino Like' Performance: November 9th, 2003 at Tennessee Titans

After a late-game loss to the Colts the week prior, the Miami Dolphins traveled to Tennessee to take on the 6-2 Titans. It was critical for Miami to prove that even without Fiedler they could still compete with the AFC's elite.

Griese proved that they couldn't. The Dolphins quarterback threw three interceptions and not a single touchdown. Miami was pounded by the Titans 31-7.
9. Ray Lucas (2002)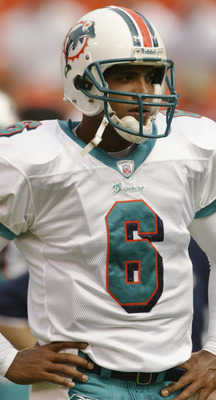 Brian Bahr/Getty Images
Ray Lucas: 2002
Record: 2-4
TD/Int: 4/6
The 2002 Dolphins were the most talented of any Miami team since Marino's retirement.

Jay Fiedler led a 12th-ranked offense, while Ricky Williams had a career year—rushing for 1,853 yards and 16 touchdowns. On the other end of the ball, the fourth-ranked Miami defense sent six players to the Pro Bowl that year, while star defensive end, Jason Taylor, had a career-high 18.5 sacks.

So how did the 2002 Miami Dolphins go just 9-7?

Ray Lucas started in place of the injured Jay Fiedler in a Week 7 contest against the Buffalo Bills. In his first start, Lucas threw four interceptions and posted a quarterback rating of 26.3 in defeat.

The following five games were much of the same. When Lucas took over at quarterback, Miami was 5-1 and atop the AFC East. By the time Fiedler returned, the Dolphins were just 7-5 and had lost three games within the division.

In the end, they lost a three-team division tiebreak and missed out on the postseason for the first time since 1996.


Most 'Non-Marino Like' Performance: December 1st, 2002 at Buffalo Bills

Week 13 against the Buffalo Bills served was a microcosm of the 2002 Dolphins season.

They started out hot (leading 14-3 after the first quarter), struggled badly in the second half (losing 38-21) and Ray Lucas didn't help. And despite having a huge performance from Ricky Williams (228 yards and two touchdowns), they couldn't get it done.

Lucas found the end zone only one time and had a measly 40 yards through the air.
10. Daunte Culpepper (2006)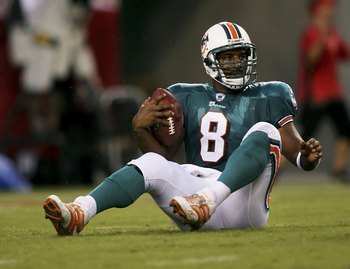 Doug Benc/Getty Images
Daunte Culpepper: 2006
Record: 1-3
TD/Int: 2/3
There's a lot to dislike about Daunte Culpepper in his short time with the Miami Dolphins.

For starters, there are his stats.

In just four starts, Culpepper threw three interceptions and just two touchdowns. He had three fumbles and was sacked a remarkable 21 times! He lost all but one game.

Then, there were the expectations.

Culpepper joined a team that had finished second in the division the year before. He partnered with the No. 2 overall pick from the '05 draft (Ronnie Brown) in the backfield and could rely on a stellar defense to play opposite him. The New England Patriots dynasty, which had spoiled Miami's playoff chances for much of the decade, at least appeared to be fading. For the first time in the post-Marino era, it was not absurd to believe that Miami could contend for the Super Bowl.

Culpepper, a three-time Pro Bowler, was just two years removed from a season in which he threw for over 4,700 yards and had 39 touchdowns!

Yet, as agonizing as it is to reflect on what Miami got out of Culpepper, there's more pain in remembering what they missed out on.

After the 2005 season, the Dolphins were committed to getting a great quarterback. The days of Fiedler, Feeley and Frerotte were over. In order to compete with Manning, Brady and Roethlisberger in their conference, the Dolphins absolutely needed a premier quarterback—the next Marino.

Two quarterbacks remained on the Dolphins short list that offseason. Each were former Pro Bowlers; each were coming off serious season-ending injuries.
In the end, the Dolphins ended up with Culpepper

It was arguably their worst decision in franchise history.

The other quarterback signed in New Orleans. He led the Saints to the 2009 Super Bowl and captured the MVP of the game.

The other quarterback, Drew Brees, just broke Dan Marino's single-season passing yards record.


Most 'Non-Marino Like' Performance: September 9th, 2005 vs. Pittsburgh Steelers:

The hype surrounding Daunte Culpepper's first start with the Dolphins, and less than a year removed from a season-ending knee injury, was tremendous. Miami was taking on the defending Super Bowl champions, the Pittsburgh Steelers, on the NFL's Thursday night opener.

With a national television audience watching, Culpepper was just 18-of-37, with zero touchdowns and two interceptions. Then, with an opportunity to take the lead late in the fourth quarter, Culpepper threw an off-target pass that was intercepted by Steelers linebacker Joey Porter.
Culpepper was well on his way to joining the ever growing list of quarterbacks that have failed to perform in the shadow of Dan Marino.
Keep Reading

Miami Dolphins: Like this team?