Jay Cutler Injury: Updates on Bears QB's Week 16 Status and Fantasy Value
December 19, 2011
Jonathan Daniel/Getty Images
The Chicago Bears have completely dropped the ball since Jay Cutler went out with his thumb injury, but there is good news on the horizon.
While Cutler is still unlikely to play in Week 16 of the 2011 NFL season, there is a chance that the QB could be back in time for the final regular season game. If it means anything, that is.
Update: Wednesday, Dec. 21 at 1:30 p.m. EDT by Alex Kay
Michael David Smith of ProFootballTalk.com is reporting that coach Lovie Smith is done with the Caleb Hanie experiment at quarterback. 
With Jay Cutler still not healthy, they are going to trot out Josh McCown for the first time this year and see how he does in an inefficient offense that is using their third-string running back as well.
Without Cutler and Matt Forte, the Bears have no shot of making the postseason, so why not see how McCown does. It can't be worse than Hanie.
UPDATE: Tuesday, Dec. 20 at 9:47 a.m. ET by Eric Bowman 
Brad Biggs covers the Bears for the Chicago Tribune, and he recently wrote a story on the updated news about Cutler. Here's what head coach Lovie Smith told him. 
"[Cutler and Matt Forte] are getting better...whenever a player is healthy and ready to play, you play them. It's as simple as that. That is what we said from the start.

That is what we said with all of our players. Just not going to sit a player if they are healthy and ready to go. Neither one of those players is healthy right now."
The Bears were hopeful that Cutler could return, but it doesn't appear he'll be able to go in the final two games of the season. 
Chicago has lost four straight games, but the Bears are still in the hunt for a wild card spot. Of course, they have to get out their slump if they want to play in the postseason, but that's easier said than done. 
If they manage to beat the Green Bay Packers on Christmas Day, then perhaps we could see Cutler return since the Bears have to win their final two games in order to have a shot at playing in the playoffs. 
For now, Cutler isn't likely to return, which shouldn't be a surprise to anyone. 


What They're Saying
Bears' Insider is reporting on Twitter: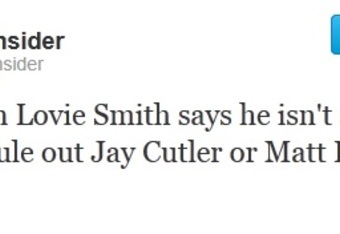 Chicago native Michael Wilbon exposes the terrible truth: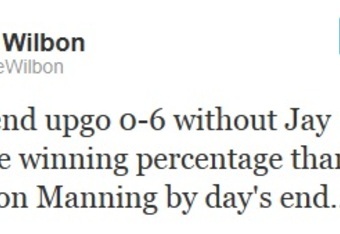 Fantasy Impact
Depending on how your fantasy football league uses the final weeks for the playoffs, this may have no fantasy value at all. Week 16 is almost universally the final week of fantasy playoffs, but if for some reason you have a league that goes into Week 17, Cutler may be an option.
Who's the Backup?
For the time being, it's Caleb Hanie. While it's Hanie's job to lose, the three interceptions thrown against the Seattle Seahawks has the Bears coaching staff considering all their options. Watch out for a possible appearance of Nathan Enderle if things get really bad.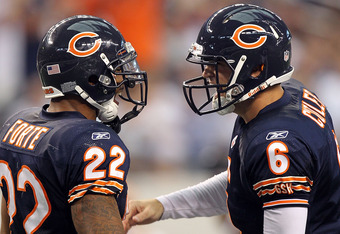 Ronald Martinez/Getty Images
Devastation Scale (10 out of 10)
As if the injury to star running back Matt Forte wasn't devastating enough for Bears fans, the team lost their starting quarterback to boot. The train was off the tracks at that point, but Chicago denied it and tried to go full steam ahead. The result is 10 out of 10 on the devastation scale. Bye bye playoffs.
Check back for more on the National Football League as it comes, and check out Bleacher Report's NFL Page to get your fill of all things football.