Duke Blue Devils vs. UNCG Spartans Preview and Prediction
December 19, 2011
Chris Trotman/Getty Images
Have you ever tried to shoot fish in a barrel?  Neither have I, but I bet it would be pretty easy.
Tonight the Duke Blue Devils host the Spartan Fish, as the Spartans of UNCG head to the unfriendly confines of Cameron Indoor Stadium.  
It is no secret that the Spartans are a bad team; their 2-9 record speaks for itself.
The Duke Blue Devils are having a typical season so far.  They not only helped Coach K break 903, they keep winning.  
Currently at 9-1, they have the ACC's best record.  Their lone loss on the season was at the hands of Ohio State in their worst game of the year.
Tonight's game is a perfectly-scheduled-welcome-back from Finals game.  It is time to put the pencils down and pick up the ball!  
This is the first game in eight days; while rust could be a factor, against a team of this skill-set, they shouldn't have a problem at all.
UNCG would be hard-pressed to find a tougher venue to play this Top 10 team.  
The Devils have won an impressive 40 straight at home and are on the brink of setting their all-time longest home winning streak!  
Defeating UNCG will tie the mark.  
Furthermore, they have the nation's longest home non-conference winning streak at 90 games, and haven't been defeated by a non-conference foe at home in 11 years.
In addition to the home streak, Coach K has never been defeated by the Spartans, boasting a record of 9-0.
On the season, Duke has been led by athletic guard Seth Curry.  He leads the team in playing time and was the clear-cut favorite to be the go-to guy throughout the season.  
As the year progresses, Austin Rivers is starting to steal some of that title.  
Rivers has led the team in scoring, averaging 17.4 PPG in his last seven games.  It appears that he is really starting to grow in this offense and he just might be the player Duke faithful expected.  
One can only wonder what a backcourt of Kyrie Irving and Austin Rivers would look like right now…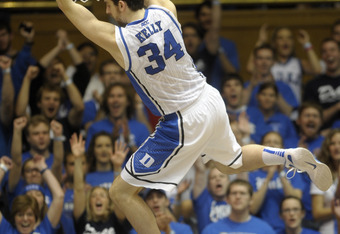 Sara D. Davis/Getty Images
The front-court or "Plum-Land" has been full of the brothers grim all season.  
Their progression is still a work in progress, but there is hope that they will continue to grow.  On the season they have pulled down a combined 149 rebounds and scored 190 points, which equates to 24 percent of the teams scoring.
Duke's wild card seems to by Ryan Kelly.  
His height and ability to expand the court against other big men allows the Plumlees to work the middle.  His ability to shoot also creates opportunities for others, as teams are forced to extend their defense and challenge Kelly.
Prediction
UNCG has a better shot at seeing Bigfoot on the team bus than beating Duke at home.  
Duke by 30!  
Rivers will lead all scorers with around 20, Mason will lead all players in dunks and Dawkins will lead everyone with deep treys.