Detroit Lions: 5 Changes That Need to Be Made Before Playoff Time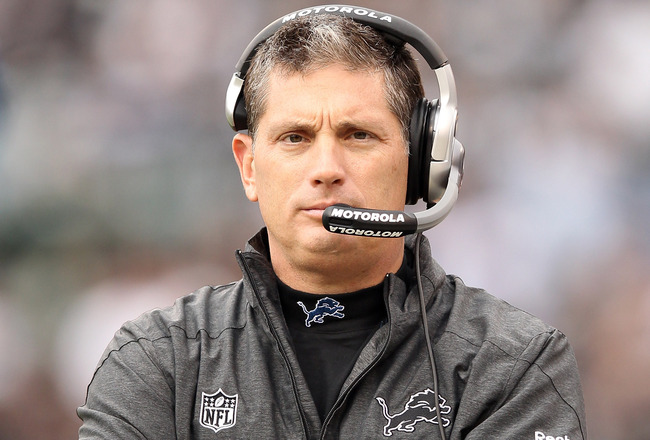 Ezra Shaw/Getty Images
As we can see by the picture, Detroit Lions head coach Jim Schwartz has some major thinking and consternating to do.
The Lions pulled off yet another impressive win yesterday in Oakland, capped by a 98-yard drive in just under two minutes that led to the game-winning touchdown. Unfortunately it also led to a near heart attack-inducing field goal which, had it not been blocked by Ndamukong Suh, would have been the NFL's all-time longest field goal at 65 yards.
Yesterday's win, however great it was, left more questions than answers. The most pressing question is what is this Lions team? Are they the tough, blue-collar, stop-at-nothing-til-the-job-is-done team that Schwartz is trying to mold them into? Possibly.
Are they the "yes, we're winning but we have a lot of holes to fill" team that can barely escape by the skin of their teeth? Oh, big time.
Are they the Detroit Lions of the 1990s? I am definitely seeing some signs that a comparison could be made.
Long story short though, one more win and the Lions are in the playoffs for the first time since 1999. It won't be easy getting there. They have a banged-up secondary, an average—and some would even argue below-average—offensive line, a great quarterback, less than nothing at running back, and a defensive tackle who as Freud would say, "Well, he has issues".
All of these put together make up an amoeba of a football team. Schwartz has five changes to make before playoff time if they want to secure a spot in the NFC Wild Card.
5. A Shake-Up Could Be Necessary on Special Teams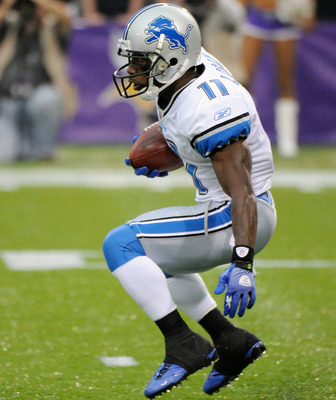 Hannah Foslien/Getty Images
You win games in the NFL in three phases: offense, defense, and special teams.
All season long, I've defended kickoff returner Stefan Logan, citing the change to the kickoff rule for his lack of production. While Logan has one touchdown off of kickoffs and punts this season, I saw some things yesterday that you just can't do in the NFL.
More than once, on a poor kickoff by Sebastian Janikowski and poor punts by punter Shane Lechler, Logan failed to bring the ball out to the 20 yard line. Now I can put most of the blame on the blocking, which I will, but at the same time Logan needs to make it exciting.
What in the world was punter Ben Graham doing? His end-over-end style of punting may sometimes work, but it didn't yesterday. He did not have very good punts yesterday.
Really, the only sure lock at special teams should be Jason Hanson. Ben Graham will be the punter by default, but the Lions could benefit from a change at returner or some of their coverages on special teams.
4. How About Some Blocking?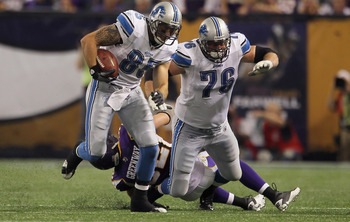 Jeff Gross/Getty Images
Football games are won and lost in the trenches. The offensive line for the Lions has been spotty at best this season. They've done a decent job overall of keeping Stafford healthy, but there have been some critical times this season where Stafford has taken a beating.
Stafford is a guy the Lions cannot afford to lose. While the O-line has done a decent job protecting him this season, the penalties that they commit at the most inopportune times, as well as breakdowns in blocking, have either killed drives or led to Stafford throwing passes from his back, which believe me is hard to do.
Coming off of their bye week in Week 8, the Lions went out and signed guard Leonard Davis, yet he hasn't started a game yet. I think now is a good time. Stephen Peterman has been quietly good this year, but Rob Sims has struggled at times. The Lions could benefit from a change there.
Finally, Jeff Backus has got to stop getting penalties at stupid times. Yesterday, the Lions would have had a touchdown had he not committed a holding penalty that pushed them 10 yards back. They got the TD anyway, but it would have been a lot easier.
3. Cliff Avril Needs to Come Up Huge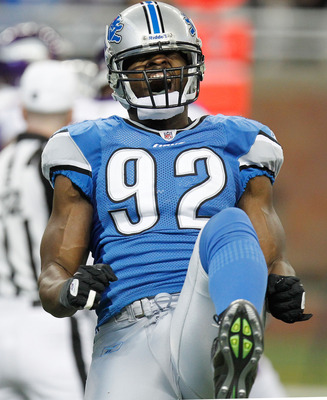 Gregory Shamus/Getty Images
Remember how I said games are won and lost in the trenches? Cliff Avril is making his living in the trenches.
Avril has done remarkably well this season. When Ndamukong Suh, Kyle Vanden Bosch and Corey Williams have struggled, Avril has stepped up. He wants a long-term deal, and there's no doubt that it would behoove the Lions to give him one.
There is one problem with Avril, though. Penalties. Avril had three of them alone in the game yesterday. He needs to come up huge these next two weeks for the Lions. Williams, Suh, and KVB have all been struggling far too much this season, so it's up to Avril to show he's earned that long-term deal.
As for the interior linemen, they could benefit from a change. Maybe it's time to see what Sammie Hill and/or Andre Fluellen can do next to Ndamukong Suh. Corey Williams could use the break.
2. Running Back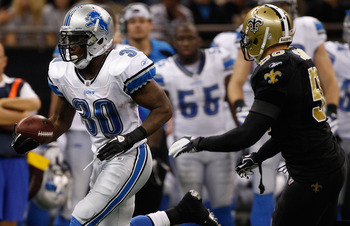 Chris Graythen/Getty Images
The Lions need to make a change at running back. Maybe not necessarily at starter, but certainly at depth positions.
Jahvid Best. Doneski. Mikel LeShoure, donezola. Kevin Smith is banged up, and he sometimes looks like his ankle is going to snap at any moment. Maurice Morris has been a shell of what he was in previous years. Don't even get me started on Keiland Williams.
How the Lions have managed to do what they are doing right now with little semblance of a running game is mind-boggling. Then again, the Lions haven't had a good running game since Barry Sanders retired. Smith will benefit from resting that ankle. I am not sure how much he has left, and if San Diego doesn't do it Saturday, Green Bay will make Smith take a beating.
Maurice Morris is a veteran back, but he hasn't been able to get much of anything going this season. Williams is a dud. He's facing the sophomore slump. If the Lions want to win, they need to get some kind of ground attack going.
Maybe it's time the Lions gave Aaron Brown a look?
1. Major Changes Necessary in Secondary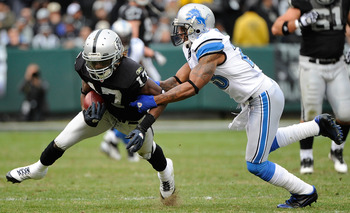 Thearon W. Henderson/Getty Images
It seems the biggest problem for the Lions this season is the secondary. It's been this way since safety Erik Coleman went down in training camp. Chris Houston is banged up, Eric Wright is banged up, Louis Delmas is still recovering from a knee injury, and it seems as if the Lions' defensive backs are dropping like flies.
Rather than signing defensive linemen for a game when a player gets injured, the Lions will do wise to sign some secondary players. Even if they don't start, it is good to have some veteran depth in the defensive backfield when the injury bug bites again.
The Lions have managed to hold their own with their secondary as it is, but who knows how much longer they will be able to go without doing something different.
Keep Reading

Detroit Lions: Like this team?