WWE TLC Results: Ranking Every Match from a Strange PPV
TLC 2011 blew hot and cold.
Despite some excellent matches, such as Ryder's US Championship win, the surprisingly good Triple H-Kevin Nash encounter and the TLC main event, WWE threw in three completely unannounced matches that failed to deliver.
Even some of the booking decisions were baffling.
Nevertheless, let's have a look at where I ranked each match of the PPV.
Begin Slideshow

»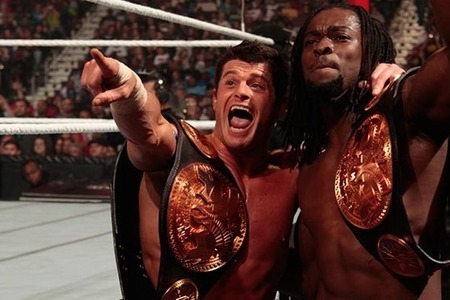 The first of TLC's unannounced matches was between Air Boom and Epico & Primo for the WWE Tag Team Championships.
You couldn't fault the performers, but the crowd was dead for almost the entire contest (as they were for most of the evening) and things seemed just a little sloppy at times.
Give these guys some more ring time over the next month, and have them face off at Royal Rumble after some real hype.
I'm a huge fan of Sheamus.
However, for the past couple of weeks, the Great White has had no direction whatsoever, squashing competitors such as Jinder Mahal and Heath Slater in recent editions of SmackDown—and this run continued with a lackluster match against Jack Swagger.
Sheamus made Swagger look like a superstar, but in truth, it was a poor match that was hastily announced by Teddy Long in a backstage segment.
Less of these please, WWE.
In WWE's final unannounced match, we saw Diva's Champion Beth Phoenix take on Kelly Kelly it what must be at least the ninth or tenth meeting of the two wrestlers this year.
First of all, why wasn't it Alicia Fox taking on the Glamazon?
Nevertheless, Beth and Kelly did put on a decent match, which Beth won with what looked like a reverse electric chair drop.
This was a good decision by Creative, as Beth is the only real believable Diva's Champion at this point in time.
I'm sure I'm not alone in saying that this match was booked horribly. There is no way Randy Orton should've won this.
The Barrett Barrage had looked unstoppable up until TLC and should've been allowed to continue, but instead, we had The Viper RKO'ing Barrett through a table after the Englishman attempted a flying elbow drop.
This will definitely hurt Barrett's momentum, and I'm not sure where he goes from here.
After watching this match, I immediately went on the internet to see if there was a reason for Henry dropping the belt.
And sure enough, there was. The World's Strongest Man legitamately injured himself against John Cena last week, and so this contributed to the disappointing match.
Despite the weeks, if not months, of build-up, this relatively short match barely got the crowd going, and it was only when Daniel Bryan's music hit that the roof really blew off.
How successful Bryan will be as champion is a question for another day, but I would've quite liked to see Henry keep the belt for a little bit longer and work on a reduced schedule.
It looks like Henry's monster push is over—for now.
This match had a proper build, and it paid off.
Cody Rhodes was always going to retain, but the talented young wrestler had a solid back-and-forth match with the veteran Booker T.
It doesn't look like this feud is over yet either, as Cody attacked Booker twice prior to the match, and after weeks of build, WWE can't just leave it there.
These two could put on a five-star match given the time, and I hope we get that when Royal Rumble comes around.
Triple H vs Kevin Nash was expected by most to be a dud.
How wrong we were!
The two veterans put on an excellent show, as both men took control at various stages throughout the match and at one point, I actually thought Nash was going to win it.
However, as you can see from the picture, Triple H was the one who came out on top.
I also loved the ending - if you haven't seen it, definitely check it out.
Both these superstars are on the ascendancy.
It looks like Ziggler is going on to feud with CM Punk for the WWE Championship, and hopefully Ryder will hold onto the US Title for some time to come.
The two young talents put on a superb match, and the crowd was really hot for it. There were several near-falls, but in the end, it was Ryder who prevailed.
Also, anyone else notice how well Ziggler sells the Rough Ryder finisher?
It wasn't the greatest TLC match of all time, but it was definitely the match of the night and possibly even a candidate for match of the year.
There were several incredible spots, including Ricardo Rodriguez's fall from the top of the ladder through a table on the ring floor, CM Punk breaking the second rope to escape from handcuffs, and Alberto Del Rio's cross armbreaker through a ladder on the Miz.
The crowd were willing Punk to win, and although there were several close calls, it was the Chicago native who climbed the ladder to retain his WWE Championship.
Despite its solid matches, nice spots and title changes, TLC 2011 won't go down in history as one of the all-time greats.
However, there are some potentially fantastic matches just around the corner.
But what did you think of the PPV? Did you think the Main Event was the best match of the night? Did you enjoy Triple H take on Nash? Did you enjoy how incredible Rosa Mendes looked?!
Sound off in the comments below.
And that's the bottom line, cos Colin Stone said so!