Pittsburgh Steelers vs. San Francisco 49ers in Monday Night Showdown: Who Wins?
December 19, 2011
Christian Petersen/Getty Images
Tonight's edition of ESPN's Monday Night Football features the Pittsburgh Steelers (10-3) against the San Francisco 49ers (10-3).
Both teams are already locked into the playoffs, but both still have something to fight for with NFL playoff scenarios on the line.
With the Baltimore Ravens losing their game Sunday night, the Steelers are in position to take the lead in the battle for the AFC North and go after the top seed in the AFC playoff picture.
There is one problem.
Pittsburgh QB Ben Roethlisberger is still battling the effects of a grade-1 high ankle sprain, but is expected to play tonight.
 Roethlisberger suffered the high ankle sprain last week against the Cleveland Browns. He has been dealt with injury after injury throughout his career. Roethlisberger has been managing a broken thumb on his throwing hand from earlier this season
Missing tonight's game will be Steelers LB James Harrison. He will be serving his one-game suspension for a helmet-to-helmet hit he made on Colt McCoy last week.  
Harrison being out of this game is a big loss for the #1 defense in the NFL. He is a leader and a strong presence that would have been helpful to stop the running attack of the 49ers.  
San Francisco comes into this game as the NFC West division champions already, but are still fighting for a first-round bye.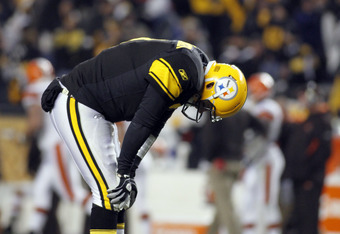 Justin K. Aller/Getty Images
Rookie coach Jim Harbaugh has done a great job turning this team around. But tonight's game will be a real challenge for his team.
49ers RB Frank Gore and QB Alex Smith struggled in the red zone last week in a loss against the Arizona Cardinals. San Francisco had the ball inside the Cardinals' 10-yd line three times and could only come away with field goals.
If those struggles continue, it's going to be a long night for the 49ers.  
The 49ers defense is going to have their hands full with Roethlisberger, even with his injury.  He still has wide receivers who are fast, tall, and strong. Not to mention he also has RB Rashard Mendenhall to pound the ball.  
The key will be if the 49ers defense can get enough pressure on Roethlisberger and hit him hard as many times as possible. Remember, San Francisco is third in the NFL in total defense.
I believe that the San Francisco 49ers can win this game, and I'm going to pick them to win tonight.  
I feel the Steelers are banged up and missing Harrison will hurt their defense.  This is the 49ers chance to show the rest of the NFL that they belong in the Super Bowl discussion.