Pro Wrestling: Profiling Ace Steel, the Forgotten Saint
December 19, 2011
Some of you may not recognize the name Ace Steel, but I know you've heard of his best friends; CM Punk and Colt Cabana. Together, they were the Second City Saints.
But where is Steel now?
Punk is enjoying a reign as WWE champ and is their top merch earner, Cabana is touring Indy promotions like the territories are alive and well, and the Saints' former valets; Traci Brooks, is currently in TNA, and Daffney, is in the Indies. So what is Steel up to?
Living a regular life, retired from wrestling, holding an average job and married. So how did Steel, who had the intensity of Chris Benoit, fall off the wrestling map?
Debuting in October f 1991 for Windy City Pro, Steel formed a tag-team with Danny Dominion and together they ran the Steel-Domain wrestling school from 1997 to 2001 in Chicago, the same school where Punk and Cabana would train.
Steel moved onto Ian Rotten's IWA Mid-South in 2002 and feuded with Vic Capri; Steel would have some of his best matches while in the feud with Capri, including a 30-minute ironman match and a 3-way dance that also featured CM Punk.
During TNA's baby years, Steel was a big part of the X-Division and formed a team with CM Punk as "Hatebreed." Steel left TNA for Ring of Honor after TNA decided not to use him anymore.
On March 22, 2003, The Second City Saints came together during a tag match between Steel and Punk vs. Raven and Colt Cabana, who turned on Raven mid-match. The Saints feuded with Raven and Christopher Daniels' stable.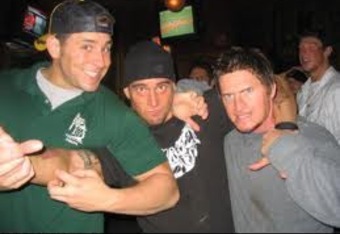 After leaving ROH, Steel had a two-year stint in Harley Race's World League Wrestling and represented them in Pro Wrestling NOAH, he became a NOAH regular because of how much he enjoyed Japan.
Steel had a couple spots on WWE TV; getting his head shaved by Eugene in 2004 and played Donald Trump. He signed with the WWE in 2007 and was sent to Deep South, then OVW. He had one match on Smackdown and was future endeavored by 2008.
He returned to ROH and had a few odd matches here and there, the biggest one being the 10-man cage match at Caged Collision 2009.
One of my favorite wrestlers, the man who helped train Punk, Cabana, Lita and Adam Pearce among others, took up his bags and went home.
Steel's career never had a dull moment or match, always full of intensity, great action, and high quality, he left this fan wanting more.
Give me feedback and thanks for reading.