Cam Newton to Steve Smith and the NFL's 13 Most Dynamic Duos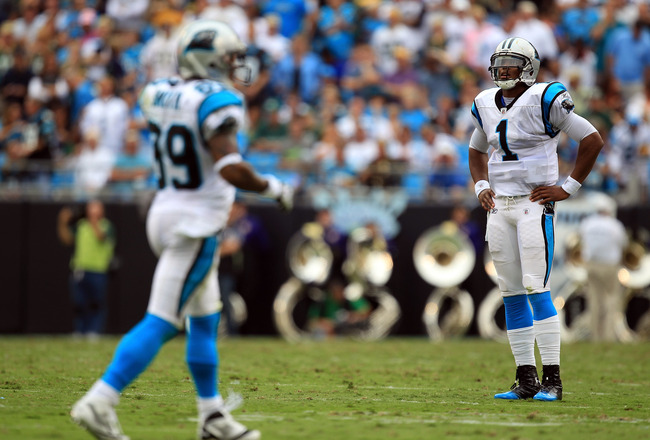 Streeter Lecka/Getty Images
The NFL is made up of many talented duos of players at the same position on each team.
Some of the best veteran tandems include OLBs LaMarr Woodley and James Harrison of the Steelers, along with QB Aaron Rodgers and WR Greg Jennings of the Green Bay Packers.
Another pair that has been making a lot of noise is the QB/WR combination of rookie Cam Newton and Pro Bowler Steve Smith for the Carolina Panthers.
Here is the full list of the best dynamic duos in the league today, in no particular order.
Ben Roethlisberger and Mike Wallace, Pittsburgh Steelers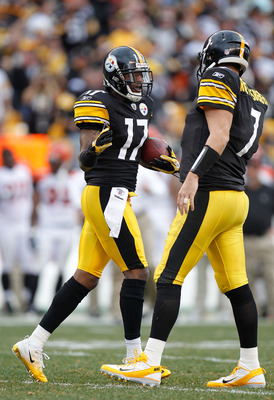 Gregory Shamus/Getty Images
Ben Roethlisberger and Mike Wallace are a match made in heaven for the Steelers' offense.
Big Ben throws one of the better deep balls in the league, while Wallace is arguably the fastest receiver in the NFL.
The pair have hooked up for eight TDs this season, including a 95-yard bomb against Arizona in Week 7.
Michael Vick and DeSean Jackson, Philadelphia Eagles
Jim McIsaac/Getty Images
Fast meets fast with this electrifying offensive combo.
Both Jackson and Vick have had a hand in turning the Eagles offense' into one of the league's more exciting units over the past couple seasons.
It's just too bad that both of them have had off-years in 2011.
Next season, I expect a full encore from both of these talented playmakers.
LaMarr Woodley and James Harrison, Pittsburgh Steelers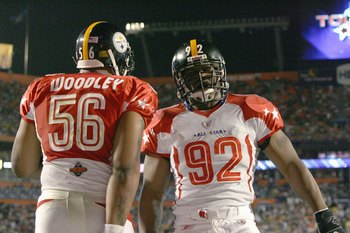 Doug Benc/Getty Images
Pittsburgh's LaMarr Woodley and James Harrison are hands down the best OLB duo in the NFL today.
They have combined for 105 career sacks, including 17 this season.
It's also very hard to find two defensive teammates who are meaner and more intimidating than Harrison and Woodley in today's game.
Aaron Rodgers and Greg Jennings, Green Bay Packers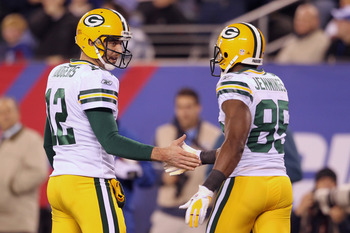 Nick Laham/Getty Images
It's pretty easy to tell why these two made this list.
On one hand, you have arguably the best QB in the league, and on the other, you have one of the better wide receivers in the NFC.
It was because of Rodgers' and Jennings' play down the stretch that won the Pack their first Super Bowl since 1996.
Who is to say that this dynamic pair will not win Green Bay more Lombardi Trophies before their respective careers are over?
Cam Newton and Steve Smith, Carolina Panthers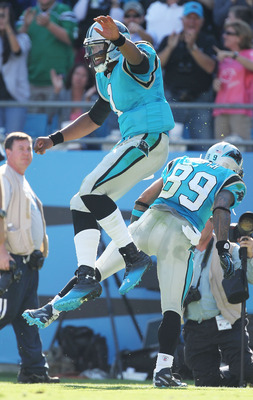 Scott Halleran/Getty Images
What rookie QB has been more exciting to watch than Cam Newton this season?
The answer is no one.
Newton has defied all odds by throwing for 17 touchdowns and rushing for 13 scores as well. He's also helped create one of the most dynamic pairings in the NFC with wideout Steve Smith, who is having a Pro Bowl-type year with 1,299 yards and six touchdowns for Carolina.
Andy Dalton and A.J. Green, Cincinnati Bengals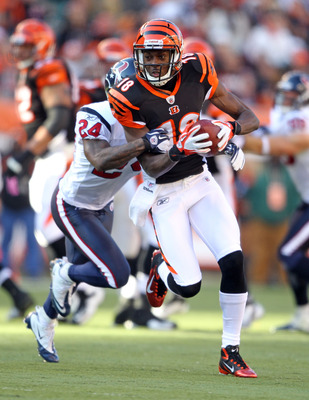 Andy Lyons/Getty Images
Cincinnati's Andy Dalton and A.J. Green are the youngest pair to make this list.
Both rookies have played very well this season in their inaugural seasons in the league. They have combined for seven touchdowns and more than 1,000 yards, while connecting on a variety of deep balls as well.
I expect Dalton and Green to be the cream of the crop for NFL QB/WR duos of the future.
Tom Brady and Rob Gronkowski, New England Patriots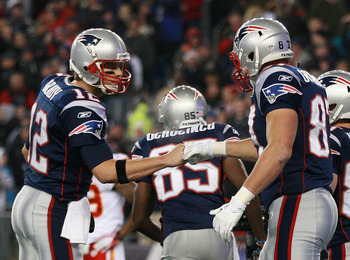 Jim Rogash/Getty Images
Patriots QB Tom Brady is arguably the best player at his position in the AFC right now.
One of his favorite targets, second-year man Rob Gronkowski, is probably the best tight end currently playing in the league.
They have torched opponents for 25 touchdown connections in the last one-plus seasons.
The Brady-Gronkowski duo is quickly becoming known by everyone around the league today.
Drew Brees and Jimmy Graham, New Orleans Saints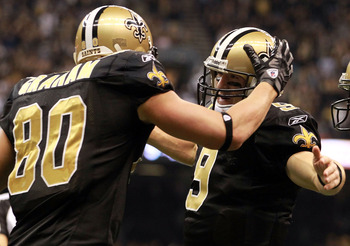 Ronald Martinez/Getty Images
There aren't too many success stories you will find that are better than the Saints' Jimmy Graham.
After literally being reduced to nothing while growing up, Graham has worked his way up to become one of the best tight ends in the NFL today.
It also helps that he has one of the better QBs in the league in Drew Brees passing to him each week.
Other than New England's Tom Brady and Rob Gronkowski, Brees and Graham are the best QB/TE duo in the league right now.
Darrelle Revis and Antonio Cromartie, New York Jets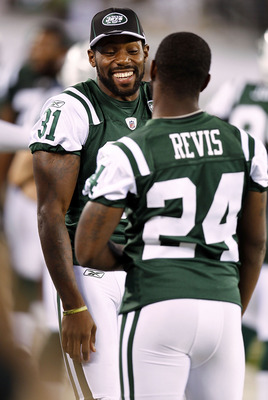 Jeff Zelevansky/Getty Images
Darrelle Revis and Antonio Cromartie are the best CB tandem in the league, which is why they made this list. The Jets' duo is a perfect pair in their defensive backfield.
Revis is arguably the best cornerback in football and will likely be headed to Canton later down the road.
Cromartie is extremely athletic and once returned a missed field goal for a 109-yard TD when he was with the San Diego Chargers.
Arian Foster and Ben Tate, Houston Texans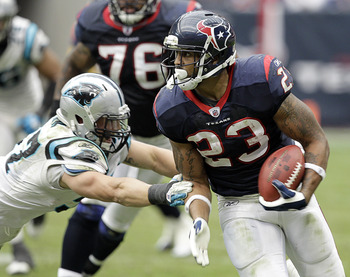 Bob Levey/Getty Images
The pairing of Foster and Tate is the only running back duo to make this list, and for good reason.
Together, they have combined for 1,912 yards to help propel the Texans' rushing offense to second in the league.
They've also had two different games where both of them have reached the 100-yard mark for rushing this season.
Defenses better look out for these two backs in the future, as they will only get better and better with more experience.
Matthew Stafford and Calvin Johnson, Detriot Lions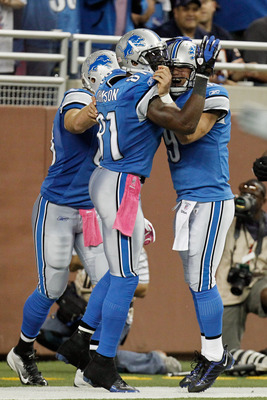 Gregory Shamus/Getty Images
It's about time Stafford and Johnson made this list for the Lions.
The 2011 season has seen these two stars connect for 14 touchdowns, as both are near the top of the NFC in their respective positions.
Both have been very instrumental in the Lions' turnaround this year. Detroit is now 9-5 and sitting in second in the NFC North heading into Week 16 action.
Matt Ryan and Roddy White, Atlanta Falcons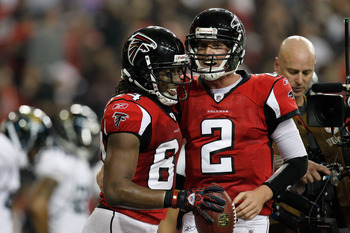 Kevin C. Cox/Getty Images
The combination of QB Matt Ryan and WR Roddy White has to have Falcons fans giddy for the future.
Even though White is 30 years old, he's still one of the best wideouts in the league, and now he has a young, emerging quarterback to pair with him.
The duo has combined for 36 touchdowns over the past four seasons, including eight this year.
If you're on defense, you better make sure that you know where White is at all times when Ryan winds up to throw for the Falcons.
Eli Manning and Victor Cruz, New York Giants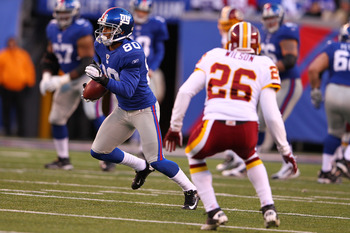 Al Bello/Getty Images
Giants wideout Victor Cruz has taken off his sophomore year in the league this season.
The former UMass star has just one person to thank for that:his QB, Eli Manning.
The duo has connected on 73 passes totaling 1,194 yards and seven scores in 2011.
Their high level of play has also helped the Giants become the third-rated passing offense in the league, as they have averaged just around 300 yards through the air for each game.
Keep Reading