Fists but No Cuffs? the Case for and Against Fighting in the NHL
December 19, 2011
Hannah Foslien/Getty Images
There is almost no act more barbaric than two men using their fists to beat each other to a bloody pulp.  Out of the four major sports in America (hockey, football, basketball, and baseball), only hockey allows two players to fight without severe consequences.
With that being said, there should be no question about the reason behind the huge debate on whether fighting should be legal in hockey, or why hockey has taken so much heat from critics calling for fighting to be banned.
The majority of fans, players, and team executives, however, have stated that fighting is an integral part of the game and needs to be kept in the sport.
Origins
The exact origins of fighting in hockey are a complete mystery. As far as anyone knows, it dates all the way back to the very first games ever played in Canada. There were few formal rules in hockey at this time, but physical play was encouraged above all things.
It is believed that the combination of encouraged physical play and a desire to intimidate led to a large number of on-ice fights.
Another possible cause of fighting, due to the lack of rules, was that players who were skilled with the puck took a beating. To try and prevent this, teams began to hire "enforcers" to fight those who got too physical.
By the time the creation of the NHL came about, fighting was so much a part of the game, the rule makers decided to keep it.  (Bernstein 3-5)
For the first five years of the NHL's existence, any player who fought in a game was automatically ejected. Then, in 1922, they decided to formalize and regulate fighting. Rule 56 in the handbook stated that anyone who fought would be handed a five-minute major penalty, but that there would be no loss of man power on the ice.
The official term for fighting in hockey became known as "fisticuffs".
The Case for Banning Fighting           
Despite there being a long history of fighting in hockey, this fact has not stopped people from complaining that fighting should not be part of the game. They say that violence in sports has no place in today's world; the message we are sending to kids by allowing their idols to fight is not a good one.
Besides citing the bad example for the youth, they say that fighting is also bad for the players' health and that is the most important thing. There has not been any concrete research yet to prove their points, but there have been some fairly recent incidents that make their case look pretty strong.
The majority of people would not intentionally expose their children to violence and the evidence provides good reason.
According to the American Academy of Children and Adolescent Psychiatry, children who are exposed to violence tend to express negative effects that include becoming immune to the horror of violence, gradually accepting violence as a way to solve problems, imitating the violence they observe and identifying themselves with certain people committing the violence ("Children And TV Violence").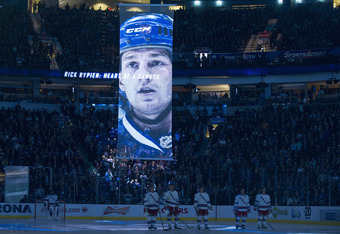 Rich Lam/Getty Images
The idea of fighting in hockey, having these types of effects on children, came under huge scrutiny just over thirty-five years ago after a tragic incident.  
The McMurtry Commission Report (1974) was convened in response to the off-ice killing of a junior hockey league player by a competitor. Its report was unequivocal about placing the blame for interpersonal assaults in the sport on a climate of attitudes supportive of such assaults. The Commission recommended changes in rules and penalties... However, little in the sport has been changed. (Colburn)
When on-ice violence leads to off-ice violence, it is easy to see why people would be clamoring for change. The McMurtry Commission Report must have found a strong correlation between fighting and the crime committed to recommend changes, but the incident was too isolated without any concrete evidence to mandate a rule change in the sport. 
More recent incidents, however, have provided an even stronger case to rid the sport of fighting.
A stretch spanning from May 2011 to August 2011 saw three NHL players commit suicide, all of which happened to be enforcers. When the first player died, it raised some minor flags, but when all three enforcers rapidly died, it set off fireworks.
Brent Parker, the team president of the Regina Pats, a junior hockey league team, said it best, "There have to be some questions asked as to what the correlation is.  There are too many similarities when you start getting into the demographic age-wise, what they did for a profession, and what they did inside that profession" (Vanstone).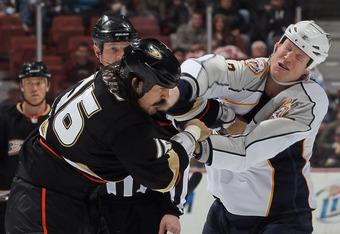 Jeff Gross/Getty Images
As the old saying goes it is all fun in games till someone gets hurt. Well, when someone dies, it becomes a disaster. 
A devil's advocate would point out that two of these players were suffering from clinical depression and one had an addiction to pain killers so the deaths have nothing to do with fighting, but both of these conditions can actually be linked to fighting. 
During the autopsy of Derek Boogaard, the first of the three enforcers to die, it was discovered he was suffering from chronic traumatic encephalopathy (C.T.E.). C.T.E. is a degenerative brain disease cause by repeated blows to the head. Symptoms include mood swings, poor judgment, impulsiveness, and even addiction. 
While it is not known if the other two suffered from the same disease, there is a strong chance they did. Even if it just played a role in Boogaard's death, that is a serious problem. A strong advocate of fighting like me even had to take a step back and reassess if fighting should be banned after these cases.
The Case for Allowing Fighting
The majority of people calling for fighting to be banned are people outside the sport, but the majority of people in the sport think it needs to stay.
Well-cited reasons for why fighting needs to stay include: "It's been part of the game forever,"  "More people get hurt from hits than fighting," and "Fighting creates jobs for players who would not otherwise be able to make the NHL"—much like the designated hitters in baseball. 
The two biggest reasons, however, is the fact that it creates fans and it actually helps keep players safe.
Sports are nothing more than a form of entertainment and a form of business. Players are well aware of all the risks they face every time they suit up, and in return receive a lofty salary for their services. The only way team owners can meet the players' salary demands is by fan revenue. 
This is where fighting has a place in hockey. Because no other major sport allows their players to fight, fans who are interested in that tend to watch hockey more than not.
If you don't believe people watch just for the fighting, try reading this first:
I, uh, love the NHL. In a "haven't bought a ticket since the Black-hawks went down to the Avalanche in Game 6 of the 1996 conference semifinals" sort of way.  Which is to say, I once loved it. But I'm not sure I care anymore. Last week, though, an NHL brawl got my attention as sure as an unprovoked fist in my pretty mug would. The time has come for commissioner Gary Bettman and the rest of this dying league to drop the kid gloves and fight. All they need is love … of ice-reddening violence. And I, for one, want more (Greenberg).
This story is the perfect example of fighting's positive effects on hockey.  As barbaric as it is to enjoy watching two men fight each other, a lot of people enjoy it.  I, for one, enjoy players fighting, as does my whole family. 
The minute the gloves are dropped I scream, "Fight!" and whoever is around comes to the television to watch.  It is a guilty pleasure for sure, but it is also a form of entertainment in a league of entertainers. 
This is the hardest point to prove for supporters of fighting, but I cannot stress enough how important it is.  NHL players will even support the claim that allowing players to fight helps them self-police the game. They say it keeps the cheap shots and huge, injuring hits to a minimum. 
Following a big hit in a Carolina Hurricanes-New York Rangers' game that resulted in a broken nose for a Carolina player, the Hurricanes called up an enforcer from the minor leagues and their team captain, Rob Brind'Amour, had this to say of the effects of the move a few weeks later, "Teams weren't so willing to run our guys. If you have [an enforcer] on the bench, other teams know there's going to be some retribution" (Farber). 
This logic follows the old saying, "the best defense is a good offense".  Players know an enforcer won't let a cheap shot or dirty hit go unforgotten; knowing that fact reduces the chances of it happening. It might not be the most humane way to go about things, but the players' safety comes first. Allowing fighting is an easy way to protect the players' health. 
Conclusion
As someone who has watched and played hockey my whole life, I have seen far more players get hurt from being checked than from being in a fight.  Anything that is able to keep the injuring hits to a minimum needs to be done.
It is also important to remember the fact that this is a business and fighting does increase revenue.  Players realize this fact. They are willing to take the risks to put money in their pockets and food on their tables.  These are not a group of kids fighting for fun, they are grown men who understand what could happen to them every time the gloves drop.  So, really, who are we to tell them otherwise?
Works Cited
Bernstein, Ross. The Code: the Unwritten Rules of Fighting and Retaliation in the NHL.             Chicago, IL: Triumph, 2006. 3-5. Print.
"Children And TV Violence." American Academy of Child & Adolescent Psychiatry. Ed. Harper             Collins. American Academy of Child & Adolescent Psychiatry, Mar. 2011. Web. 01             Dec. 2011.             .
Colburn, K. (1986), DEVIANCE AND LEGITIMACY IN ICE-HOCKEY: A             MICROSTRUCTURAL             THEORY OF VIOLENCE. The Sociological Quarterly,             27: 63–74.             doi: 10.1111/j.1533-8525.1986.tb00249.x
Farber, Michael, and Sarah Kwak. "Why Good Teams FIGHT." Sports Illustrated 109, no. 14             (October 13, 2008): 56-62. Academic Search Premier, EBSCOhost (accessed             December 1, 2011).
Greenberg, Steve. "Take me out to the brawlgame.." Sporting News 231, no. 10 (March 5,             2007): 7. Academic Search Premier, EBSCOhost (accessed December 1, 2011).
Vanstone, Rob. "Derek Boogaard, Rick Rypien and Wade Belak Are Linked by Tragedy -             NHL - Yahoo! Sports." Yahoo! Sports - Sports News, Scores, Rumors, Fantasy Games,             and More. 1 Sept. 2011. Web. 01 Dec. 2011.             .