Boston Red Sox Should Target Seattle Mariners Starter Michael Pineda Via Trade
December 20, 2011
Ronald Martinez/Getty Images
The 2011 season was a year to remember for 22-year-old starter Michael Pineda. The Seattle Mariners pitcher threw 170 innings, had a 3.74 ERA and struck out more than a batter an inning, finishing fifth in American League Rookie of the Year voting. So why in the world would the Seattle Mariners trade him?
Because they desperately need offense.
The Seattle Mariners managed to score only 556 runs last year, good for dead last in the major leagues. They were also dead last in batting average (.233), on-base percentage (.292) and slugging percentage (.348). And that's saying a lot considering they were outhit by 16 teams whose lineups regularly featured pitchers. The Mariners ranked last in runs scored in 2010 and 28th in runs scored in 2009 as well. It's gotten so painful to watch that fans have stopped showing up to the ballpark.
In 2011, attendance at Safeco Field was just 1,896,321. That's the lowest attendance has been for the team since 1995, when the Mariners were playing in the Kingdome. The team's attendance has gone down every year since 2007, when attendance at Safeco Field was 2,672,409.
The team could temporarily put fans in the stands if they were to acquire a big-name free agent, like Prince Fielder. But that would really just be like putting lipstick on a pig. In August when the team would 15 games back in the division with or without Fielder, fans would likely lose interest in the team again.
If the Seattle Mariners want to become relevant again, and keep fans coming to the ballpark, they need to make a fundamental change to the team's makeup. It would be difficult for the Mariners to make that change from within because the majority of the team's top prospects are pitchers. If they want to add quality hitting prospects, they are going to have to look elsewhere.
That's not to say that the Mariners don't have any quality hitting prospects. Left-handed hitting first baseman Mike Carp had an encouraging season in 2011, batting .276/.326/.466 with 12 home runs in 79 games. Left-handed hitting second baseman Dustin Ackley also showed some offensive ability, hitting .273/.348/.417 in 90 games. Shortstop prospect Nick Franklin and third base prospect Vincent Catricala showed promise in Double-A Jackson last year; but there's a big difference between facing Double-A pitchers and facing major league pitchers.
The team has a serious need for quality hitting prospects, and those prospects would preferably hit right-handed to offset Mike Carp and Dustin Ackley. The Mariners also have an immediate need for a left fielder, having used 11 different players in that position in 2011. And those are the types of players that the Boston Red Sox could provide.
For starters, the Red Sox could send the Mariners outfielder Josh Reddick. Reddick is 24 years old, he's cost-controlled and under team control for years to come; and his .841 OPS was .050 points higher than any position player on the Mariners roster last year.
Next, the Red Sox could offer the Mariners catcher/desingated hitter prospect Ryan Lavarnway. The 24-year-old Lavarnway hit .295/.390/.612 with 18 home runs in 61 games at Triple-A Pawtucket last year. Lavarnway's power was so impressive that Baseball America named him the best power hitting prospect in the International League. Yes, that's the same International League that New York Yankees super-prospect Jesus Montero also played in. The Mariners would be hard pressed to acquire a better power-hitting prospect than that.
Lavarnway's right-handed power would be the perfect compliment to Carp. Will Middlebrooks' right-handed power would compliment Carp nicely, as well. Middlebrooks is 22 years old and he played most of last season at Double-A Portland, where he hit .302/.345/.520 with 18 home runs over 96 games. In a survey, coaches of Double-A teams named Will Middlebrooks the best hitting prospect in the Eastern League. While Mariners prospect Vincent Catricala played third base at the Double-A level, he does not project as a major league third baseman defensively and has experience at a variety of other positions.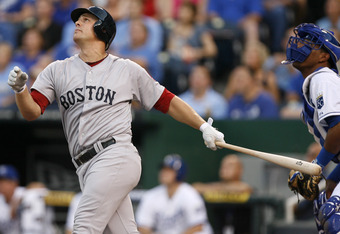 Ed Zurga/Getty Images
In addition to those three position players, the Boston Red Sox could offer the Seattle Mariners a starting pitching prospect such as Felix Doubront, Anthony Ranaudo or Alex Wilson. There's no guarantee that the Mariners would be willing to trade Pineda. But if they were to make him available, a package of Reddick, Lavarnway, Middlebrooks and possibly a pitcher would be very tempting.
There are of course other starting pitchers available on the trade market. The Oakland Athletics are shopping left-handed Gio Gonzalez and are rumored to be looking for a future third baseman in return. But Gonzalez, who lead the majors leagues in walks surrendered last year, has concerning issues with his control. Those kind of walk totals likely wouldn't translate well to Fenway Park, or the American League East in general.
If the Boston Red Sox are unable to acquire a starting pitcher via trade, they could also turn to the free agent market where Roy Oswalt, Joe Saunders or Jason Marquis could provide a temporary solution. But none of those options are ideal either.
If the Boston Red Sox were to acquire Pineda, he may have some difficulty transitioning to a more hitter friendly home ballpark and division. But Pineda's 3.42 FIP last year suggests he pitched better than his ERA would indicate. With the exception of his low BABIP last year, everything about the pitcher's peripherals were impressive.
Pineda averaged over six innings a start and struck out more than three times as many batters as he walked. The fact that he is a fly ball pitcher would not be an issue in home-run-retardant Fenway Park. Pineda's average fastball velocity of 94.7 was also very impressive, ranking fourth among major league starters behind Alexi Ogando, Justin Verlander and David Price.
All told, Pineda would make a wonderful addition to the Red Sox rotation. The quality production he would provide out of the third or fourth starter spot would allow the team more leeway in testing out fifth starter options such as Daniel Bard, Alfredo Aceves and Felix Doubront. And his low cost would fit in within the team's limited salary room.