Auburn Football: The 10 Most Important People in the Program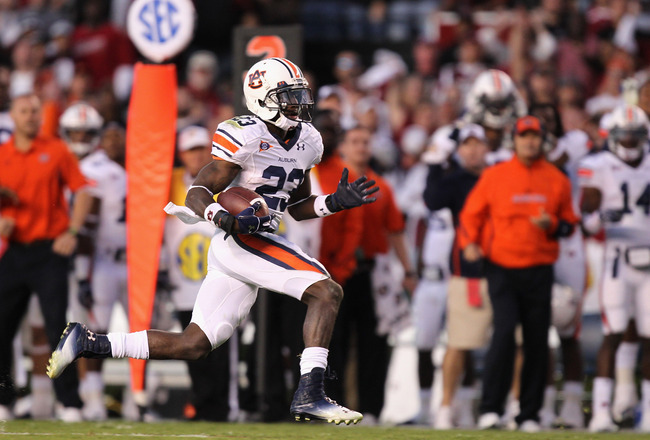 Streeter Lecka/Getty Images
The 7-5 (4-4 SEC) No. 25 Auburn Tigers are preparing for the Chick-fil-A Bowl this coming Dec. 31. This season has seen its fair share of adversity for the Tigers, with the regular season seeing both coordinators depart from the program.
Auburn is in a fury to replace the losses of the two coaches, but there is still a good core of support that surrounds the program. Auburn will get its coaches and move on with the future, but as it stands today, there is a great group of players, coaches and support staff that make this a great SEC football team and institution.
In June of this year, I wrote about some of the VIP's to the program that served as coaches or support roles. Few of those have changed but with the recent season some players deserve to be mentioned for their efforts and leadership. With one game left in the season for the Tigers, Auburn needs leaders to guide them into the next phase of success moving into 2012. Here is where the Tigers search for leadership will begin.
Jay Jacobs, Athletic Director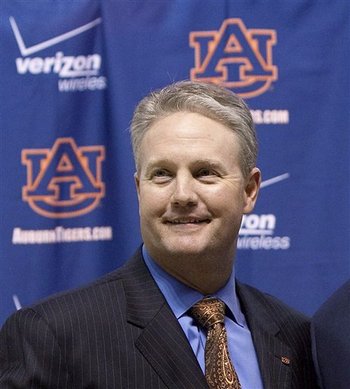 Jacobs has been a staple in the Auburn program since 1982 as a starter on the Auburn football team. Jacobs has dedicated his career to the Tigers athletics programs. In 2004 he was promoted to Athletic Director for Auburn University.
Jacobs made one of the most controversial hires three years ago when he brought Gene Chizik to the Plains to head up the Tigers football program. Chizik brought his 5-19 record to Auburn with high expectations and has since won 29 games in three seasons.
Jacobs has also overseen the building of Auburn's first full length indoor practice facility, Jordan-Hare Stadium upgrades, additions to student-athlete health and wellness facilities and the building of the new Auburn Arena.
His direction for Auburn athletics has been unwavering and very successful in the past years as athletics director. Jacobs has his work cut out with the future looking stronger than ever in the SEC, but because of his efforts, the Tigers should be ready.
Gene Chizik, Head Coach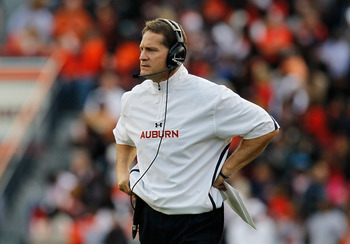 Kevin C. Cox/Getty Images
Chizik came to Auburn in 2008 to take over an Auburn program on the decline. The Tigers were taking a backseat to their instate rival and were coming off one of the worst losses in Iron Bowl history. Chizik had a tall task to turn around the Tigers program and accomplished a major achievement by winning a national title in his second season.
This year the Tigers were far less effective on the field as they battled injuries and youth. Chizik had a tall order producing wins on the field with the harsh road schedule that the Tigers faced this past season.
Chizik is the face of this program and has stood tall in the face of a ton of adversity in his career at Auburn so far. Chizik faces another huge test as both coordinators have left the program for other positions, and he has to prepare his team for a bowl game while searching for new coaches.
Chizik's choice in coaches will be watched carefully as he needs to make the right hires for Auburn to move back into the upper tier of the SEC West. Chizik holds the keys to the program currently, and making the right hires is his largest responsibility at this point for the Tigers future.
Kevin Yoxall, Strength and Conditioning Coach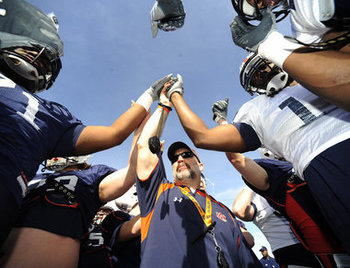 Yoxall was one of the few members of the Tuberville staff that was retained during the coaching change that brought Gene Chizik to Auburn. He has been a huge part of the Tigers success in the past 10 years and will continue to be an impactful member of the administration.
Yoxall has earned his reputation as a great conditioning coach, so much that former Tigers came back to train with Yoxall during the NFL lockout. A number of young guys earned time this season but looked overmatched. It will be up to Yoxall to get the Tigers ready and developed for the coming season.
Kiehl Frazier, Quarterback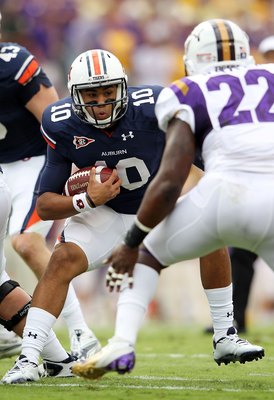 Jamie Squire/Getty Images
Auburn had a wealth of issues that surrounded the offense this past season. One of the major setbacks for the Tigers was a breakdown at the offensive line, causing a major disconnect at the quarterback position.
The Tigers started Barrett Trotter, only to see him relieved mid-season by Clint Moseley. The Tigers struggled mightily to move the football even after the change, but one point of consistency was Kiehl Frazier.
Frazier was the only quarterback for Auburn to earn time in every game this season. Avoiding the red-shirt season in 2011 was somewhat questionable to begin with, but at this point Frazier needed the experience to lead this team into the future.
Frazier has a lot left to prove, and at this point, it is hard to put so much stock in a freshman. Comparisons to Kodi Burns have been lifted in Frazier's name in regards to his skill as a quarterback and lack of fluidity on his throws this season. Frazier has to make an impact, and stepping into a leadership role is a must for the Tigers to find success consistently.
Philip Lutzenkirchen, Tight End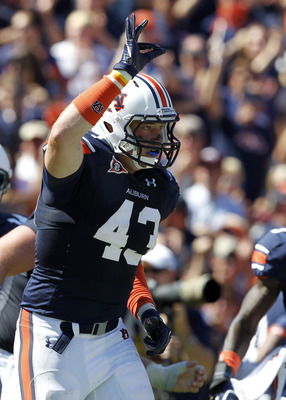 Butch Dill/Getty Images
Lutzenkirchen has been an amazing talent for the Tigers since his arrival on the Plains three seasons ago. He was a part of the first signing class for Gene Chizik and has played consistently since he arrived.
Lutzenkirchen came to Auburn as a slot receiver-type tight end but has grown his role into a blocking back and pass catcher from the H-back position. Auburn needed a lead blocker this season, and Lutzenkirchen happily filled that role.
Lutzenkirchen was voted by his teammates as the team's MVP for the 2011 season as his willingness to be a team player and develop into any role needed is admired by fans, coaches and teammates alike.
With a team that is as young as the Tigers will still be in 2012, Lutzenkirchen will be a much needed experienced senior for the offense.
Steven Clark, Punter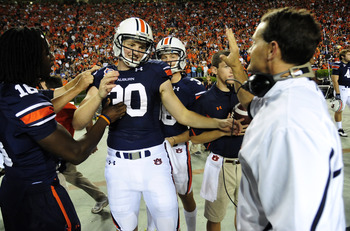 Clark was one of the best players for the Tigers defense this fall. His ability to land punts inside the 20 was a major asset to the Tigers as they struggled defensively. Clark found his way into the top three punters in the country as he was a finalist for the Ray Guy award this season.
Auburn has a lot of ground to make up to make its defense much improved for 2012, but the Tigers will have a steady performer and proven leader on special teams in Clark. Clark was leaned on a number of times this season and was likely a game-changer in a few contests.
Look for Clark to improve even more, as his junior season is just around the corner, as well as for him to continue to help the Tigers find success by winning the battle for field position.
Tim Jackson, Executive Associate Athletics Director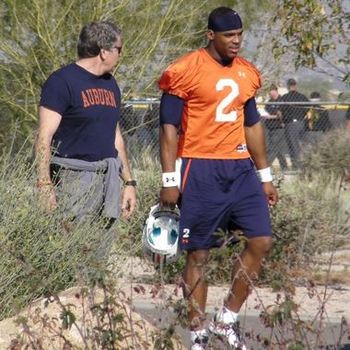 The elusive Tim Jackson with Cam Newton in Arizona in January of 2011. Photo courtesy of al.com
Tim Jackson has earned a lot of criticism in the past for his role with the Chizik administration at Auburn. Jackson has become an integral part of the day-to-day operations of the behind the scenes operations for the Auburn program. He is often visible in the shadows on the Auburn sideline drawing the "Whose that guy?" questions.
Kevin Scarbinsky of the Birmingham News wrote a column this past January about the role that Jackson fills with the Tigers. He has become a right-hand man so to speak for Chizik. He is likely a link for Chizik and all things football to the head of the Auburn Athletics department.
Jackson has filled numerous roles with Auburn since his tenure began, from ticket manager to heading up Tigers Unlimited for the Auburn program. At this point, he has become a trusted confidant and friend for Chizik. His role will likely always be behind the scenes, but his impact will help put the Tigers out in front of the college football landscape.
Curtis Luper, Recruiting Coordinator/ Running Backs Coach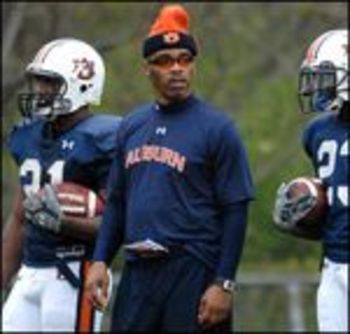 Best Luper photo award goes to Jeff Roberts of the Birmingham News. Thanks Jeff.
Luper has been a major coaching asset to the Tigers in his three seasons at Auburn. Luper has managed to coach two 1,000-yard rushers in three seasons with Ben Tate in 2009 and Michael Dyer in 2010-11. Luper has a knack for developing runners, and he has a stable returning for 2012.
Luper has also carried a lot of weight on the recruiting trail, assisting Auburn to two straight top five recruiting classes. So far this recruiting season, the Tigers are on their way to another successful recruiting year.
Luper makes a big impact in Auburn's recruiting plan and in the success of Auburn's offense as it relies heavily on the running game. Luper and his stable of backs will have a tall order in 2012 as they will be looked upon to carry the offense early.
Emory Blake, Wide Receiver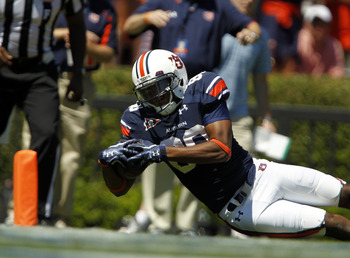 Butch Dill/Getty Images
Emory Blake is entering his senior season with Auburn in 2012. Blake has been a major player in the Auburn passing game, and it is apparent when he is absent from the lineup. In 2011, he appeared to be the only receiver able to make separation in the secondary.
Blake has a football pedigree as his father is a NFL veteran, and that work ethic and understanding of the game has been obvious. Blake battled through a high ankle sprain at the end of the season and was still the best pass catcher on the field for the Tigers.
As a senior, Blake will be the cornerstone of leadership of the Auburn offense with Lutzenkirchen. His role will grow this offseason as the younger Tigers will continue to look to Blake to help build the habits that grow champions.
Onterio McCalebb, Running Back
Scott Cunningham/Getty Images
Onterio McCalebb has had quite an impact for the Tigers in his three years on the Plains. He had a short season in 2009 due to injury, but showed signs of greatness when he started his first game as a freshman gaining 148 yards. That performance made him the first freshman since Bo Jackson to rush for over 100 yards in a season opener.
McCalebb was a major threat a year ago in the speed sweep play that enabled him to make it to the outside numerous times, most famously for a 70-yard touchdown run against LSU. McCalebb is a rising senior that will need to provide a ton of leadership in the Auburn backfield.
McCalebb has the talent to be a special leader as a senior. If he decides to stay with the Tigers for a final season, look for great things for No. 23. He will have one more year to gain the knowledge and strength that will make him an impact elite player for the Tigers.
Keep Reading

Auburn Football: Like this team?