St. Louis Rams: Should We Judge Sam Bradford Based on the 2011 Season?
December 19, 2011
Dilip Vishwanat/Getty Images
Sam Bradford is going to be one of the best quarterbacks in the NFL. The St. Louis Rams believe so, and that's why they took him No. 1 overall in the 2010 NFL draft.
In my opinion, Bradford's ascension is a matter of when, not if.
So when can we expect the former No. 1 overall pick to play like a franchise quarterback? That is a complicated question with a simple answer—when Bradford gets more help.
Bradford was drafted No. 1 overall, meaning he was selected by the worst team in the NFL. The Rams were coming off of a 1-15 record in 2009. That is the mess that Bradford inherited. He responded by helping the Rams to a 7-9 record last season, and the Rams were picked by many to win the NFC West in 2011.
However, a combination of a tough schedule, poor personnel decisions, awful coaching and injuries to key players derailed the Rams' season almost before it ever got started. Surrounded by a very poor supporting cast, Bradford regressed.
Simply put, Bradford has not been a good quarterback in 2011.
However, we shouldn't jump to conclusions about Bradford based on one bad season. Consider these stat lines of some pretty good quarterbacks.
QB 1: 26 TDs, 23 INTs, 62.7 percent passing, 84.1 QB Rating
QB 2: 19 TDs, 24 INTs, 60.9 percent passing, 72.2 QB Rating
QB 3: 24 TDs, 22 INTs, 56 percent passing, 76.9 QB Rating
QB 4: 22 TDs, 23 INTs, 52 percent passing, 70.2 QB Rating
QB 5: 18 TDs, 15 INTs, 60 percent passing, 76.5 QB Rating
Those quarterbacks are, in order: QB 1 is Peyton Manning (4th year in the NFL), QB 2 is Brett Favre (3rd year in the NFL), QB 3 is Dan Marino (7th year in the NFL), QB 4 is John Elway (3rd year in the NFL), QB 5 is and Sam Bradford (rookie season).
So if you break it down, our very own Bradford, playing with an awful supporting cast last season, put up numbers comparable to some of the best QBs to ever play the game at the same point in their career.
In the words of Adam Sandler, that's "not too shabby."
Now let's go back and take a look at some of the players that these Hall-of-Fame QBs got a chance to play with.
Peyton Manning had Marvin Harrison, Reggie Wayne, Dallas Clark and Edgerin James, not to mention a very good offensive line. He also got to work under the same head coach and the same offensive coordinator for several years.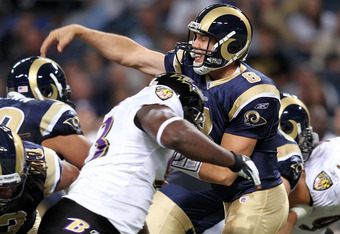 Jamie Squire/Getty Images
Favre had Sterling Sharpe (great player before he was injured), Donald Driver, Ahman Green, Antonio Freeman, Robert Brooks, Javon Walker and Andre "Bad Moon" Rison (sorry, I couldn't help myself). Favre also had a great offensive line, and he got to work in the same offense—the West Coast offense—for his entire career.
Marino had Mark Clayton and Mark Duper. He played for Don Shula for crying out loud. Elway had Hall-of-Fame tight end Shannon Sharpe, and he had the great Terrell Davis running behind him late in his career. He also played for a couple of very good coaches in Mike Shanahan and Dan Reeves.
Compare all of that to Bradford.
Poor Bradford's best receiver to this point in his career has been Danny Amendola, a non drafted free agent who was picked up from Philly's practice squad. When Bradford finally got of a good receiver to work with this season (Brandon Lloyd), Bradford was too banged up to play.
Speaking of banged up, look at the offensive line Bradford has to play behind. Jason Smith, the former No. 2 overall pick in the draft, is a bust at right tackle. I mean, honestly, who spends the No. 2 pick in the entire draft on a right tackle? The fact that Smith had to be moved to right tackle means he is already a bust, never mind the fact that he is a lousy right tackle!
Bradford was sacked on over nine percent of his passing attempts this season, a staggering number. Consider that Manning was never sacked on more than five percent of his passing attempts in a season, and the amount of abuse Bradford has endured is truly staggering.
So add it all up: Bradford was drafted onto a terrible team, with zero playmakers available to throw to in the passing game, and he was put behind a terrible offensive line where he was forced to take a beating week after week after week...
The only part of the blueprint for "How to ruin a young QB" that is missing would be the part where you make him change coordinators two or three years in a row.
Oh wait, he will probably be playing for his third offensive coordinator in a row next year, so we've got that one covered also.
And we can debate a lot of things—will Bradford be an elite QB or not? But there is one thing we can all surely agree on. The only chance Bradford has to reach his potential is a total regime change in St. Louis. Because without some major changes in St. Louis, Bradford won't wind up on any list with names like Manning, Favre, Marino and Elway.
Poor Sam will end up on a list with David Carr and Marc Bulger, and none of us want to see that happen to Bradford.