Drew Brees' Record-Setting Pace Should Have Dan Marino Shaking in His Boots
December 19, 2011
Chris Graythen/Getty Images
Dan Marino needs to enjoy the last few weeks of having the most prolific single-season passing yardage mark in NFL history. After this season is over, he may find himself out of the top three altogether. 
Leading the charge on Marino's record is a man that has been in the hunt before and came achingly close in Drew Brees.
The New Orleans Saints' march to the playoffs is being led by Brees and the offense; and since his remaining games are in the Super Dome, it's pretty certain that the paltry 400 yards needed to pass Marino could come in his next game at the earliest.
The Saints are built to operate on the carpet, and even more important for the Saints than Brees' breaking the record is trying to lock up the NFC South division against the Atlanta Falcons. Brees and company have been heating up of late; and if Brees keeps his average yardage per game, he will easily surpass the record that Marino set of 5,084 yards.
The question for Brees may not be whether or not he beats Marino at the conclusion of the season, though, but rather whether or not he owns the record for himself.
Tom Brady is still within striking distance, but luckily for Brees, Aaron Rodgers and Eli Manning severely hurt their chances to pass the record on Sunday. However, all of these men are capable of netting over 400 yards a piece in each of their final games, which would secure a piece of history for all of them.
More good news for Brees is that Brady and the Patriots have wrapped up their division, and even though they are still playing for the top seed in the AFC, Brady is equally as likely to be sat down in a rout as Brees is.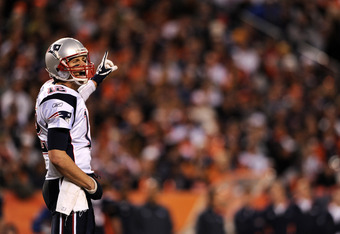 Patrick Smith/Getty Images
Still, Brees has at least one more full game in him to wrap up the division for the Saints, and that could be the difference between he and Brady in terms of owning the record.
After coming so close in 2008, Brees is completely deserving of having his name in the NFL record books. No other quarterback has been as prolific a passer as Brees since his arrival in New Orleans.
Brees is already a living legend on the bayou, and has Super Bowl hardware to ensure that his place in history is secure. Why not be the standard bearer for passing yardage in a single season too?
With the way the NFL is going the record might not last for long, but the good news is that Brees might be the one to break it again next season.