WWE Tables, Ladders and Chairs: Live Results, Analysis and Coverage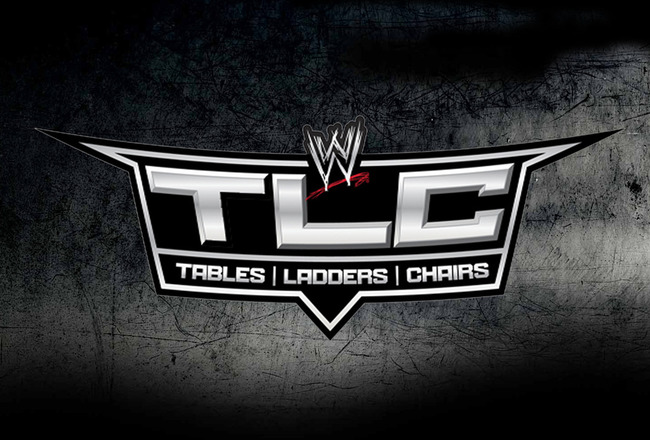 Welcome, my friends, to the show that never ends. We're so glad you could attend.
Tonight, yours truly and WWE will be providing live coverage of Tables, Ladders and Chairs live from Baltimore, Maryland.
Your card for tonight is:
Triple Threat TLC Match For The WWE Title
CM Punk (c) vs. Alberto Del Rio vs. The Miz
Chairs Match For The WWE World Title
Mark Henry (c) vs. Big Show
Ladder Match, with a sledgehammer hanging above the ring
Kevin Nash vs. Triple H
United States Title Match
Dolph Ziggler (c) vs. Zack Ryder
Intercontinental Title Match
Cody Rhodes (c) vs. Booker T
Tables Match
Randy Orton vs. Wade Barrett
While the buyrate isn't expected to be strong, the card actually looks pretty solid. I will be your charismatic host for the evening, so be sure to refresh your browser to get the latest updates from your favorite interest columnist.
Now, on with the show...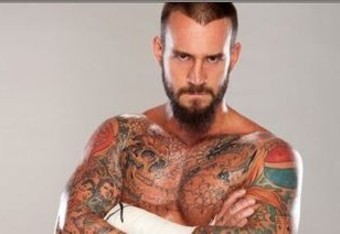 Tables, Ladders and Chairs Match for WWE Title
CM Punk vs. Alberto Del Rio vs. The Miz
Well, this crowd is SERIOUSLY into CM Punk. The heels double team Punk to start and hit a double stungun on the top rope. Double suplex puts Punk down but the heels disagree on the outside and Del Rio floors the Miz. Punk recovers and hits a plancha onto Del Rio before dragging Miz inside and hitting his high knee in the corner. Punk looks to bulldog Miz on a set-up chair but Miz turns it into a back suplex and almost breaks the chair...nice spot.
Miz heads to the outside and sets a ladder up against the apron. He tries to powerbomb Del Rio but Alberto back drops him and Miz hits hard. Punk runs to the outside and kicks the ladder into Del Rio's face then sets up a table. Punk tries a suplex through the table but Del Rio reverses and Punk has to settle for a neckbreaker on the floor. Miz returns with a chair but Punk gains control of the metal equalizer and beats the hell out of Miz. Punk sets Miz on the crowd barricade and uses a chair to hit a running knee and send Miz into the first row.
Punk tries to climb the ladder for the title but Ricardo Rodriguez runs in and handcuffs Punk to the ladder, allowing Del Rio to kick the hell out of him and climb the ladder. Punk kicks at his handcuffs and breaks the ladder (well that was quick) before shoving Alberto off the ladder and sending him to the floor.
Miz returns and beats Punk with a ladder but Punk stops his climb and drives him to the corner. Punk looks for a superplex but Del Rio sprints in and hits an enzuigiri, knocking Punk senseless and sending him falling off the top and through the table on the floor. Damn good spot there.
Alberto turns his attention to Miz and chokes him out with a ladder on the entrance rap then applies the cross-armbreaker, using the ladder like he did on Raw. Del Rio returns to Punk wraps the chair around his arm before locking on the cross-armbreaker yet again.
Del Rio finally goes for the title but Miz and Punk return at the same time and dump the ladder, crotching Del Rio on the top rope and REALLY ruining his after-PPV plans. Miz and Punk have a slugfest on their knees and they clothesline each other for the rarely-seen Triple KO spot.
Ricardo makes an attempt for the title for whatever reason so Punk and Miz dump BACKWARDS and Ricardo falls all the way to the floor and breaks a table...RICARDO IS DEAD. Punk charges Miz and hits the ring post, where Miz remembers that Punk still has handcuffs on and locks him against the turnbuckle.
Miz showboats a little bit but gets too close to Punk and gets hit with the KO Kick. Punk works on his situation while Del Rio peels himself off the floor and sets up a smaller ladder. Miz also returns with a larger ladder while the crowd tries to will Punk to get free. He finally does by unscrewing the whole turnbuckle and all three guys climb the ladder.
Miz goes flying off and hits the mat then Punk hits the KO Kick to send Del Rio to the canvas. Miz gets one last attempt at the title but Punk hits the GTS and finally claims the title to get the win.
Winner and STILL Champion: CM Punk
-A really good match that mixed good booking with sick spots. I loved the continual use of the handcuffs and Punk figuring out creative ways to get out of bad situations. Give credit to Ricardo for taking that sick bump and for all three workers for taking big punishment. A really good main event ****.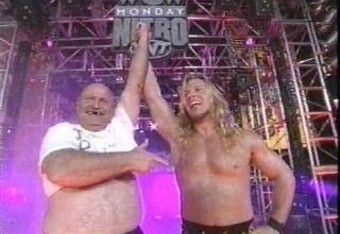 -Meanwhile, Booker T promises to continue his match because Booker T WILL...NOT...DIE!!!
Intercontinental Title
Cody Rhodes vs. Booker T
Wait a minute, Booker T and Kevin Nash on the same card? Did I accidentally order a replay of Slamboree 98 or something?
Booker chops away and hits a pair of bodyslams before following with a superkick for two. Booker sends Cody over the top and to the floor where he serves up some more chops. They head up to the apron where Cody necksnaps him and a kick sends Booker to the floor.
Back in, Cody goes to knee but then quickly switches to a full nelson (what is this? 1954?) forcing Booker to fight out and they clothesline each other for a double KO. They have a Yay-Boo slugfest, won by Booker and he hits a side slam for two. Spinebuster hits and that's good enough for the SPIN-A-ROONIE but he misses the Axe Kick and Cody hits the Beautiful Disaster kick for two. Cody gets frustrated but quickly hits another Disaster kick hits and that's enough for Cody to get the pin.
Winner and STILL Champion: Cody Rhodes
-Well, no one actually expected Booker T to win, did they? The match was pretty good but nothing special **1/4.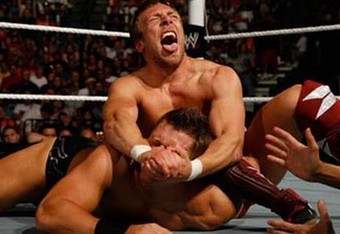 Chairs Match
Mark Henry vs. Big Show
Well, you workrate fans might want to go take a dump or something because this isn't your cup of tea. Big Show immediately tosses a bunch of chairs into the ring as soon as the bell rings, so at least we'll get some weapon shots. Mark Henry declares the Big Show clinically insane and decides to take a walk but Big Show gives chase and nails him with the chair.
Henry essentially no-sells the chair shots and gets his own, focusing on the right hand of Big Show to take away the KO Punch. They duel with chairs in the ring but Show's hand is hurt so he drops his weapon and Henry beats him down. Show fights back but Henry smacks him with another chair shot and stomps on the injured hand.
Henry stupidly goes for a bodyslam but Big Show blocks and hits a KO Punch...for the win???
Winner and NEW Champion: Big Show
-Where the hell did that come from? That finish sucked. Henry worked the hand over the entire match but Show STILL used it to finish the match. *1/4 for the chairshots.
-Post-match, Henry lays out the Big Show with a steel chair and knocks him out...uh oh, what's the chant I hear....
Big Show vs. Daniel Bryan
Bryan runs down to ringside and immediately covers Big Show for the win and his first world title as the crowd actually gives him a good reaction.
Winner and NEW Champion: Daniel Bryan
-Well, you can't say it wasn't an eventful segment as Bryan rubs the world title in Cole's face and celebrates with the fans.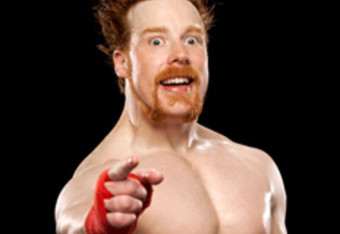 -Backstage, CM Punk cuts a promo and insults Johnny Ace for the 20,000th time. Who the hell does Ace text?
Jack Swagger vs. Sheamus
Wow, it's the match that NO ONE demanded to see. Swagger punches away but Sheamus no-sells it and hammers away for two. Swagger tries for a abdominal stretch but Sheamus blocks it and pounds away with Jack in the ropes. In a total break of character. Sheamus gets distracted by Vickie and that allows Swagger to drive him into the ring post and introduce him into the ring barricade.
Back inside, Swagger hits his running pump splash for two as the crowd collectively says "hey, let's go get some nachos". Sheamus quickly shugs off Swagger's jobber offense and hits a powerslam before hitting the floor yet again. Swagger hits the ring barricade and we head back inside where Swagger hits a shoulder block off the top for two.
Sheamus's pump kick misses and Swagger goes to the knee with a clip then applies an ankle lock. Sheamus kicks his way out of it and hits the Brogue kick for the win to mercifully end the match.
Winner: Sheamus
-Another Raw match on a PPV as Sheamus basically gets an extended squash over a jobberific Jack Swagger *3/4.
-Backstage, Big Show cuts a promo while wearing camo tights and promises to win the world title.
Sledgehammer Ladder Match
Kevin Nash vs. HHH
At least Nash went through the trouble of dying his hair before the event. Nash comes out the New World Order theme while my wife asks why "the old guy is coming out to porn music".
They have a slugfest in the corners and Nash throws his knees but HHH gingerly sends him to the floor. Whoa, Triple H is looking CHUNKY...I guess the holidays at the McMahon household is rather rich. Nash hits HHH in the face with a ladder, sending him to the first row. Hunter quickly returns with a DX chop and dives on top of Nash from the announce table.
Hunter sends Nash into the first row (after two attempts) but Nash catches him with an elbow and drop HHH on the ring barricade. Nash says "post me" on camera and Hunter follows directions, sending Big Kev ever-so-lightly into the post. Nash starts clutching his knee, confusing me because his HEAD hit in the post but whatever.
Back inside, HHH punishes the injured knee with a ladder and shuts in injured limb in the weapon a few times. In an innovative spot, Hunter wraps Nash's legs inside the ladder and applies a figure four, earning a good reaction from the crowd. Nash recovers and sends Hunter into a ladder set up in the corner and Hunter takes his bump over the top to the floor.
In a sick spot, Nash side slams Hunter on a ladder, drawing "oohhs" from the capacity crowd. Nash wedges a ladder between the bottom and middle turnbuckles and catapults Hunter into the ladder. Big Kev preps the announce table for a Jackknife but Hunter backdrops out of it. HHH makes the first attempt at the sledgehammer but Nash thwarts it and sets the ladder up in the corner again.
Hunter hits the corner ladder and Nash hits a chokeslam before going searching for some plunder. Nash comes out with a table, setting it up in the ring and the STRAPS COME DOWN...oh, it's on now, bitch. Nash looks for a powerbomb through the table but Hunter drives him into a ladder and sends him to the floor.
Hunter again tries for the hammer but Nash climbs the other side and they battle over the hammer. Hunter uses the swinging sledgehammer to bash Nash in the head and Kev falls off the ladder and through a table. I'll give Nash credit for taking that bump. HHH grabs the hammer and beats the hell out of Nash with it, targeting the knee.
Nash crawls to HHH's knees and Hunter goes for the Pedigree but Nash REALLY screws it up, necessitating another finisher. The crowd wants another Pedigree but Hunter decides to go for the sledgehammer yet again. Nash gets to knees and flashes the Clique sign but Hunter tells him to suck it and bashes Nash in the head with the hammer for the pin.
Winner: HHH
-I'll give these guys credit, they took some bumps that I didn't think they would have the balls to take but you have to remember that they are pretty much best friends. Given the limitations of Kevin Nash, he definitely was in good shape and gave a really good effort. A well-booked match if not a little slow ***1/2.
-Nash does a stretcher job to sell the beating.

Intercontinental Title
Cody Rhodes vs. Booker T
Booker looks pretty good for being seriously injured. But wait, Cody attacks during Booker's entrance and lays him out on the entrance way. Guess we're not getting this match after all.
No Contest
-I don't understand the point of that one, considering NO ONE expects Booker to win the title here or anything. I know they want Cody as a coward champion but didn't we already establish that with the locker room attack?
-HHH/Nash hype video...I actually totally forgot that HHH is the COO since they stopped acknowledging it on the show altogether. Also, what happened to the Mystery Raw GM? What about the giant conspiracy that was supposed to be unearthed during this whole thing? Oh well.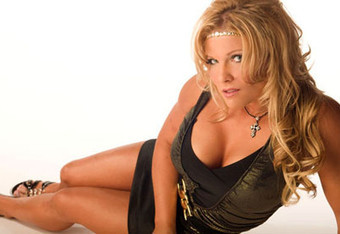 -Backstage, Teddy Long gives the Bella Sluts his phone number for Christmas and earns a slap. To make things worse, Jack Swagger shows up to complain but Sheamus intervenes and we get an IMPROMPTU MATCH to extend the card a little bit...well, that's not good news.
Divas Title
Beth Phoenix vs. Kelly Kelly
Ohhhhhhhh NOOOOOOOOOOOOOO! Please stop the pain....it's the feud that never ends. Kelly smacks Beth and dumps her before hitting a facebuster off the apron. Kelly gets a handstand head scissors in the ropes and her ridiculous screaming flying headscissors. Beth finally overpowers Kelly and drops her on the top rope then chokes away. HOLY HELL, BETH PHOENIX IS TRENDING WORLD WIDE!!! I DON'T BELIEVE IT! Just kill me now.
Kelly gets a surprise rollup for two and hits a terrible bulldog. Blind charge hits boots and Kelly comes off the top but Beth catches her with a slam for two. Phoenix goes up top but misses a legdrop off the top but Beth quickly recovers and tries the Glam Slam. Kelly rolls through and they exchange rolls up but Beth finally says "enough of this BS" and hits a reverse powerbomb for the win.
Winner and STILL Champion: Beth Phoenix
-OK, great, grand, wonderful...now can we PLEASE find a different feud. I mean, women's wrestling SUCKS but I at least expect different brands of suck, not the same thing week in and week out. Match was Kelly's usual terrible effort *1/2.
-Meanwhile, the Miz and Alberto Del Rio get all conflicting and stuff.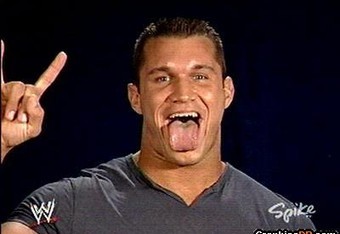 -Meanwhile, Josh Mathews announces that Booker T's match is off tonight due to injury...BUT WHAT ABOUT THE CHILDREN?!!?
-Still backstage, Hornswoggle complains to Santa Claus aka Teddy Long about two things: Being dressed as an elf and Santa being black...might want to watch that last one, Horny. Teddy Long presents his Christmas gift to the midget: Rosetta Stone: Ebonics. Hornswoggle responds with a kick to the ankle. What a brutal segment.
Tables Match
Randy Orton vs. Wade Barrett
They have a slugfest to start and Orton quickly hits his backbreaker before going for a table. Barrett blocks by kicking the table and tries for his own. Randy kicks the table back in Barrett's face and they head up to the entrance position where there are a bunch of tables set up.
Barrett tries for a pump handle slam through a table but Orton blocks and drags him back to ringside to introduce Wade to the apron. Orton tries for a suplex from the ring steps through a table but Barrett sends him into the ring post to block and hits a running big boot.
Wade sets up a table on the outside and lays Orton out on it but Randy sees it coming and rolls off before Barrett can come off the top...wow, thrilling. Orton hits the ring apron and we head inside where Barrett hits a flying elbow. Why does the referee have gloves on?
Another running big boot puts Orton down and Barrett sets up a table in the corner. Wade tries an Oklahoma Slam but Orton goes up and over and launches his babyface comeback with the draping DDT. Barrett sees it coming though and takes Orton to the apron where they have a slugfest above a table. Barrett looks for Wasteland from the apron, which would be awesome, so of course it doesn't hit and Orton hits the draping DDT.
Orton looks for the RKO but Barrett shoves him off and hits a spinning side slam. Barrett takes a new approach and slams the table on Orton before stomping away. The table gets set up next to the corner as I finally realize that Barrett has a tiny trickle of blood coming from his forearm, hence the referee's gloves...what a wuss. Barrett sets Orton on the table and climbs the top but Orton sees him coming and catches Barrett with the RKO on his way down through the table for the win.
Winner: Randy Orton
-I'm not a big fan of tables matches because no one actually jobs since there are no pinfalls. The finish was unexpected but came off flat for whatever reason...it could have been the fact that only Barrett's knees went through the table but whatever. Maybe it's just me but I have no idea what people see in Randy Orton because he bores me to death. Good finish but not much else **.

-Meanwhile, Cody Rhodes attacks Booker T while he's chatting with Alicia Fox.

Tag Team Titles
Air Boom vs. Primo & Epico
The heels get absolutely no reaction on their way out...that's about right. Bourne starts with Epico and gets a sunset flip for two then fires off a flying headscissors for two. Air Boom double teams Epico and Kofi hits a dropkick then hits both heels with one to escape a double team.
Primo takes control and tries a monkey flip but Kofi lands on his feet and hits one of his own for two. More double teaming from the faces leads to flying headscissors from Bourne for two but he gets kicked in the gut and dumped by the heels.
Back in, Epico gets two and Bourne gets to play face-in-peril while the heels switch off. The crowd absolutely dies during the heat segment and Bourne has to fight out of a front facelock but takes a dropkick for two.
Tilt-a-whirl backbreaker gets two for Epico and hits a trio of back suplexes to no reaction for two. Epico goes for a backbreaker submission for Bourne flips out of it and hits a double-knee press for two and the double KO. Now it's hot tag Kofi as he cleans house and hits Primo with a jumping clothesline.
Boom Drop hits on Primo and Kofi looks to finish but runs into a boot. Kofi settles for a springboard cross body for two, saved by Epico. Bourne gets rid of Epico by dumping him and hitting a dive from the top rope while Kofi hits Trouble in Paradise for the win.
Winners and STILL Champions: Air Boom
-This seemed like a Raw match since absolutely no one in the crowd gave a rat's ass about the heels. The crowd sat on their hands during the heat segment and never bought the challengers as a threat at all. Air Boom hit all their token spots but that doesn't do much for me anymore **.

United States Title
Dolph Ziggler vs. Zack Ryder
Dolph heads out with his crappy new theme as we see the Spanish announce table is at ringside, which can only mean one thing: Pain.
Ziggler starts strong but misses a dropkick and gets catapulted into the ring post before being sent to the outside. Ryder follows with a somersault senton to bring the crowd to their feet but Ziggler responds with a DDT on the apron.
Back inside, Ziggler gets a neckbreaker and hits his repeated elbow drops for two. Hard elbow off the ropes puts Ryder down and we hit a chinlock for some spot-calling. Ryder fights out but walks into an Angle Slam (please don't tweet, Kurt) for two.
Ryder catches Ziggler with a right hand and comes off the top with a missile dropkick for two and that triggers his babyface comeback. Ryder beats Ziggler down and hits a facebuster to set up the Woo Woo Woo Kick for two after Vickie helpfully puts Dolph's foot on the ropes. That earns her a trip to the locker room courtesy of our referee (who of course is not allowed to have a name...Uncle Vince says so).
Ryder looks to steal one with a roll-up but Ziggler rolls through and grabs the ropes for two. Dolph whiffs on the Rocker Dropper but keeps it going until he hits it for two as they continue a really good, fast-paced match. Sleeper is blocker but Ryder runs into a stiff dropkick for two.
Ziggler gets caught heading to the top and Ryder brings him off with a hurricanrana for a hot new fall. Zack tries for the Ruff Ryder but gets rolled up (using the tights of course) by Dolph for two. Double knee to the chest catches Dolph and Ryder hits the Ruff Ryder to get the pin clean as a sheet.
Winner and NEW Champion: Zack Ryder
-Well, you can't say that they didn't pay this angle off right. Ryder countered all of Dolph's heel tactics, got the clean pin and celebrated with his dad afterward. Now, Dolph can move to the main event and Ryder can (hopefully) have a nice run with the secondary (third-ary?) title for a bit. Match was fast-paced and really got the crowd going ***1/4.