Carla DiBello Pics: Kobe Bryant's Alleged Mistress and Kim Kardashian's BFF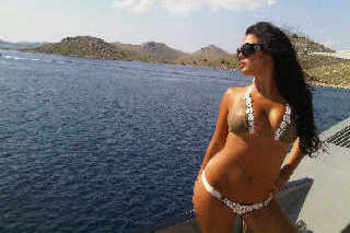 Ever since Vanessa Bryant filed for divorce on Friday evening, with TMZ reporting that she was tired of Kobe Bryant's infidelity, rumors have been flying over who Kobe could have possibly been stepping out with.
The first name to come up was Jessica Burciaga, a Playmate that MediaTakeOut.com alleged that Kobe had been with over the past few months in only the classy way that Media Take Out can allege something.
Then "multiple websites" over the past day have surfaced the name Carla DiBello. Who is this mystery woman and how could she possibly be connected to Kobe?
Let's take a look.
Kim Kardashian's Buddy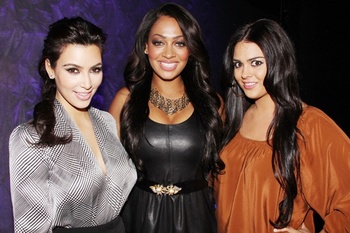 That's DiBello on the right, but you might have first noticed the other two women she's with: Kim Kardashian and La La Anthony.
DiBello has been friends with Kim for a while and has been serving as associate producer on Kourtney & Kim Take New York, and even made an appearance on Kim's wedding special.
Get used to this look, folks; DiBello always seems surprised that somebody wants to include her in a photograph.
Hollywood 4 Life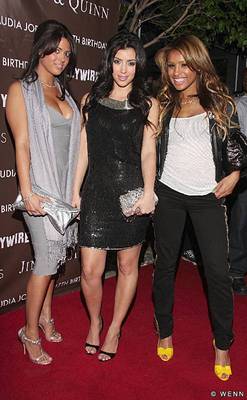 The spray-tanned DiBello (come on, we all see it), has been around Hollywood for a while. She has worked as assistant to the producer or just an assistant on 11 different movies, including such classics as The Wicker Man and The Death and Life of Bobby Z.
Official Assistant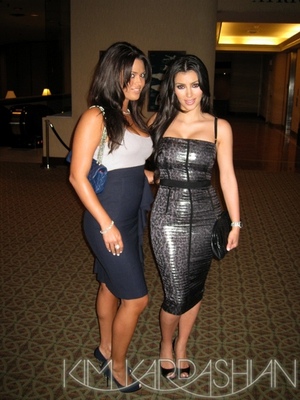 According to RadarOnline, DiBello was an assistant to Steve Wynn at his famous Las Vegas casino and was also director of strategic relations for a group that owned a number of hotels and clubs.
I don't know what all that means, but something tells me I probably work harder than she does and make a lot less money.
(Photo via KimKardashian.com)
Of Course She's on Twitter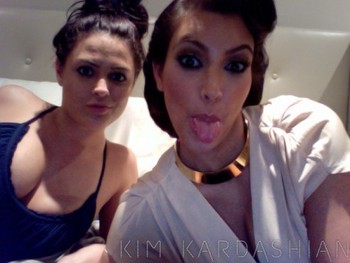 DiBello doesn't tweet nearly as much as Kim does; she's more of a couple of tweets a week kind of girl. But she still has nearly 33,000 followers, which I'm assuming will keep growing if these allegations keep getting dragged out.
You better believe she's always in the background when she's around Kim K, though.
(Photo via KimKardashian.com)
Lakers Mystery Girl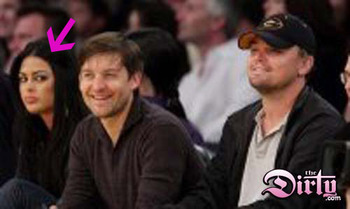 We know that DiBello is plugged into Hollywood and the Kardashians, so this photo of her sitting courtside at a Lakers game near DiCaprio and Toby Maguire doesn't surprise us all that much.
The surprising part is still how little we all seem to know about this woman, especially if there's any chance she could have been connected to Kobe.
Big Lakers Fan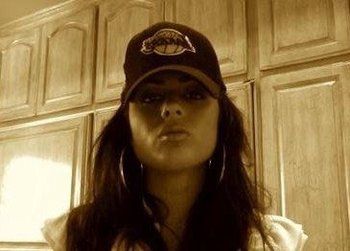 It took me way too long to realize that this photo was backwards. I knew it was a Lakers hat, but something seemed off.
Courtside seats to the Lakers? Twitpics of her wearing a Lakers hat? That's pretty much the definition of a gigantic fan in Los Angeles.
Plus, most Lakers fans are really just Kobe fans, so that may be true for DiBello as well.
Lakers No. 1,111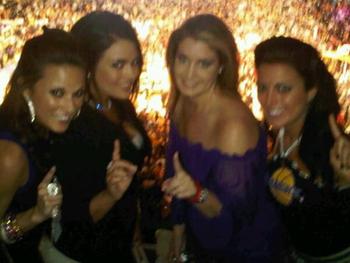 OK, so maybe DiBello isn't that big of a Lakers fan after all. She did tweet that the Lakers were No. 1,111 in this picture.
If my math is right, and it always is, she's saying the Lakers aren't even a top-1,000 team. Ouch. That's rough. Not sure if Kobe would have been on board with that sort of dissing.
Kobe Connection?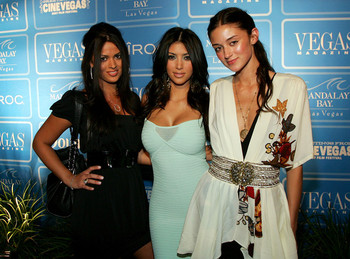 So how could Carla DiBello have gotten hooked up with Kobe, allegedy?
Well, she's obviously been to her share of Lakers games, she's friends with the Kardashian family who happens to have Lamar Odom as part of the family over the last two years, so there was always the possibility of meeting that way.
Of course, word on the street was that Vanessa Bryant was never very fond of Khloe Kardashian, so maybe she would have tried to have Kobe keep his distance.
Maybe that made the allure even stronger.
It should be noted that this is pure conjecture and just fun speculation. Do I really believe any of this actually happened? No.
What's Next?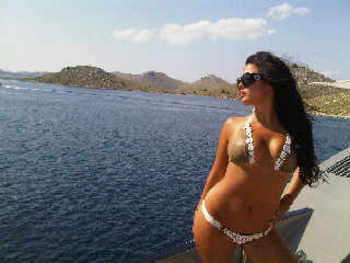 So what happens now for Ms. DiBello?
Well, if this story turns out to be complete BS like I suspect, then she'll fade back into the background of the whole Kardashian money-train.
But if there turns out to be a shred of truth to this, if DiBello surfaces a voicemail from Kobe telling her to take her name off her voicemail in case Vanessa called, then this thing is going to go into overdrive.
Remember Tiger? This could be just as big. And if Carla is a part of it in any way...well, just ask Rachel Uchitel what she can expect.
Keep Reading