Which Means More: Colts Avoiding 0-16 or Packers Falling Short of 16-0?
December 18, 2011
Andy Lyons/Getty Images
It is not completely impossible to think that Green Bay could lose their final three and San Francisco win their final three to potentially cost Green Bay home field in the playoffs.
If that remote scenario were to happen, it still wouldn't cost Green Bay the playoffs, and no matter how they get in, they will still be dangerous.
16-0 is a nice story for the media, but the Miami Dolphins are the only people who would have cared if Green Bay actually went undefeated all the way through the Super Bowl.
Now the Indianapolis Colts potentially playing their way out of the "Suck For Luck" sweepstakes is a tantalizing drama that may have just began playing out.
For a very long time, the general consensus was that Indy would potentially go 0-16 and have a big decision to make come April. However now, the St. Louis Rams might be as much a player in that saga as Indy.
Looking at both teams' remaining schedules, the road to three wins look a lot more possible for Indianapolis than St. Louis.
The Colts will face a reeling Houston squad next week, and the train wreck that has become the Jacksonville Jaguars in the final game. Compare that with St. Louis, who has Pittsburgh and San Francisco to close the season, and it's easy to see the teams ending tied or, seeing St. Louis first on the clock in April.
Did Peyton Manning just find a reason to play this season? Wouldn't it be interesting for Peyton to come back in the final week of the season with a chance to keep his team from picking the player who might supplant him?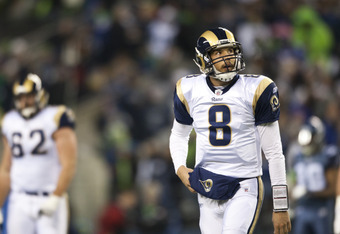 Jay Drowns/Getty Images
Would he do it?
The Colts are steadfastly denying that Manning will play at all this season, but that was before a victory that they did not plan on getting.
Meanwhile, in St. Louis, Steve Spagnuolo is hanging by a thread in his job, and serious questions are being raised about whether or not Sam Bradford is the player that many felt he was last season.
If the Rams had the No. 1 pick, would they contemplate the same possibilities as Indianapolis?
Namely, would they trade the draft for a horde of players and picks to help surround Bradford, or would they trade Bradford for a smaller horde of players and picks to surround Andrew Luck with?
The race for the first overall pick is on, and the ramifications of its outcome could be felt for many years to come in the NFL.