Green Bay Packers: Why Losing a Game Was Best Thing to Happen
December 18, 2011
Wesley Hitt/Getty Images
Was the Green Bay Packers loss to the Kansas City Chiefs embarrassing? Sure.
Does it mean the Packers aren't who we thought they were? Absolutely not.
Going 16-0 has never been a prerequisite to winning a Super Bowl. In a season where Green Bay has been sheltered from the attention because of the media circus in Denver, the pressure is now off.
Green Bay had done an excellent job of dealing with the questions and speculation about perfection to this point. However, an uncharacteristic slow start from Aaron Rodgers and an impassioned Chiefs team under new leadership, both with Kyle Orton and Romeo Crennel, proved to be a tougher matchup than many thought.
The loss today did not expose anything about the Packers that make them less of a threat to repeat this season.
The loss of Jennings affected the way the offense moved, but not as much as dropped passes and poor execution overall for the offense did. It should not be a surprise that the Packers lost a game in which Rodgers rating fell below 100 for the first time this season.
Many fans felt that the defense would be the weak link if the Packers were to lose a game, but that was not necessarily the case in this game. Kyle Orton looked infinitely more effective than Tyler Palko, but that has more to do with Palko's ineptitude than a letdown for the Packers defense.
The only failure on the defenses part was a lack of opportunistic turnovers. Even without them the Packers only yielded 19 points, which is five points less than any other point total that the Packers offense has put up in a game this season.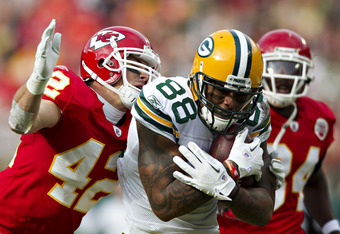 Wesley Hitt/Getty Images
All this loss really means is that if Rodgers and the offense have an off day, they might risk losing. This is not ground-breaking stuff, and the Chiefs surely did not expose major chinks in the Packers armor.
If the Packers are worried about anything, it is that they let an opportunity to seal home-field advantage throughout the playoffs slip through their fingers.
This loss will help them come up with ways to survive without Jennings, or any other player that might go out during the playoffs. If fans recall, the Packers struggled last season with adapting to injuries, but if they proved anything in their run, it's that they adapt better than any team in the NFL.
Green Bay knows they are playoff-bound. They also know that, home or away, they expect to win every game.
A loss to the Chiefs can do nothing but add extra motivation to the Packers, which is something that the rest of the league will agree, is something they have no shortage of.