The 25 Best Title Contenders Heading into 2012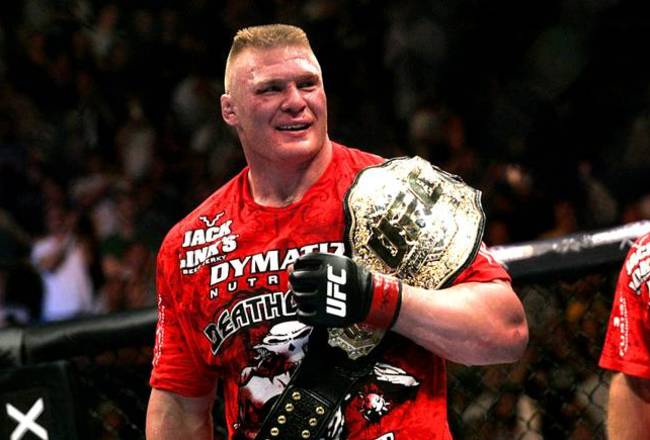 As we quickly approach the new year, we begin to look back upon on a memorable year for MMA, as fans had the privilege of witnessing some of the greatest fights of all time.
In addition, MMA provided fans with some of the most vicious knockouts and grueling submissions, along with five round all-out-wars.
In 2011 we've seen new champions declared while others stepped away from the sport they once deeply loved.
With 2012 right around the corner, we begin to glance at the future of the sport.
And, the future of MMA begins with the contenders who are quickly pushing to become the best in their respective weight divisions.
So, the following slides display the 25 best title contenders heading into 2012.
Let's take a look.
Nick Diaz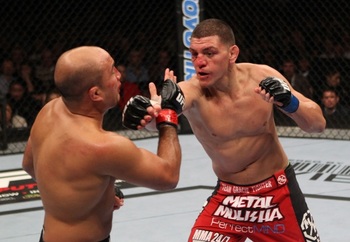 Nick Diaz will have the opportunity to wear UFC gold sooner than most would have thought as he'll be squaring off with Carlos Condit for the interim welterweight title at UFC 143.
Diaz's stand-up and world class conditioning make it very likely he could be on the throne at some point in 2012.
A win over Condit would certainly set up the highly talked-about George St-Pierre vs. Diaz showdown.
Urijah Faber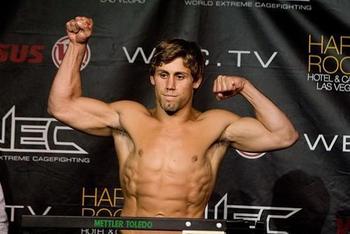 A forewarning to current bantamweight title holder Dominick Cruz: Urijah Faber is coming for the UFC gold.
Faber looked better than ever in his recent submission victory over Brian Bowles at UFC 139 and will look to continue his dominance against Cruz in their grudge match.
This could be the year for Faber to capture his first title since joining the UFC.
Joseph Benavidez
Luckily for the bantamweight division, Joseph Benavidez will be taking his talents to the newly added flyweight division when 2012 kicks off.
While Benavidez will certainly have to win the tournament to be crowned with gold, he's the early front runner.
Because of his well-rounded fighting style, it shouldn't be a surprise to anyone when Benavidez is competing for a championship in 2012.
Carlos Condit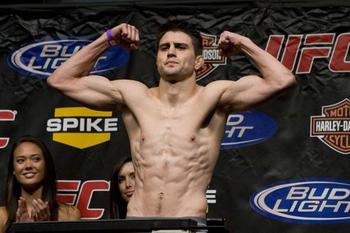 Similar to that of Nick Diaz, Carlos Condit will be battling it out for a shot at the welterweight title.
Through a well-rounded game plan, it's possible UFC 143's underdog could shock the world in the biggest fight of his life.
Condit's been through peaks and valleys over the course of 2011 but certainly has the skills and mindset to reign supreme in the new year.
Demetrious Johnson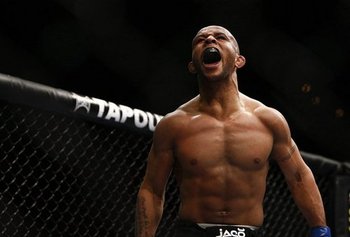 In order for Joseph Benavidez to be crowned the new flyweight champion, he'll have to get through Demetrious "Mighty Mouse" Johnson.
Johnson is no slouch as he recently took current champion Dominick Cruz to a five-round decision, only to come up short on the judges' scorecards.
Johnson is believed by many to be the quickest fighter in the UFC today.
Chael Sonnen
What's a list without Chael Sonnen?
Sonnen is more than just the stand-up comedian that many fans have come to either love or hate over the past several years.
Through vicious take downs, ground and pound and punishing wrestling, Sonnen has all the ingredients to wear UFC gold in the new year.
Jake Ellenberger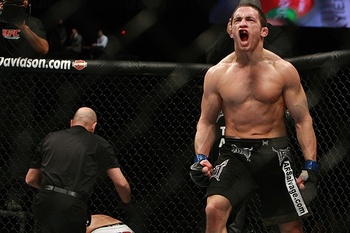 If you're not familiar with the name Jake Ellenberger, you want might to learn about him fairly quickly.
Ellenberger is on a fast track to the top of the welterweight division as he's determined to knock out anyone standing in his way.
It is quite possible that Ellenberger is the hardest hitter in the UFC today and could make a push for a title in the later parts of 2012.
Mark Munoz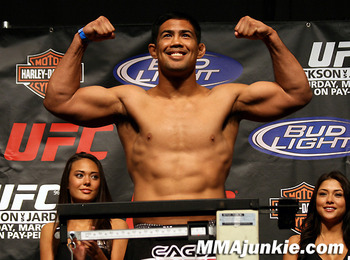 It's hard to envision anyone but Anderson Silva at the top of the middleweight division.
However, Mark Munoz will have the opportunity to possibly earn himself a 185-pound title fight if he can overcome the likes of Chael Sonnen at UFC on FOX 2.
Munoz could bring a serious threat to Silva due to his wrestling and ground and pound.
Cain Velasquez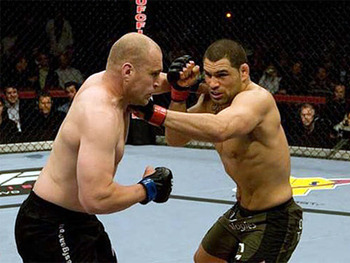 There are many fans who feel it won't be long until Cain Velasquez returns to title contention and eventually recaptures his heavyweight title.
Despite a 64-second knockout defeat to Junior Dos Santos at UFC on FOX 1, Velasquez remains one of the best overall fighters in the UFC and will fight his for his much-desired title in 2012.
Brock Lesnar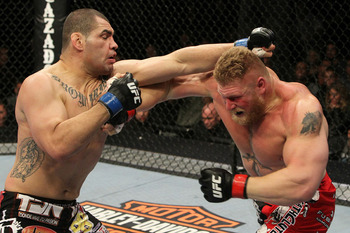 After not having fought inside the Octagon for over a year, Brock Lesnar will make his long-awaited return at UFC 141 on December 30th.
A win would not only prove that Lesnar is back but that he is in seriously contention for the heavyweight title.
Time will tell.
Alistair Overeem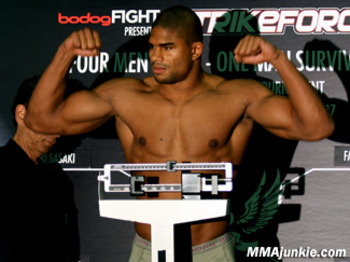 A win over Brock Lesnar at UFC 141 will earn Alistair Overeem a heavyweight title fight in just his second fight inside the Octagon.
Regardless of whether he deserves it, Overeem's striking and well-rounded skill set could be enough to overboard the current champion in Junior dos Santos when they meet in 2012.
Rashad Evans
After being off for quite some time because of an injury, Rashad Evans will finally return to the Octagon and take on Phil Davis in the new year.
If Evans can get by the highly talented wrestler in Davis, he'll be moving on to face his once friend, now enemy in Jon Jones.
Showdown of the new year?
Benson Henderson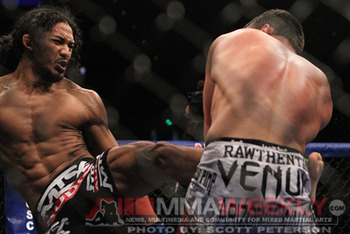 If there's a fighter who can knock off Frankie Edgar, it's Benson Henderson.
In his recent bout with Clay Guida at UFC on FOX 1, Henderson displayed some of the strongest stand up we've seen in a long time.
Edgar will struggle often with taking Henderson down as well as exchanging strikes in the stand-up.
Phil Davis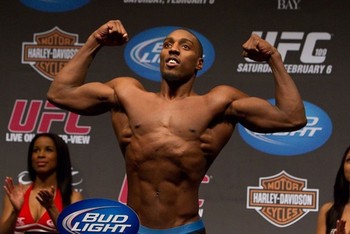 It's sickening to believe how many fans are looking past Phil Davis as a legitimate contender in the light heavyweight division.
Not only is Davis arguably a top-five wrestler in the UFC, but he's never been taken down in his MMA career.
Davis is a definite title contender as we roll into the new year.
Renan Barao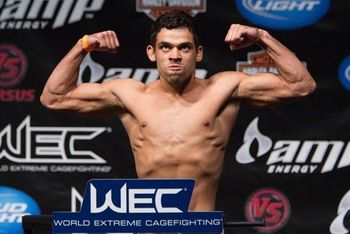 Renan Barao is a name that's rarely mentioned in the same sentence as "title shot."
But because of his dominating track record over the past few years, and several fighters making the transition to the flyweight division, the door is now open to Barao.
Barao hasn't lost a bout in 28 consecutive appearances.
Chad Mendes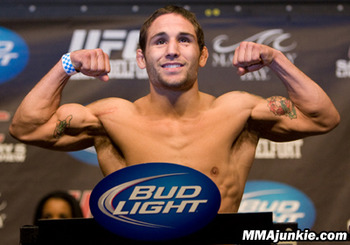 Chad "Money" Mendes could hit the jackpot in the biggest fight of his life against Jose Aldo at UFC 142 as he'll be fighting for the featherweight title.
Aldo has never seen a better wrestler than Mendes, and as a result will probably look to remain on his feet.
However, Mendes could very well be the first new champion we see when 2012 finally touches down.
Dan Henderson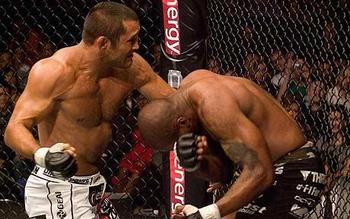 Dan Henderson belongs on every list; the hardest hitters, best knockouts, craziest finishes and of course, the best title contenders heading into 2012.
While it's uncertain which title "Hendo" will be fighting for, he brings about a serious threat in both the 185-pound and 205-pound weight classes.
Henderson's never been knocked out in his MMA career.
Gilbert Melendez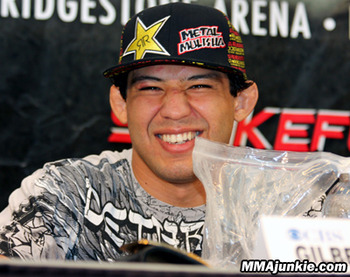 A rule of thumb: believe none of what you hear and half of what you see.
Therefore, while Gilbert Melendez is slated to remain in Strikeforce, you just can never be sure as much stranger things have happened in the past.
If and when Melendez makes the transition to the UFC, his combination of wrestling and power punching will make him an immediate threat to any opponent.
Jon Fitch
Would it be frowned upon to have Jon Fitch on this list?
Well, it shouldn't, as Fitch has received the shaft time and time again from the UFC.
Fitch will be the first to admit he's not the most exciting fighter, but he is worthy of a welterweight title shot.
Michael Bisping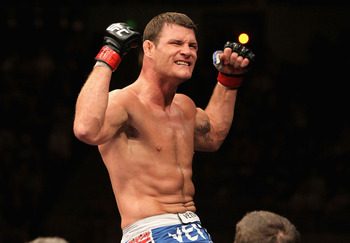 Love him or hate him, Michael Bisping has quickly evolved into a legitimate title contender in the middleweight division.
Bisping's attack which is based upon quantity not quality will continue to develop and could earn him a championship bout in the later parts of 2012.
Could Bisping actually wear UFC gold?
Josh Koscheck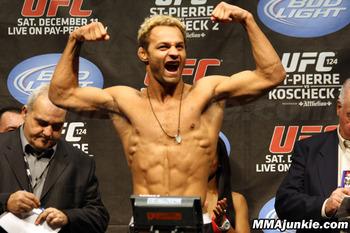 With the welterweight division so stacked, it's no surprise to see another 170-pound fighter on this list.
And, Josh Koscheck isn't just your ordinary fighter; he's one of the meanest and most fearless fighters in MMA.
However, fans shouldn't be surprised if they see Koscheck in the middleweight division in 2012.
Donald Cerrone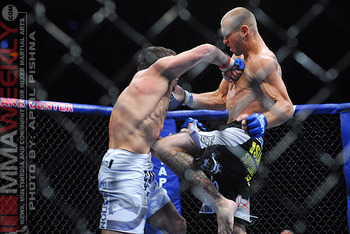 The young gun continues to impress on his way to the top of the lightweight division as he's won six consecutive fights on route to earning a fight with Nate Diaz to finish up 2011.
While Cerrone is currently on the outskirts of a 155-pound title shot, things could change as we quickly approach the new year.
"The Cowboy" has been nearly unstoppable as his submission game is second to none.
Lyoto Machida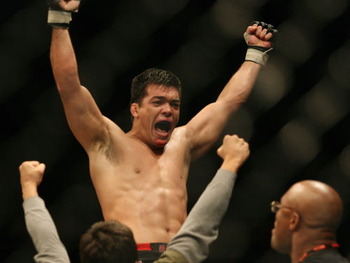 Didn't Lyoto Machida just lose a title fight to Jon Jones at UFC 140?
Indeed he did.
However, Machida was the first mixed martial artist to expose Jones as he controlled action throughout the first frame and into the early parts of Round 2.
Following their bout, many fans called for an immediate rematch which we could see near the end of 2012.
Frank Mir
Snap, crackle and pop.
That's exactly what Frank Mir did to Antonio Rodrigo Nogueira at UFC 140 as he broke his opponents arm via Kimura.
Mir's now won three consecutive bouts and is picking up speed heading into the new year.
Gray Maynard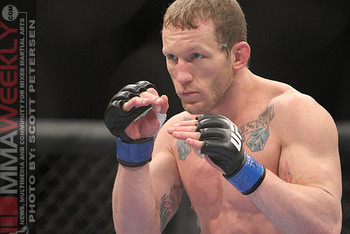 When the rubber meets the road, Gray Maynard still has some unfinished business to take care of involving current lightweight champion Frankie Edgar.
And, Maynard deserves it as the two currently hold a career record of 1-1-1 when fighting each other.
Maynard will certainly have to wait his turn but it could come as soon as late 2012.
Keep Reading