Daniel Bryan, Tyson Kidd, Justin Gabriel: Who's Really Being Misused?
December 18, 2011
When I asked my Twitter followers for suggestions for topics to write about, one topic that was frequently brought up had to do with the misuse of various undercard wrestlers in the WWE. Many people seemed to be frustrated with the way guys like Daniel Bryan, Tyson Kidd, and Justin Gabriel, among others, have been booked during their WWE run.
I recall one of my followers saying something along the lines of "Justin Gabriel has been in the WWE for almost two years and only has three WWE Tag Team Championship reigns to show for it." Three championships in less than two years! For a while, Justin Gabriel was a mainstay in the WWE's tag team division. Being a part of the Nexus and the Corre, Gabriel got a lot of TV exposure.
Since his transition to singles wrestling, he hasn't been featured as prominently, but that's only natural. Since he's just now trying to establish himself as a singles wrestler, it would do more harm than good to throw him right into a feud over a singles championship. Also, considering how prominent he was in 2010, I would definitely say that Gabriel has not been entirely misused.
I'd also greatly disagree with those that think Daniel Bryan has been misused. First off, just because Bryan is widely regarded as one of the top wrestlers in the world because of his work on the independent scene, it doesn't mean that Bryan should have been a world championship contender right off the bat.
The sad truth is that the great majority of WWE fans don't follow international wrestling or independent promotions like Ring of Honor. Thus, many were not familiar with Bryan's work until he came in on NXT season one. Just like Justin Gabriel needs to be built up as a singles competitor before he can believably contend for a title, Bryan needed to be built up before he could contend for the world championship.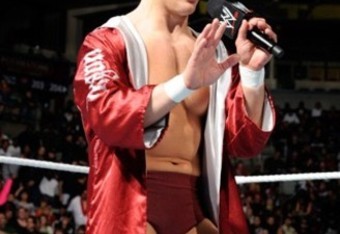 Now look at Daniel Bryan. He is a former No. 1 contender for the World Heavyweight Championship and currently holds the Money in the Bank briefcase. He's also had a handful of "Match of the Year" candidate matches since arriving in the WWE. That alone is more than many of the guys on the WWE roster can say.
Justin Gabriel and Daniel Bryan are two examples of how many fans are impatient with the way the WWE goes about building stars. Think of guys like Edge, Miz and Randy Orton. How long did it take them to become mainstays in the main event scene? Then think of two years ago when Sheamus was thrown into the main event scene about six months after debuting on TV. The fact that Sheamus slipped back down the card after losing the WWE Championship makes it apparent that being pushed up the card so quickly was a flop. He is just now beginning to become a guy who could be a permanent main event babyface.
While I do disagree with people saying Justin Gabriel and Daniel Bryan have been misused, I will agree with assertions that Tyson Kidd hasn't been handled well. Unlike Gabriel, Kidd hasn't had much of a chance to begin establishing himself as a singles wrestler since the dissolution to the Hart Dynasty.
Tyson Kidd, in my opinion, has future main eventer written all over him. He certainly has the in-ring ability and has also shown much improvement on the mic since his debut. Yet, the only legit feud he's had since becoming a singles competitor has been with Yoshi Tatsu on NXT. So I'll go out on a limb and say that Tyson Kidd could be used much better than he has. Perhaps his rise in the singles division will take a bit longer than everyone else.
Guys like Tyson Kidd, Justin Gabriel and Daniel Bryan are all future main eventers. They're all still young and still have plenty of time to break into the main event scene, so what's the rush? It's only a matter of time before they're on the cusp of breaking through the proverbial "glass ceiling" like Dolph Ziggler and Cody Rhodes are right now.
Thanks for reading. As always, I appreciate any feedback on my writing. Feel free to spark a conversation with me regarding what was discussed in this column by commenting or reaching out to me on Twitter @MikePW247. Also be sure to tune in to This Very Ring every Sunday night on PW 24/7 Radio at 11pm eastern to listen to myself and Stan Grubb discuss all things pro wrestling.