FIU vs. Marshall: Game Time, Radio & TV Coverage Info for Beef O'Brady's Bowl
December 19, 2011
Say what you want about the name of the Beef O'Brady's Bowl, but no one will argue against the defense of the Florida International Golden Panthers when they face the Marshall Thundering Herd.
The Golden Panthers are making their second consecutive bowl game appearance, winning the Little Ceasar's Pizza Bowl against Toledo last year. 
The Thundering Herd used to be a fixture in bowl games, appearing in six straight between 1997 and 2002, but this is just their third postseason game since 2004. They got here thanks to a combination of luck and easy scheduling. 
Where: Tropicana Field in St. Petersburg, Florida
When: Tuesday, Dec. 20 at 8:00 p.m. EST
Watch: ESPN
Listen: WRGP 95.3 FM (FIU); WMUL 88.1 FM (Marshall)
Betting Line: FIU (-4)
Key Storyline
Both teams have had success in bowl games in recent years, so something will have to give. 
FIU is making just its second bowl appearance, but the first one was a very fun and entertaining game against Toledo last season. This program is on the rise in the Sun Belt conference, with seven wins in 2010 and eight this year. 
Marshall had to win its final two games just to become bowl eligible, but this program is still trying to get to where it can compete for conference titles and postseason games on a consistent basis. A victory here will help with recruiting and make them a team to beat in Conference USA. 
FIU Injury Report
Questionable: WR Glenn Coleman (Suspension), QB Jake Medlock (Shoulder)
Out: WR Rockey Vann (Elbow)
Marshall Injury Report
Probable: OL John Bruhin (Ankle)
Questionable: WR Demetrius Evans (Knee), S D.J. Hunter (Knee), DL James Rouse (Back)
Out: QB A.J. Graham (Shoulder)
What They Are Saying
While most college football fans would scoff at seeing their team play in the Beef O'Brady's bowl, FIU actually lobbied to get into the game. Athletic director Pete Garcia had many productive conversations with the bowl's executive director Brett Dulaney.
From the Miami Herald: 
"The Sun Belt and [commissioner] Wright Waters have been very supportive," Garcia said. "They knew this was our first choice."

--snip--

"There are always things that can be done, agreements made," he said. "Everyone wants to take a lot of fans to the bowl game and the bowl game wants to have a lot of fans coming."


FIU Player To Watch: RB Kedrick Rhodes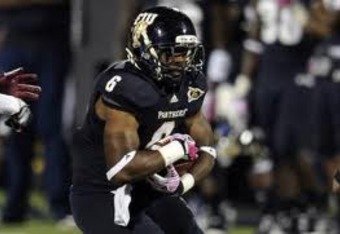 The sophomore running back exploded when he was given the starting job for this team at the outset of the season. He ran for 1,121 yards and eight touchdowns this year, and has been the most consistent playmaker for an otherwise lackluster offense. 
The Golden Panthers don't have a lot of explosiveness and won't typically score a lot of points, so it is imperative that Rhodes is able to run the ball and set up the rest of the offense. 
Marshall Player To Watch: WR Aaron Dobson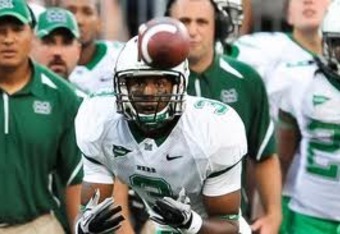 As bad as FIU's offense has been this season, Marshall's is even worse. This team ranks near the bottom in pass yards per game (74th) and rush yards (92nd). 
But Dobson is a big-play threat on the outside and has the potential to be a difference-maker if he is able to get enough catches to make plays. He led the team with 587 receiving yards and 10 touchdowns on just 42 catches. 
Key Matchup: Marshall Pass Offense vs. FIU Defense
Marshall is about as average as any bowl team can be, but the one thing that this team has working for it, as mentioned previously, is Aaron Dobson. 
Freshman quarterback Rakeem Kato has to find a way to get him the ball more than three or four times, which is what he averages on a weekly basis. 
That won't be an easy task because the FIU defense has been an impressive bunch all season. This team ranks 16th in the country in points allowed with just over 19 per game. 
Prediction
Marshall has been hot with two straight wins, but FIU is a deeper team on defense and will be able to shut down the Thundering Herd. 
FIU 27, Marshall 13