San Francisco 49ers vs. Pittsburgh Steelers: Injury Reports and Prediction
December 18, 2011
Ezra Shaw/Getty Images
When the 49ers and Steelers take the field on Monday night, it will mark the first time in Monday Night Football history that two teams with 10 wins will be pitted against each other. History aside, both teams have a lot at stake as they pursue first-round byes and home-field advantage in the playoffs. 
Both teams want to win, need to win and will battle to get the win. 
Injuries, however, may play a huge role in the outcome. 
Steelers Injury Report
Out: OLB Chris Carter (hamstring), C Maurkice Pouncey (ankle), WR Emmanuel Sanders (foot).
Questionable: WR Arnaz Battle (hamstring), QB Ben Roethlisberger (ankle), CB Curtis Brown (knee).
Probable: S Troy Polamalu (hamstring), OT Marcus Gilbert (illness).
Also out is OLB James Harrison (suspended for an illegal hit last week on Browns quarterback Colt McCoy).
Outlook: The 49ers, specifically Alex Smith, are breathing a sigh of relief upon seeing the suspension of sack-artist James Harrison. A quick one, though, as the Steelers defense always finds a way to hit the opposing team's quarterback. In fact, Pittsburgh is 4-0 as a team this season playing without James Harrison in the lineup (orbital fracture), collecting 12 sacks during his absence. Alex Smith will, once again, find himself under constant pressure.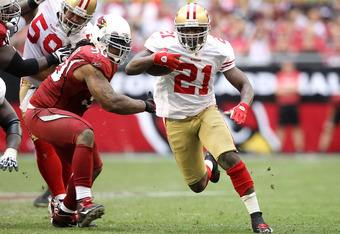 Christian Petersen/Getty Images
The other name that pops out on this list is Ben Roethlisberger, who is recovering from a high ankle sprain. The quarterback has been seen wearing a walking boot throughout the week and may be replaced by backup Charlie Batch. With Batch under center, the 49ers will surely gather a large batch of sacks. But we all know nothing will keep Roethlisberger off the field come game time. Put him in a wheelchair/crutches/etc. and he'll find a way to make plays. 
49ers Injury Report
Questionable: LB Patrick Willis (hamstring), LT Joe Staley (concussion), WR Braylon Edwards (knee), FB Bruce Miller (knee).
Outlook: The list is a short one, but important nonetheless as all four mentioned are starters at their respective positions. Joe Staley suffered a concussion in the early stage of last week's loss at Arizona but has been cleared to participate in a limited amount.
Without Staley, the offensive line was unimpressive, giving up a total of five sacks to the Cardinals and will once again struggle against a superior Steelers defense. Edwards and Miller are both banged up, but they should be okay to play Monday night. 
The big loss will be All-Pro Patrick Willis, who is expected to miss his second consecutive start, a rare occasion for the third-year linebacker out of Ole Miss. The defense still features key playmakers in Justin Smith and Carlos Rogers, but Willis is the heart of the squad. Larry Grant, Willis' replacement, did step in last week and led the team with 11 total tackles.
But the main stat was missed tackles: at least three, not to mention the multiple times he was in the wrong spot when he would have been in the right spot if his name was Patrick Willis. Willis will be missed, but the defense must pull together as a group to defend a potent Steelers attack. 
Game Prediction
The two teams have a growing list of similarities: Both boast identical 10-3 records. Both feature talented, top-ranked defenses. Both are a little banged up and will be playing without key players (Who isn't at this point?). Both are looking to secure high seeds for the playoffs.
And on and on and on the list goes.
But only one will rise to 11-3 at the conclusion of Monday night's clash, while the other will fall to a respectable, yet disappointing, 10-4.
In a low-scoring struggle, which this will surely be, the team that does the little things best should emerge victorious. Because, after all, little things achieved multiple times become one big thing. The 49ers excel in the little things; they tackle well, limit mistakes and always win the field-position battle. That will prove the difference as the home team will take a step closer to earning that desired two seed for the playoffs. 
Final Score: 49ers 20, Steelers 17