Johnny Knox Injury: Update on Chicago Bears WR's Devastating Injury
December 18, 2011
Justin Edmonds/Getty Images
The Chicago Bears have had a very rough go of things as of late, but losing wide receiver Johnny Knox may be the straw that breaks the proverbial camel's back for this team.
Update: According to ESPN NFL insider Tony Softli on his twitter Knox will undergo back surgery on Monday: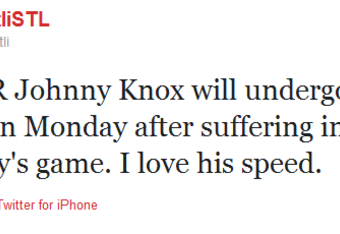 They Bears lost their starting quarterback Jay Cutler to a thumb injury and have lost three in a row since.
Two weeks later, the Bears lost starting running back Matt Forte to an injury. To add immense insult to injury, wide receiver Sam Hurd was arrested and faces federal drug conspiracy charges.
Oh, did i mention that all of this has come in the midst of a playoff hunt?
The Bears can't afford to lose Knox, but as of right now it looks like they are going to be without his services, according to Michael David Smith of Pro Football Talk:
Bears receiver Johnny Knox was taken off the field on a stretcher after suffering an apparent head or neck injury.

Knox caught a pass in the first quarter and then had the ball knocked loose as he was knocked to the ground. As other players scrambled for the ball, Knox took a hard hit from Seattle's Anthony Hargrove, and his upper body bent back awkwardly.

Although Knox stayed down on the field for several minutes, he was moving his hands and talking to the medical staff as he was taken off the field.
This is horrible news for the Bears who are already down major offensive players.
While it's not certain whether or not this is a head or neck injury, we do know that the NFL takes any injury relating to that part of the body extremely seriously.
The good news is that he was moving his hands and seemed to be responsive to the medical staff, but I have no doubt the Bears will proceed with extreme caution.
Fantasy Impact:
To be very frank, I'm not sure many people are counting on any of the Bears offensive starters in fantasy anymore, especially with Cutler and Forte out.
If you were using Knox as a wide receiver you're going to want to probably try a different option next week. As I said, the NFL takes head related injuries very seriously.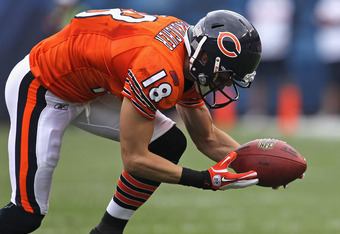 Jonathan Daniel/Getty Images
Who's The Backup:
Look for either Dane Sanzenbacher, with 19 catches and three touchdowns so far, or Earl Bennet, 19 catches and one touchdown, to step into the role. Sanzenbacher makes more sense do to his production level.
Devastation Scale: 5
On a scale of 1-10 with 10 being the worst, this has got to be a five for the Bears.
Knox has had a pretty bad year with 36 catches and only two touchdowns, but at this point the Bears need every available offensive weapon they can get out there.
Timeline For Return: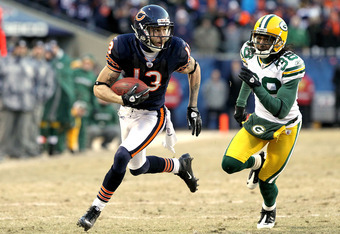 Doug Pensinger/Getty Images
This is not official, but like I've mentioned a few times now the NFL takes these kind of injuries very seriously. He's going to have to get cleared and the Bears will have to make sure there was no concussion, or concussion-like symptoms afterward.
What They're Saying:
The Chicago Tribune is reporting that Knox has been taken to the hospital and that team official's are describing the injury as a "mid-back injury."
Whether it's the head, neck or mid-back, this is obviously a serious injury.
Stay tuned for updates on Knox's injury as well as the prognosis moving forward.