NHL's Alex Ovechkin Should Be More Like NFL's Tim Tebow
December 18, 2011
Marianne Helm/Getty Images
Washington Capitals superstar Alexander Ovechkin is undeniably off his game right now. Through 31 games, Ovechkin has notched 10 goals and 12 assists for 22 points, not even good for a position in the NHL's top-50 for league scoring. Currently, he's on pace for a mere 26 goals and 57 points in 82 games, which would easily be the worst totals of his career. 
Last season saw Ovechkin post his worst campaign to date, when he barely broke 30 goals and registered 85 points in 79 games. That's obviously a brilliant season for most players, but for "The Great Eight," it's hardly what we're used to seeing. The Russian dynamo just hasn't been able to find his 50-goal, 100-point, MVP form since those days it seems.
We have seen the now-infamous incident involving Ovechkin allegedly cursing under his breath at former head coach Bruce Boudreau's decision not to send him on the ice late in a game, with the Caps down a goal.
Ovie has been a reckless player at times with his high energy level and passion for throwing his weight around. Most recently, in a December 7th matchup in Ottawa, after taking a solid hit from Chris Neil, Ovechkin—quite uncharacteristically—spears Neil in the stomach on the back-check. Argue it all you want, but there's no question that Ovechkin knew what he was doing here. Maybe Neil embellished it a little bit, but that's completely besides the point.
Now, let's shift gears for a second to look at an athlete on the opposite end of things right now: Tim Tebow of the NFL. It may sound a little silly at first, but it's about time Ovechkin take a page out of Tebow's book. 
The Denver Broncos quarterback, in his rookie NFL season, has helped right the Broncos' ship this season, taking them from a 1-4 record to a 7-5 record (7-1 since Tebow took over). A huge part of not only Tebow's game, but his life, too, is his religion; everything he achieves, he says he owes to God.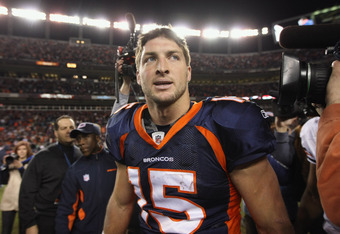 Doug Pensinger/Getty Images
From that, it's given him a strong, faith-filled attitude based on humility. Even if things look bleak, he never gives up and remains faithful, as seen in his impressive season thus far. That's the huge difference between him and not just other quarterbacks, but athletes in general. When the going gets rough and the game is on the line, Tebow is able lead his troops past any adversity.
"Believing" has been his motto, and it's rubbing off on his teammates now. And in the world we live in today, hearing about somebody on the positive end of the spectrum, like Tebow, is a welcome story indeed.
On the flip side, it seems when things go bad in Washington D.C., Ovechkin just packs it in and takes on this negative attitude. It's quite evident in his play, too. Ovechkin has been trying to do too much by himself offensively. Defensively, he barely moves his feet in the defensive zone more often than not. For a player that's making $9 million each year, and has the explosive potential to be the best in this league, it's mind-blowing how lazy and selfish of a player he has become.
Usually that's an attitude you see from players coming over from Russia who aren't quite ready for the NHL yet. Rather than play in the AHL to develop, they want no part of it, in large part because the KHL pays very good money. However, when you're as skilled as Ovechkin, and can step right into the lineup to astronomically produce, that really shouldn't be the case, especially when making around $110,000 each game. 
I would suggest it's a question of motivation, but, in his case, you would think there's about nine million reasons that would take care of that one.
Tebow isn't close to being the best quarterback in the league by any means, but his work ethic is undoubtedly one of the strongest in the NFL. At the end of the day, if he makes a costly mistake, he takes it upon his own shoulders. Most importantly, he won't let it affect anybody else, but rather takes it to heart, learns from it, and moves on with a positive outlook.
Tebow doesn't brag or try to make a scene, either. Sure, he wears his religion on his sleeve, but why should he be scrutinized for that? Tebow's accountability, determination, honesty, passion, and unfaltering will to compete are the very things leading to his success right now—qualities that can be attributed to that faith.
That's where Ovechkin could learn a thing or two.
He's the captain of the Caps, yet you can see in his play that he truly doesn't act like it on a nightly basis. Those aforementioned intangibles are missing in action right now. Now, I'm on board with those suggesting new head coach Dale Hunter remove the "C" from Ovechkin. A guy like Mike Knuble is an excellent veteran leader, much more deserving of the title, and maybe it would take some weight off of Ovie's shoulders, too. But since it was made clear that there are no plans to strip him of the captaincy anytime soon, Ovechkin needs to take it upon himself to be the best player and leader he can possibly be for his club.
And we all know he has a lot more to give. But that's the biggest difference between Ovechkin and Tebow—Tebow knows his deficiencies.
Ovechkin has all that world-class skill and ability to be the best player in the league, as I said above, and is carrying a hefty multi-million dollar salary. Right now, he's playing sub-par hockey given what we have already seen in his career. Where's the passion? Where's the high level of excellence we are so used to seeing?
Ultimately, it comes down to humility. Does Ovechkin realize he was the best in the league just a couple years ago? Is he aware that you can't just expect things to keep going that way if you don't put the work in?
I sure hope reality sets in sooner than later for Alex Ovechkin. It would be tragic to see such a player with tremendous talent as Ovechkin fail to bounce back from this average play. More crucially, it would be sad if he doesn't lead the wildly-talented Washington Capitals to a Stanley Cup, after achieving so much regular season success for years now.
He needs to make some kind of change soon to get his career back on track. Perhaps he should give Tim Tebow a call sometime.