Manchester United vs. QPR: 5 Lessons We Learned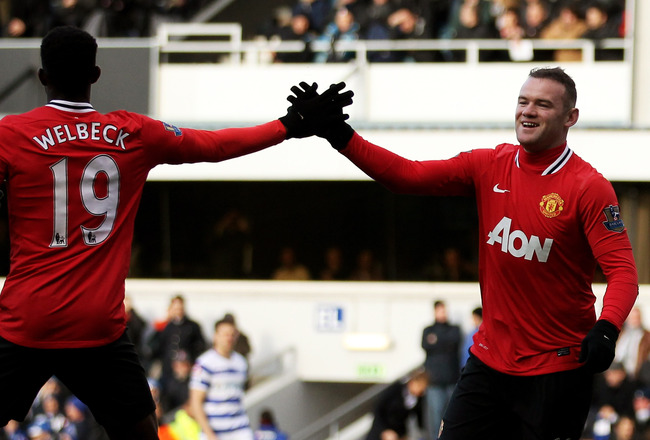 Scott Heavey/Getty Images
Manchester United may have a very good record of winning five games out of seven at Loftus Road, but their trip to London was by no means a cake-walk. This was a venue where Chelsea came unstuck and finished the game with nine men on the field, as Manchester City had a torrid time dealing with Heidar Helgusson and Jay Bothroyd but somehow managed to concede two goals, grabbing their three points. With Nemanja Vidic and Darren Fletcher out for the rest of the season, there is always going to be talk of how United can cope with strong and traditional centre-forwards.
However, this was a game whose result might have been predicted, but the performances were those of players who had been panned quite a bit in the past. Read on to see what we can learn from a match like this.
1. Sterner Tests Are Yet to Come for Jonny Evans and Rio Ferdinand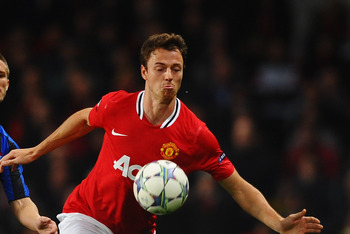 Laurence Griffiths/Getty Images
With Heidar Helgusson in red-hot form, it would have been fair to say that Jonny Evans would have struggled to contain him and his strike partner Jay Bothroyd. However, things didn't exactly go according to script.
Jonny Evans thoroughly dominated the QPR strike-force, aerially and on the ground, winning most of the headers and making some crucial interceptions. Rio Ferdinand and Jonny Evans both played like they belonged in the Manchester United team and helped David de Gea keep a clean sheet. However, there were some chances which if converted by QPR would have made the game a more open affair.
United's next trip is to Craven Cottage and it waits to be seen how Evans and Ferdinand will be able to handle the likes of Clint Dempsey, Moussa Dembele, Bobby Zamora and Bryan Ruiz, who will be buoyed by their recent win over the Bolton Wanderers. If Jonny Evans and Rio Ferdinand would ever want to prove their detractors wrong, then the coming matches would be the perfect chance for them to redeem themselves in the eyes of the fans and silencing their critics.
2. Wayne Rooney Needs to Keep Firing on All Cylinders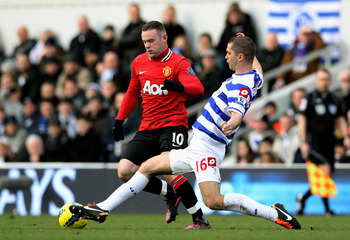 Scott Heavey/Getty Images
When Wayne Rooney is in red-hot form, no defense in the world can ever contain him, but when he's not on his game, he is quite honestly below average. But today was a day where he was literally unplayable. As United's 4-4-2 became a 4-4-1-1 and finally became a 4-2-3-1, with Carrick and Jones tidying up possession and occasionally bombing forward, all of Manchester United's attacks had Wayne Rooney written all over them.
His test too will be against Fulham, against the likes of Brede Hangeland and Aaron Hughes, who are by no means easy opponents. If he can replicate the form he had had in the first few months of the season, then United can lead their charge for the Premiership. All Wayne Rooney needs to do is let his football do the talking and continue scoring goals.
3. Patrice Evra Was Totally out of His Depth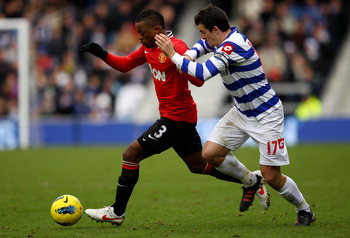 Richard Heathcote/Getty Images
To be honest, Patrice Evra was not quite the player he was before the 2010 World Cup. He seems to have carried his poor form in the tournament to even now. While age has caught up with him and he seems to have lost that extra yard of pace he used to have, Jamie Mackie and Shaun Wright-Phillips had gotten the better of him on more than one occasion, and were it not for the crucial interceptions by Evans and Ferdinand, Patrice Evra would have been at the receiving end of the hairdryer from Sir Alex Ferguson.
While he contributed in attack, his defending still leaves a lot of questions to be asked. He was often beaten for pace against his opponents, who needed one of the midfielders or central defenders to cover-up for his sake. With a glut of fixtures coming up against some good sides, he needs to rediscover his form so that Manchester United can win during the most critical period of Christmas.
4. Michael Carrick Was the Best Performer on the Pitch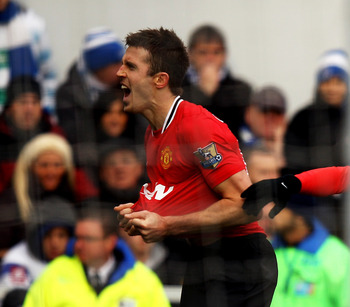 Richard Heathcote/Getty Images
Any Manchester United fan would wonder: What is so great about Michael Carrick? The answer is simple. He ensures that Wayne Rooney and his fellow attackers play the way they play. He is unspectacular, which I'm sure many Manchester United fans would agree with, but he did not disappoint today. There is always a moment in a match where a player does something so unpredictable it either ends up disappointing everyone on the pitch or it leaves a lasting impression.
Michael Carrick drove hard and directly after some deft footwork in the middle of the field, ran against the QPR back-four and slotted the ball past their goalkeeper Radek Cerny who was having a great outing on the field. Most people would wonder whether it was Wayne Rooney, Nani or Ashley Young who ran half the length of the pitch, but it was Michael Carrick who did it. His passing completion rate is up there with the very best, and he will be vital for the team with Darren Fletcher out for the rest of the season.
As his former manager Martin Jol said, "Michael's biggest quality is to move play from defence to attack and win the ball. Because of him, other players play better." 'Nuff said.
5. Sir Alex Is the Master of the Season's Second-Half Charge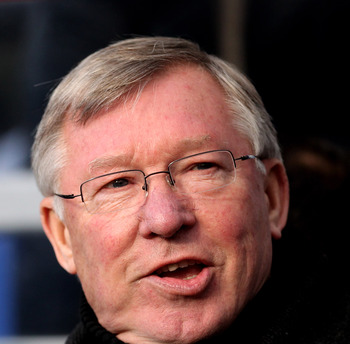 Scott Heavey/Getty Images
For the past 25 years, there is one thing that Sir Alex Ferguson knows, which is that if the team is well-primed for the second half of the season, there is no stopping Manchester United. His team has always relied on picking up their form and performance towards the end of December and the start of January, where they embark on a match-winning spree by either winning them splendidly or by grinding out 1-0 results.
With Europa League fixtures against Ajax in sight, the Old Scotsman knows how to keep his squad ready, and rest assured that come January, they will be a different squad all together, a squad that's ready to wrestle the top spot from Manchester City and retain the Premier League trophy.
Feel free to add criticisms/comments. Cheers!
Keep Reading

Manchester United: Like this team?