Power Ranking Don Cherry's 25 Best Suits of All Time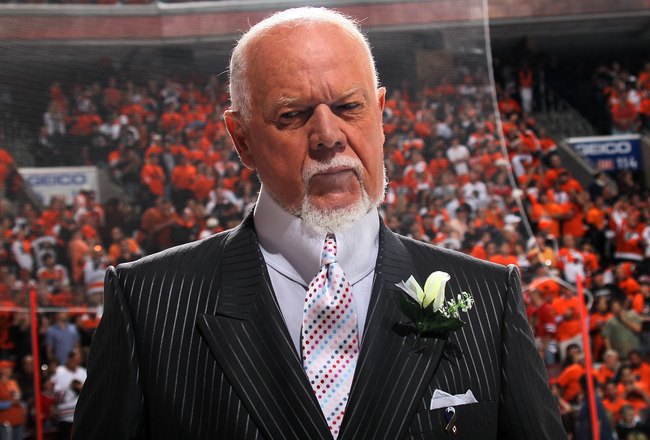 Bruce Bennett/Getty Images
Hockey Night in Canada would not be complete without Don Cherry. And Don Cherry would not be complete without a crazy, eye-popping suit.
Don Cherry has made some wardrobe choices that would send fashion aficionados into panic attacks, but I personally enjoy each and every one of Cherry's choice. He keeps the viewers on their toes.
Let's take a look at the best 25 suits Cherry has ever worn.
Teal Cherry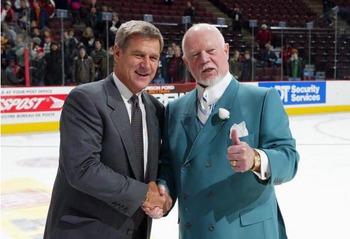 This suit doesn't even scratch the surface of the lunacy of Don Cherry's wardrobe choices.
Maroon Cherry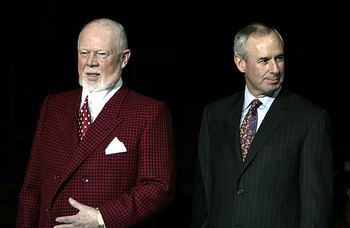 I think maroon is Don Cherry's color, don't you?
Pinstripe Cherry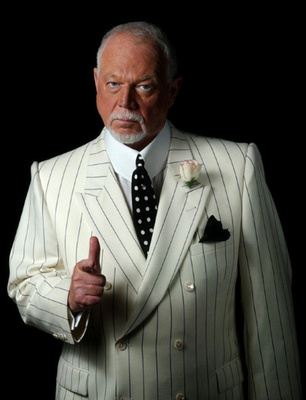 Don Cherry doesn't always go with an outrageous suit. The guy can rock pinstripes as well.
Race Car Cherry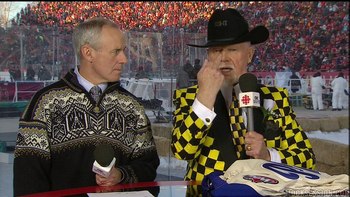 You would think Don Cherry is at a race track with a suit like that.
Purple Cherry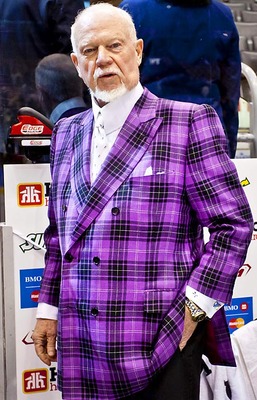 No color is off limits for Don Cherry. In this case, that includes purple.
Classic Cherry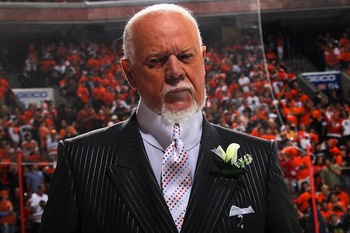 Even Don Cherry has a classy side.
Fruit Cherry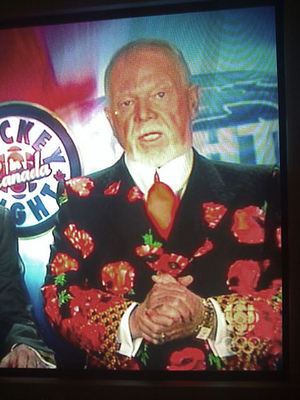 Who puts fruit on any piece of clothing? Let alone a suit.
Irish Cherry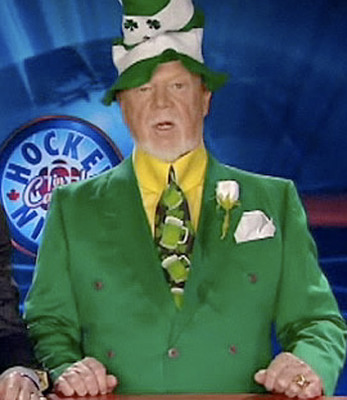 Don Cherry is a proud Canadian, but even he can get into the Saint Patrick's Day spirit.
Brown Cherry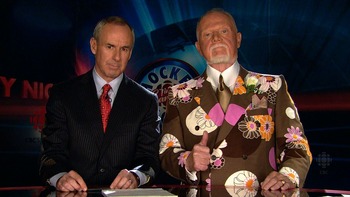 Brown is an old school color for a suit. The flowers on the suit are not a part of any school, however.
Zebra Cherry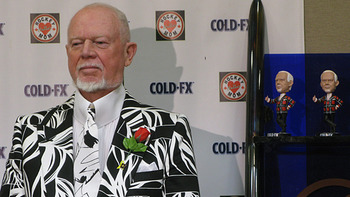 I honestly don't know what to say about this suit. Who would design such a thing?
What The?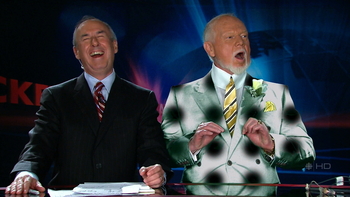 I'm not sure what exactly this suit is supposed to be, but it's definitely right up Don's alley.
Santa Cherry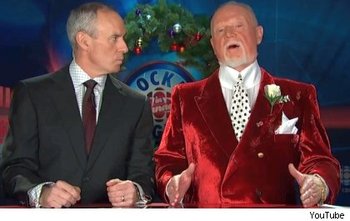 Don Cherry would make an excellent Santa Claus, wouldn't he?
Polka Dot Cherry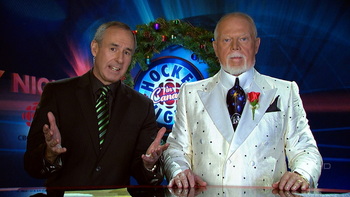 Don Cherry has worn some crazy suits, but polka dots? C'mon.
Plaid Cherry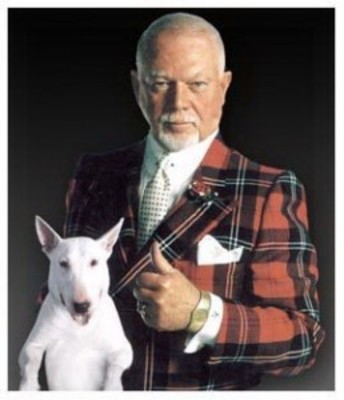 A simple plaid suit is always a fine decision.
Octopus Cherry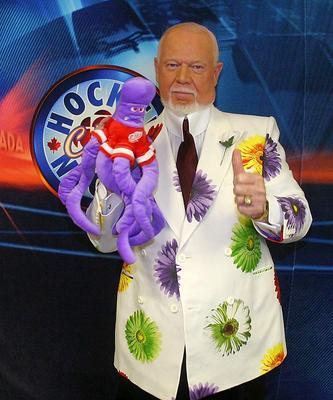 As if his suits weren't enough of a distraction, Don Cherry enjoys using props on occasion.
Checkered Cherry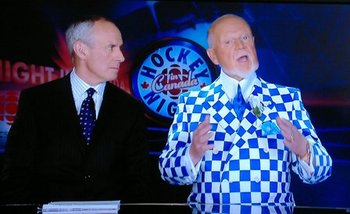 Don Cherry is sporting one of the classic colors of hockey in this photo: Maple Leaf blue.
Daisy Cherry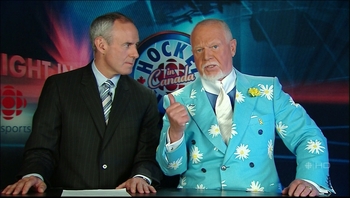 I didn't take Don Cherry for a fan of daisies.
Flowery Cherry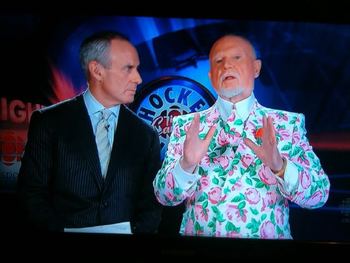 Flowers are on thing, but this is a bit over the top, even for Cherry.
Neon Cherry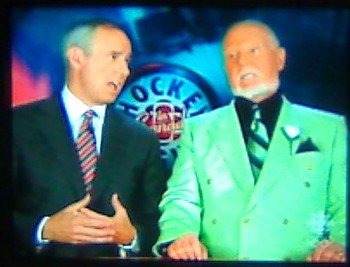 I'm not sure neon green is Don Cherry's color.
Pink Don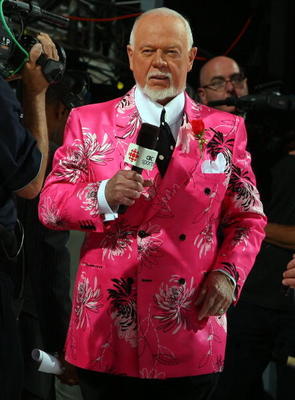 Real men really do wear pink, I guess.
Tropical Cherry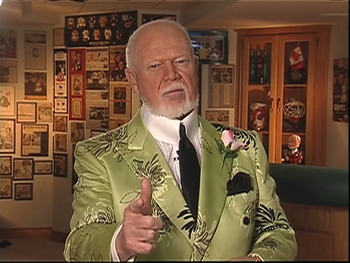 This suit is very plain for Don Cherry, but the earthy tones are very sharp.
Hawaiian Cherry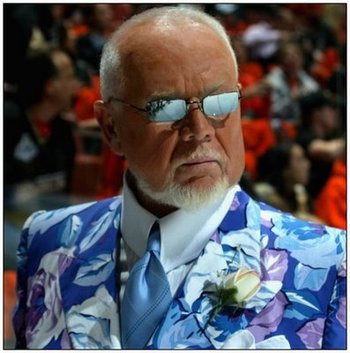 You have to love Don rocking the shades and some Hawaiian threads.
Ron MacLean as Cherry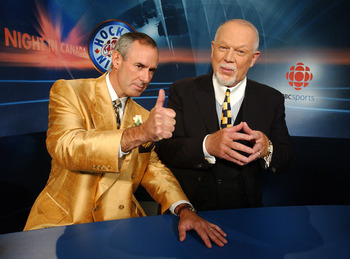 This is one of the few times I have seen Cherry wearing a normal suit. On this night his partner, Ron MacLean, decided to play the role of Don Cherry.
Orange Cherry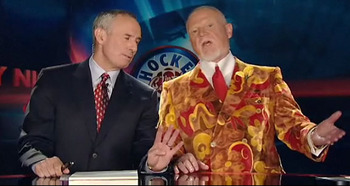 Quick, someone call 911, Don Cherry is on fire.
Crazy Cherry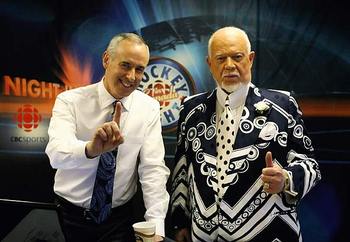 I'm not sure what this design is exactly, but it's reasonably sharp.
Keep Reading