Tim Tebow Train: Denver Broncos Not Undefeated but Still Best Show in Town
December 18, 2011
Justin Edmonds/Getty Images
The Denver Broncos are the NFL's hottest team. They have won six games in a row and seven of eight since Tim Tebow was named their starting quarterback in Week 7 against the Miami Dolphins. 
In these seven wins, the Broncos have led in the fourth quarter (excluding the winning points) twice—Week 9 against the Oakland Raiders and Week 10 against the Kansas City Chiefs. Both games they won by one score.
Last week, I was out eating dinner and the Broncos vs. Chicago Bears game was on television. Chicago was up 10-0 with four minutes left to play. I fully expected that, at the very least, the final score would be 10-7. If you had asked me right then, I would have said the Broncos would win the game.
Denver is undeniably the NFL's most exciting team. No other squad (except one quarterbacked by Tom Brady) could be trailing by double digits, yet inspire every confidence in the world that they will emerge victorious.
Fans love a good comeback.
But how has Denver been so successful? What is the secret to the Broncos' success these past few weeks?
Keep the game close and then pounce. 
Tim Tebow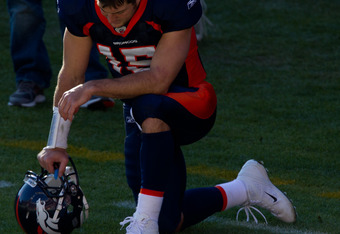 Justin Edmonds/Getty Images
Yes, Tim Tebow has gotten all of the press. And why wouldn't he? Tebow has been the driving force behind all of the Broncos' wins, right? 
Well, to put it very nicely, no.
Unless Tebow does have some kind of cosmic force on his side (something I definitely would not discount), he has had very little to do with Denver's success.
Yes, his fourth quarter numbers have been great. But why do they need to be so amazing? Because his play through the first three quarters has generally been the reason Denver often faces seemingly insurmountable deficits.
Tebow's QBR in the first three quarters is 19.6 (50 is average, 100 maximum). His passer rating is 65.1 (compared to Tom Brady's over 100 average). Tebow is last in the NFL in completion percentage and Denver's passing offense is 31st in the league.
Think about it: With the way Denver's defense and special teams are playing, wouldn't almost any other quarterback have his team ahead in the fourth quarter? Cam Newton? Andy Dalton? What if (gasp!) you threw someone like Tom Brady or Drew Brees in there?
Do you think the Broncos would need any heroic fourth-quarter comebacks then?
As much as I wish it was, this is not an article in which I get to expose Tebow for the very, very below average quarterback he is. This article is for the rest of Denver's team.
You know, the players who have made all of Tebow's success possible. And who have established Denver as the most exciting team in the NFL. 
Who are they? The defense and special teams. 
Let's give praise where praise is due. Starting now.
Defense
Denver's defense is playing the best of any unit in the NFL right now. The team's comebacks have been possible because Denver has never faced a deficit of larger than 15 points in any of their seven victories.
While 15 points may sound like a lot, consider that in the game against Chicago, Denver's offense was scoreless until 2:44 remained in the fourth quarter.
The Broncos' defense had been giving up just under 29 points per game to start the season. In the last six games, they are allowing just 17.
Rookie Von Miller has 11.5 sacks so far this year. He is threatening to break Jevon Kearse's rookie sack record of 14.5. The Broncos are tied for fourth in the league with 37 sacks with Miller getting help from star Elvis Dummervil. 
Veteran cornerbacks Champ Bailey and Brian Dawkins anchor an experienced secondary that has the confidence to compete with anyone in the league. 
Late Game Defense
If those defensive numbers aren't enough, consider the end of their games—Tebow Time to any casual football fan.
In the last seven minutes of each game since Tebow was named the starting quarterback, the defense has been just as much a part of Denver's success as Tebow and his cosmic powers.
In the last seven minutes, the defense has recorded six sacks (tied for most in the NFL), no touchdowns, no 20-plus yard rushes and no 30-plus yard passes, two interceptions and a 13.1 QBR. Not bad.
Moving on. What about Denver's special teams?
Kicking Game
Matt Prater, the Broncos' kicker, has had four game-winning kicks in Tebow's time as a starter in Miami. 
Against the Chicago Bears, Prater kicked a 59-yard field goal to send the game into overtime, then topped that with a 51-yard field goal to win the game.
Prater is four of five on field goals in the last seven minutes of games since Week 7.
So to recap: 
Yes, the Broncos are the most exciting team in the NFL right now.
Their ability to come back from fourth quarter deficits in almost every game is unrivaled.
Fans have learned to never count Denver out. Someone will step up and lead the team to victory.
But is that someone Tim Tebow?
No.
Congratulations should go to Denver's defense and their kicking game. And I suppose, to Tebow's obvious pact with cosmic forces.