NBA Rumors: Indiana Pacers Would Make Deep Playoff Run with Michael Redd
December 18, 2011
Ethan Miller/Getty Images
The Indiana Pacers will be legitimate contenders in the Eastern Conference if they can sign sharpshooter Michael Redd before the season, and a deep playoff run will be in their future.
Reports around the NBA landscape say the New York Knicks are interested in signing Redd to provide a scoring punch for their second unit off the bench.
But according to ESPN Rumor Central's Nick Borges on Saturday, "the Knicks have no plans to offer Redd a contract, so Indiana, if they want him, are probably the frontrunners to sign the shooting guard."
The 32-year-old shooting guard has suffered from brutal knee injuries the past two season with the Milwaukee Bucks, and has appeared in just 28 games since the start of 2009-10.
"The Indiana Pacers appear to be the front-runners for Michael Redd. Redd, the former Bucks standout shooting guard who is an unrestricted free agent, visited with Pacers officials Thursday. Redd also has drawn keen interest from Washington, New York and Boston." - Gery Woelfel of the Racine Journal Times
This signing would be a dream for the Pacers. Redd is a veteran, an Olympic champion and a 20-point-per game scorer for his NBA career.
Redd is a 44.9 percent shooter from the field for his career, and has connected on at least 104 three-pointers in six of his 11 professional seasons.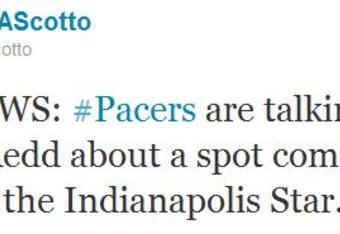 Indiana only ranked 13th in the league last season in points per game, averaging just under 100 per contest, so the Redd's provided scoring burst is much-needed for them to make a deeper playoff run this year.
Redd is also an underrated defensive stopper. The Pacers were 17th in the NBA last season in points allowed, so Redd helps in that department as well.
He's not going to shut anyone down for 48 minutes, but he knows what angles to play, and when to take good shots and make smart decisions that avoid putting his team in compromising defensive situations.
Redd is an underrated scoring 2-guard, who is one of the rare players in the league today capable of exploding out of nowhere for a 50-plus point game. 
His knees are a concern, but he's has some tread left on the tires, and his game doesn't demand that he be uber-athletic or be able to leap out of the gym.
Redd would be an overlooked pickup by the Pacers, who would complement young point guard Darren Collison perfectly, all while understanding his role alongside superstar Danny Granger. 
If Indiana stands any chance of getting past Derrick Rose and the Bulls this postseason, or even out of the first round, they will add Michael Redd to their roster.