NFL: Tony Romo Shines as the Dallas Cowboys Dominate the Tampa Bay Buccaneers
December 18, 2011
Al Messerschmidt/Getty Images
On a rare Saturday night NFL game, Tony Romo lead the Dallas Cowboys into battle against the Tampa Bay Buccaneers.  The Cowboys went into Tampa Bay and just controlled the entire game.  
Romo had very little pressure while he was in the pocket.  When Romo was going for his first passing touchdown of the game, he had all the time in world.  He was basically just running and hopping around until he zipped the pass into the hands of Miles Austin.  
Romo went on to throw for three touchdowns, 249 yards and ran for a touchdown in the 31-15 Cowboys victory.
Now, while Romo played a great game, Cowboys RBs Felix Jones and the newly-signed Sammy Morris played great games.  
They both had to fill the shoes of DeMarco Murray who broke his ankle last week.  Jones rushed for 108 yards even while coming off of an injury of his own.  Sammy Morris averaged 4.4 yards and gained 53 yards to give the Cowboys a formidable running attack.  
There have been questions about whether Jones can handle the bulk of the carries for the Dallas Cowboys, but he showed last night that he was ready to handle the load.  
What I believe will benefit the Cowboys and Jones is that he is taking the bulk of the carries this late in the season.
With the emergence of Murray, Jones has been able to rest and recover.  Jones' body is fresh for this late-season playoff run.  It is not like he's going to have to do this for nine weeks straight.  Jones' play-making style and Morris' pounding of the ball should give Romo the balance he needs to be successful.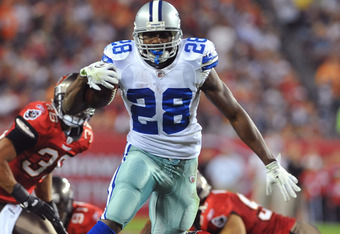 Al Messerschmidt/Getty Images
The Cowboys defense did their job in holding down the struggling Buccaneers offense.  Forcing one fumble and containing the running attack of LeGarrette Blount to 21 yards was enough to put more pressure on Josh Freeman than he could handle.  
This by no means proves the Rob Ryan has this Cowboys defense playing like a playoff defense.  The rest of the season will be the telling tale. 
Now, with two games remaining on their schedule, the Cowboys need to take down their remaining NFC East opponents, the Philadelphia Eagles and the New York Giants.  Neither team is going to be easy to beat.  And they need both wins to take the division back from the Giants.  
The key is that the Giants have the win on the Cowboys already.  So Dallas needs to keep pace with the Giants and beat them in their season finale in New York.  
We'll see if Romo can keep his great play going and lead the Cowboys to a NFC East title.