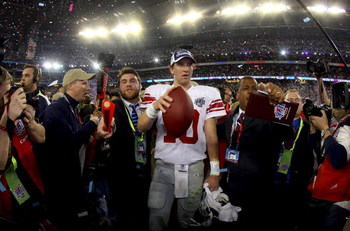 Every year, there is a time where sportswriters get all kinds of nostalgic, and look back at the highlights that makes sports worth watching.
As we look through this list, you'll see a team that forgot how to make free throws, a giant on the grass court go down before bedtime, a pair of brothers that have become the best siblings on a sports field since the Williams sisters, and many more.
A lot of the games on this list include comebacks. After all, isn't that what makes these sports great?
Without further adieu, here is my list of the Top 10 Games of 2008.
10. Syracuse vs. Notre Dame
November 22
Why it's on the list: Who the heck saw this upset coming?
Notre Dame may have won its first bowl game since 1994 by beating Hawaii 49-21, but there is one blemish that is going to sting these guys for a while.
Once again, the Fighting Irish were falling apart and they looked to win against an "easy" Syracuse Orange team that was 3-7 heading into South Bend.
With 42 seconds left in the game, the Orange were down 23-17, quarterback Cameron Dantley found receiver Donte Davis for an 11-yard touchdown pass to put the Orange ahead 24-23.
It definitely ranks as one of the most embarrassing in Notre Dame history and stood out as an instant classic...for Syracuse.
The Fighting Irish could have won the game, but a couple of missed field goals from Brandon Walker just added a little more salt to the wound, and put Coach Charlie Weis' job in jeopardy.

Luckily, the win in the Hawaii Bowl gives him another year to redeem himself.
9. Lakers vs. Celtics (Game Four of the NBA Finals)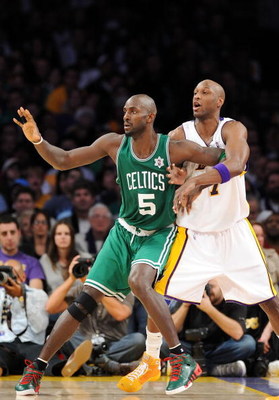 June 12
Why it's on the list: The Lakers find out that a 20-point lead is never safe.
It was the matchup that most of America was hoping for.
Two of the most storied teams in sports faced off against each other for a shot at of the NBA Championship.
The Los Angeles Lakers and Boston Celtics gave us a great match in which the Celtics did not give in to a massive lead.
Up by 20 in the third quarter, the Lakers fell into a bit of a funk. With six minutes left in that quarter, Boston finished the third on a 21-3 run.
The Celtics were only down by two, but Los Angeles continued to be stubborn and held onto their small lead for the first eight minutes until Boston's Eddie House made an 18-foot jumper that finally put the team ahead for good.
The Celtics went on to win 97-91 and went on to win the title two games later.
8. Kansas beats Memphis (2008 NCAA Basketball Championship)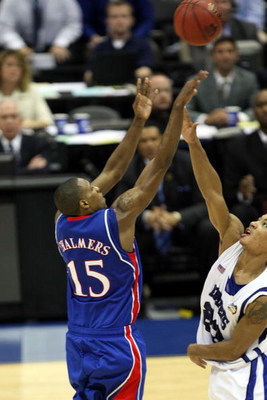 April 7
Why it's on the list: Memphis realizes why free throws are essential.
With a little over two minutes left in the game, the Memphis Tigers were up by nine. It looked to be a done deal and the little school that could was about to become the national champion.
Knowing that free throws are the Tigers's kryptonite, Kansas began fouling them. Memphis missed four of five from the line, which fueled the Jayhawks into scoring perfection.
In those last two minutes, Kansas could not miss.
Down by three as time was running out, Mario Chalmers—hand in the face and all—scored the game-tying three pointer that sent the game into overtime.
The spirit of Memphis was crushed. It showed in overtime, as the Jayhawks won its first NCAA Basketball title in 20 years, 75-68.
7. Indianapolis Colts vs. Houston Texans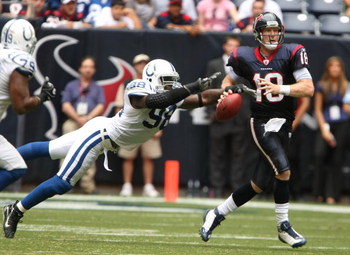 October 5
Why it's on the list: The Colts showed why you can never count them out.
Houston Texans quarterback Matt Schaub was sick. In comes backup Sage Rosenfels.
Rosenfels starts off on the right foot for the Texans as they faced the Indianapolis Colts at Reliant Stadium in Houston. Rosenfels was cool and collective for three-and-three-fourths of a quarter.
The final one-fourth was a nightmare.
Up 27-10, with four minutes left in the game was when the collapsing began for Houston. Colts quarterback Peyton Manning regained his confidence after finding tight end Tom Santi for a touchdown to put them within 10.
With four minutes left, the Texans just had to control the clock and suck some time from it.
Easier said than done.
On third-and-eight at Indy territory, Rosenfels fumbled the ball, it was recovered by Colts linebacker Gary Brackett, and he returned it 68 yards for a touchdown.
Like that, Indianapolis was down by three and it only took 28 seconds off the clock to do it.
Rosenfels fumbeld the ball again on their next possession and it was recovered by defensive end Robert Mathis at the Houston 20-yard line.
After a 15-yard rush from Indy running back Joseph Addai, Manning found receiver Reggie Wayne, who made one of the catches of the year by getting it one-handed in the corner of the end zone. After reviewing the play, it stood and the Colts took the lead, 31-27.
Now the Texans had to play catch-up. But just to add salt to a massively-opened wound on Rosenfels, Melvin Bullitt caught an interception to seal it for the Indianapolis.
6. Texas Tech beats No. 1 Texas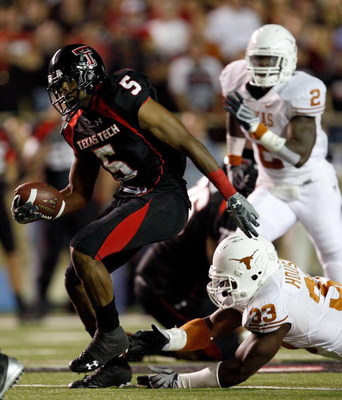 November 1
Why it's on the list: As a Longhorn fan, this pains me. But as a sports fan, this game was FAN-Tastic.
Many critics were not really sure what to make of this game. The Texas Tech Red Raiders had yet to beat anybody with credibility while the Texas Longhorns beat three top-15 ranked teams in a row, including No. 1 Oklahoma.
With the game being played in Lubbock and with arguably the best one-two punch in the nation with quarterback Graham Harrell and receiver Michael Crabtree, the Longhorns were going to have to bring their A-game...again.
Texas went into halftime looking like they were doomed. Down 22-6, Colt McCoy and company had to step it up and show the people of Lubbock why they are No. 1.
Now down by just six with less than two minutes left in the game, the Longhorns were at the Red Raider four-yard line. Running back Vondrell McGee silenced the crowd as he punched it in the end zone. After the extra-point, Texas was up 33-32, with 1:42 left in the game.
With just seconds left in the game, Harrell threw a pass that looked to be intercepted by freshman safety Blake Gideon, but it hit the ground, giving Tech a second chance.
Harrell took advantage of that and found Crabtree, who escaped a tackle, managed to stay in bounds, and made it to the end zone with one second left giving Texas Tech the win and making a mess of the Big 12 South.
5. Boston Red Sox, Vs. Tampa Bay Rays (Game Five, ALCS)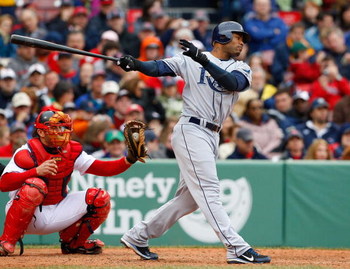 October 16
Why it's on the list: Boston comes back from seven runs down in the seventh inning to win. Need I say more.
The Tampa Bay Rays were two innings away from a trip to the World Series...no, seriously.
However, the Boston Red Sox were not ready to give in.
With runners at the corners and two outs, Dustin Pedroia hits an RBI-single to finally get on the board.
Next up was David Ortiz, who closed the gap big time with a three-run homer.
Now, it's 7-4 after seven innings.
It's should have been enough cushion for the Rays, but Boston didn't think so.
In the eighth, J.D. Drew hit a two-run homer to come within one, and then Coco Crisp hit an RBI-single to tie the game up.
Tied at 7-7, the Red Sox were down to their last out before going into extras.
After an error by Tampa Bay's Evan Longoria moved Kevin Youkilis to second, Jason Bay was intentionally walked.
Here comes Drew again, and he hit the winning walk-off RBI-single to let Boston come back, and play another day.
The Rays, however, went on to win the ALCS in seven.
4. Federer Vs. Nadal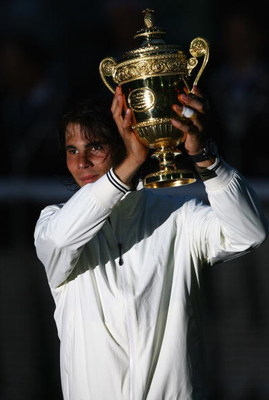 July 6
Why its on the list: This match made its finish before curfew.
This match took forever, or in OutKast's terms, forever-ever.
But it was so worth it. Nadal was supposed to just be great at Clay, but the Grass looked awfully tasty for the 22-year old.
Roger Federer was looking a little off leading to Wimbledon. After getting beat in straight sets by Nadal in the French Open Final, people were starting to think that his reign as the dominant men's player was fading fast. Nadal looked ready to beat Federer in straight sets again.
Federe was not ready to quit. Going into the third set, he forced a tiebreak and won 7-5. Federer was in trouble in the fourth set, and even faced some championship points, but he still prevailed with a 10-8 win. Then the rains came and the sunlight was fading fast.
No lights at the All-England club meant waiting until tomorrow or finish the match fast.
Neither of that happened. With it getting close to nine p.m. in London, the guys had to extend the fifth set, because there is no tiebreak in existence. At 8-7 in the set, Nadal was at Match Point, and the All England Club was ready to call it a night.
As Federer committed the last error, Nadal fell flat on his back with excitement, and won. He would later be the No. 1 player in the World, and he will start the 2009 year No. 1, heading into the Australian Open.
3. Tiger Woods vs. Rocco Mediate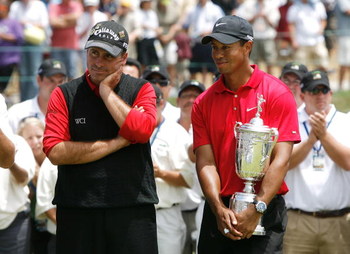 June 16
Why it's on the list: Tiger Woods won the tournament on one good leg, leaving me to believe that he is probably a robot sent to destroy all hope to other golfers.
Who the heck is Rocco Mediate? He's the guy that become so loveable in the U.S. Open that you knew it was going to be a shame to see him lose to Tiger Woods.
However, Mediate did not get the memo in the final round.
While many were expecting Woods to explode and just let the field have it going into the final round—with a one shot lead over Lee Westwood and two shots over Mediate—the unthinkable happened: Woods slipped.
With Mediate being consistent, he went from third to first after pulling an even round, while Woods was two over.
The two went into a playoff that kept them tied after the first 18 holes and led to sudden death.
Mediate fell short and went 1 over while Woods made par and won major No. 14.
Woods called it a year after announcing he would have surgery on his knee, which was far from 100 percent when he entered the U.S. Open.
So just the thought of that makes this win even more extraordinary.
2. The Olympics (The 4x100 Meter Relay)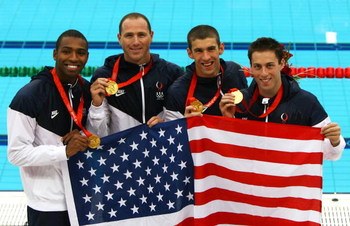 August 11
Why it's on the list: Unlikely hero saves Phelps from missing his goal of eight gold medals.
Oh, those pesky French. They like to try to ruin everything for the U.S., but Jason Lezak stopped them from ruining the party.
Along with Phelps, Garrett Weber-Gale, and Cullen Jones, Lezak had to play catch up as Alan Bernard was a half-length ahead of Lezak on the final leg of the 4X100 meter freestyle relay.
Within 25 meters of the finish, Lezak surpassed Bernard to the end and the U.S. team went nuts. Lezak's incredible finish helped Phelps in his quest for eight gold medals at the Olympics.

Although Phelps was the cover boy for the games, it was Lezak's determination that almost made this the best game of the year...almost.
1. New York Giants vs. New England Patriots (Super Bowl XLII)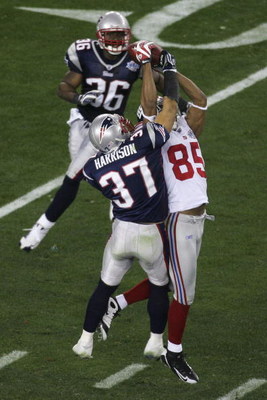 February 3
Why it's on the list: You'd be No. 1 too if you won a dramatic Super Bowl against a team who had not lost all year.
We wanted to see one of two things happen in this game:

We wanted to see the New England Patriots finish 19-0 or we wanted to see the underdog New York Giants take down the juggernauts that were striving for perfection.
What we got was one of the most memorable Super Bowls ever.
Down 14-10 with 2:42 left, the Giants had to begin their possession at their own 17-yard line. Manning became unstoppable, finding Amani Toomer for back-to-back 20 yard receptions.
Later in the drive, Manning made one of his greatest escapes since Houdini got out of the chamber of water.
On third-and-five on the Giants 44-yard line, Manning avoided a sack and threw a prayer caught by David Tyree with one of the most ridiculous catches ever.
On another long third down, Manning continued to be on fire with a 12-yard pass to Steve Smith.
The very next play, everything that the Patriots worked for was wasted as Manning found an open Plaxico Burress, giving the Giants a 17-14 lead with just 35 seconds on the clock.
New England was unable to answer back and they lost their first game when they didn't need to.
Tyree became an overnight sensation, Coach Tom Coughlin was not fired and was given an extension, and Eli Manning was no longer Peyton's little brother. He became Super Bowl Winning MVP Eli Manning.
I'm betting he makes fun of Peyton for getting a ring quicker than he did.
Keep Reading