Andre Ward vs. Carl Froch Results: 8 Possible Next Opponents for Ward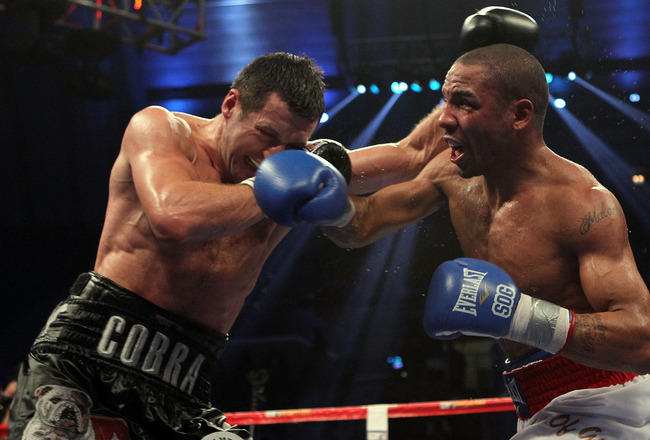 Nick Laham/Getty Images
Saturday night, Dec.17, Andre Ward, 25(13)-0, brought the two-years running Super Six, super-middleweight tournament to a decisive conclusion, winning a unanimous decision victory over opponent Carl Froch, 28(20)-2, by scores of 115-113 twice and 118-110. Ward, the WBA world champion, took Froch's WBC trinket in the equation, along with the Super Six Silver Cup. With two weeks left in 2011, he most likely moved himself to the top of most "Fighter-of-the-Year" lists.
The unbeaten Olympic gold medalist is quickly forcing himself into the pound-for-pound conversation. There should be no shortage of good fights available for Ward in the coming year.
Andre Dirrell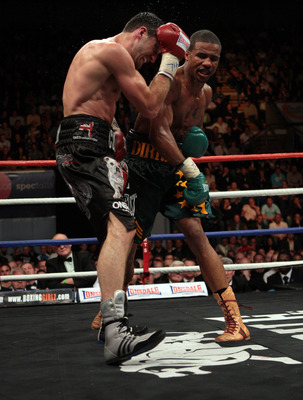 John Gichigi/Getty Images
Andre Dirrell, 19(13)-1, was an original entrant in the Super Six tournament, and he was scheduled to meet Ward in the semifinals before withdrawing due to lingering head injuries following his disqualification victory over Arthur Abraham in March of 2010.
Dirrell was an Olympic teammate of Ward's in 2004, winning a bronze medal in Athens. He lost a hotly contested split decision to Froch in the opening round of the Super Six tournament. Outside of England, he is generally regarded as having won the fight.
After a nearly two-year break, Dirrell is set to make his return to action against Darryl Cunningham, 24(10)-2, on Dec. 30. If he looks sharp, expect him to move to the top of the list of potential opponents for Ward.
Anthony Dirrell
Andre Dirrell's younger brother, Anthony, must also be mentioned on any list of potential Ward opponents. He is 24-0 with 21 knockouts and was identified by the Showtime broadcast team last night as the mandatory No. 1 contender at 168 pounds for the WBC.
Dirrell had to undergo 10 months of chemotherapy for Non-Hodgkin Lymphoma in 2007. The Flint, Michigan native has always been very much in his more successful brother's shadow and has stayed somewhat off of the radar for many boxing fans. But that could change in 2012.
Thomas Oosthuizen
A 22-year-old South African native, Thomas "Tommy Gun" Oosthuizen, 17(12)-0, has already climbed into The Ring top 10 rankings at 168 pounds and has to be regarded as one of the fastest-rising prospects in the entire sport.
He has looked impressive in victories over such second-level opponents as Aaron Pryor Jr. A matchup with Ward would be a huge step up in competition and one he very likely would not be ready for. But if he continues on his current path, a future clash with the champ should be inevitable for Oosthuizen.
Robert Steiglitz
Robert Steiglitz, 40(23)-2(2), is a Russian native now living in Germany and the WBO super middleweight champion. He was TKO'd in 2007 and again in 2008 and based on the limited footage I've seen of him on YouTube, I have a hard time imagining that he would have any answer at all for Ward's technical and athletic superiority.
Still, he is scheduled to defend the WBO trinket in April against Mikkel Kessler and if he survives, he could end up in a future unification bout with Ward. Ward would be a prohibitive favorite, but Steiglitz is a well-traveled, highly-experienced veteran.
Bernard Hopkins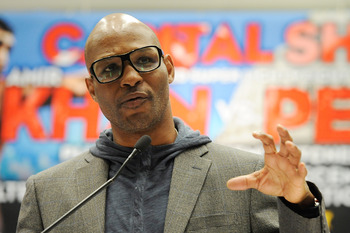 Patrick McDermott/Getty Images
Father Time himself, Bernard Hopkins, was on hand last night for the Ward-Froch showdown. The ageless Executioner, 52(32)-5, has retained his WBC light heavyweight title after his clash with Andre Dawson last October was ruled a no-contest.
Even as he retains the 175-pound crown, there has been some talk that Hopkins might drop back down in weight and mix it up with the loaded super-middleweight division.
A fight with Ward and Hopkins at or near Hopkins' prime would have been a classic for the hardcore boxing fan, but I see it going terribly for Hopkins if it happened now. He has been competitive with, and even better than, younger fighters who couldn't touch him in the skills department. Ward has the same world-class craft and a 20-something's lightening reflexes.
No doubt the cagey Hopkins would create some interesting puzzles for Ward to solve. But Ward would solve them. Still, a fight with Hopkins might be the biggest payday available for Ward, so it is very much a possibility.
Julio Cesar Chavez Jr.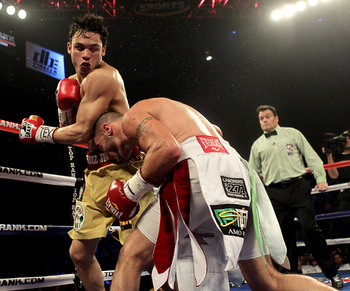 Bob Levey/Getty Images
Honestly, this one is not that likely, at least not any time soon. The undefeated WBC middleweight champion, Chavez, 44(31)-0-1, has a suspect defense that the ultra-talented Ward would have an easy time exploiting. Chavez needs some more time with trainer Freddy Roach before he could even think about this, in my opinion.
But they are two undefeated champions in their 20s, fighting in neighboring weight classes. There is no way we can avoid thinking about them as a possibility.
Chavez is a big, rugged middleweight. His strength and conditioning coach, Alez Ariza, is among the most successful in the game. Fighting Ward at 168 pounds would not be a problem for Chavez in terms of matching up to Ward's size and strength.
The problem would come when Ward boxes circles around him.
Considering that Chavez has been featured on HBO as of late, the match seems even less likely to get made. Still, in boxing, who knows?
Carl Froch, Again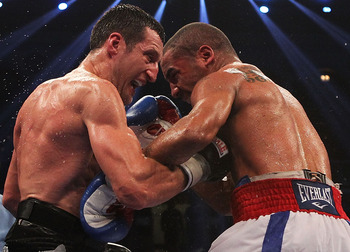 Nick Laham/Getty Images
First of all, if you missed it, let me tell you, that fight last night was nowhere near as close as those two 115-113 score cards might lead you to believe. I was with judge number three at 118-110. It was Ward's fight all night long, from start to finish.
But he did not overwhelm Froch or blow him out. He outclassed him by a good length-and-a-half, but the tough Nottingham, England native stayed in the fight in every round, looking for that one chance to get off.
Froch had bragged going into the fight that he would be able to walk right through Ward's power shots, smiling as he did it. Well, Froch didn't do much smiling last night.
In defeat, Froch reverted to the sporting gent and gave Ward full credit for presenting such a difficult tactical puzzle. It was evident in the post-fight interview that Froch still felt deeply frustrated with his inability to "let his punches go."
Ward showed last night that he has speed and reflexes of an entirely higher order than Carl Froch. But he didn't demonstrate that he could use those physical advantages to completely shut the tough Brit down.
Froch is a smart brawler-boxer and has shown ability to adjust and improve throughout his career. He will remain among the very top fighters in the division. It might be interesting to see what each man would do differently the next time around.
Lucian Bute
And finally, the man who almost everybody in the world agrees that Andre Ward should fight next, IBF world champion Lucian Bute, 30(24)-0. It was a questionable decision when Showtime left Bute out of the tournament in the first place, but signing him and keeping him in reserve seems to have been the best strategy of all, because now it appears that the perfect sequel to the tournament should be all set to get made.
Bute is coming off from an impressive, unanimous-decision victory over Glen Johnson in November. While Johnson inexplicably complained about the judging, Bute's performance was impressive and dominant. He handled the 42-year-old Johnson with greater ease than Froch did during the tournament semifinals last June.
To me the biggest question about this fight is, where will it be held? Ward's victory last night in Atlantic City was his first time fighting outside of California since 2008. The Romanian native, Bute, is meanwhile one of the largest draws in boxing when he fights in his adopted hometown of Montreal.
But whether it goes down in O-Town or in Montre-brawl, or at some neutral location, it should be one of the most hotly-anticipated fights of 2012.
Keep Reading