Should Toronto Head Coach Ron Wilson Be on the Chopping Block?
December 18, 2011
Elsa/Getty Images
The title may have some scratching their heads (or pulling their hair out). Fine with me.
I've been very fair with evaluating Leafs bench boss, Ron Wilson, over the past three seasons. I was of the opinion that it wasn't fair to evaluate the man for having not delivered much regular season success, and postseason hockey, with teams that were not, in any convincing way, built to be successful or playoff-bound.
Those that were built poorly is perhaps setting the wrong context. These teams weren't "built", per se, they were the smoldering foundation of a franchise that had since played its best hockey of the millennial decade. 
Ron Wilson took over the Toronto Maple Leafs as they were boasting big-time names like Ryan Hollweg, Boyd Devereaux, Jonas Frogren, Justin Pogge, Jamie Sifers, Jeff Finger and Co. These guys, sans Pogge, all played over 20 games for Toronto that season. And let's not forget the additions of Lee Stempniak and Brad May, and the subtraction of Nik Antropov, throughout the course of the season.
Alexander Steen and Carlo Colaiacovo for Lee Stempniak. Who won that one, huh?
Stempniak was to join the high-flying ranks of Jason Blake, pre-trade Antropov, and Alexei Ponikarovsky. Sure Nik Hagman was there, and potted 22 goals that season, as well as current Leafs Mikhail Grabovski and Nik Kulemin, but they were the noobs. Unproven. Virtually unknown (since Hagman played in the West).
That season, the 2008-2009 incarnation, was a disaster. Ironically, it runs virtually parallel to the mess inherited by Barack Obama.
Mats Sundin, Bryan McCabe, Darcy Tucker, Paul Maurice, and John Ferguson Jr. were major names that saw the first half of 2008 as their last with the organization. I give credit to Wilson for sticking with it enough to finally implement pieces of a system approximately three years later.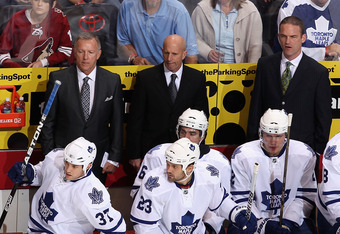 Christian Petersen/Getty Images
When Brian Burke took over, the fans and media alike took it as a cozy convenience for Ron Wilson, given the long friendship between the two. Wilson, though, was disliked damn near immediately. Unfairly too.
When Burke would explain that he would not consider replacing Wilson under any circumstance until he felt that he had put a team together that was worth anyone's spit, let alone Wilson's job, many saw it as Burke making excuses in order to cover for his friend's lack of results. I saw it as valid. It was true. The Leafs during Wilson's first two seasons, out of his four-year contract, sucked. Plain and simple: they sucked.
The latter half of the 2010-2011 season, however, the trend began to make significant upward gains. While I won't suggest that Burke has made all of the changes he wants to make (a GM should never really be satisfied), there wasn't as much turnover from last season to the current as years past have yielded.
Let's face it, Wilson coached three almost entirely different rosters in his first three seasons as coach. Each of those years, save for '08-09, began and ended with a new starting goalie as well. But, enough with validating his past failures. Whether you're convinced or not, I think I've made my point.
The Leafs have clearly improved on the models of Wilson's "early years". In most cases, they've improved on the methods too—except for the friggin' penalty kill!
To be fair, and then to pull the rug out from under him, Toronto's PK was bad before Wilson came to town, averaging a save percentage of .855 leaving it ranked as the 28th best PK in the NHL. Keep your eyes on that rug, ready?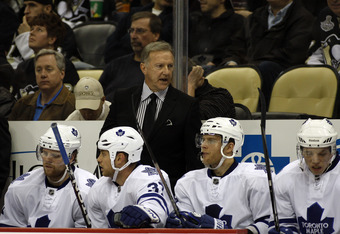 Justin K. Aller/Getty Images
The PK under Wilson has been completely stagnant, thus a problem that he initially inherited soon became his own baby.
Offsetting the dismal PK, at least this year, which has also been the most promising since the 2006-2007 season, has been the Leafs' strong play at even strength. In fact, Phil Kessel and Joffrey Lupul are hockey's dynamic duo so far this season, with a five point lead over the No. 2 duo, the Sedin twins.
However, the PK since December 1st has been chugging along at about 58 percent.
The Leafs' PK, coming in strong at 30th best, has been slowly working its way through the system like a congenital disorder. A week ago, the Washington Capitals beat the Leafs 4-2. All four Capital scores occurred on the power play. Lousy night.
Or not.
In a game that was essentially their's for the taking, Toronto gave up three power-play goals to the Buffalo Sabres a week later. Say what you want about the missed call on the cross-check against Kessel which lead to a turnover, which lead to a breakaway for Tomas Vanek, which lead to the game winner for the Buffaloes.
A bitter pill for sure. Though, it was made all the more bitter by the fact that the win allowed Buffalo to tie the Leafs in the standings, with the same exact record, too. However, by virtue of goal differential, the Sabres passed the Leafs in the standings.
The Maple Leafs, who were the Northeast Division leaders just two weeks ago, and third in the East, have fallen to third in the Northeast, and number eight overall in the very tight Eastern Conference.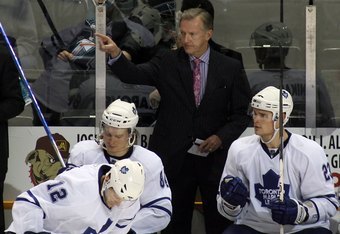 Christian Petersen/Getty Images
In two weeks, a penalty kill that Wilson has failed to resolve now has the Leafs of such recent high flying, on the cusp of falling out of the playoff spots in the East altogether. Yikes.
You've got to wonder now if Burke's excuses, if that was your perception, are going to hold up now. With the recent spat of head coach firings across the NHL (Carolina, Los Angeles, Washington, and now Montreal), you've also got to wonder if that fever is going to spread to southern Ontario.
I'm not being ironic here either. Already stated was my wordy excuse-making for Wilson's first few seasons.
Still, if the Leafs fall out of contention completely, Burke has got to make a move. He has replied to the question of changing coaches before, that he would seek to augment the team somehow before any coaching changes were made, and if the Leafs do fall out before, say, Mike Komisarek, Matthew Lombardi, and Mike Brown return, he might wait to see if their return helps stabilize the free falling shorthanded effectiveness. 
There's been a lot of speculation surrounding Wilson this season. He's in the last year of his contract, and although he once mentioned the possibility of retiring at the end, the topic, within the media, of a contract extension has been anything but rare.
Burke has asked for patience with Wilson, and in most cases, he's probably deserved more than he's gotten. Though, through six seasons of non-playoff hockey, it will be the hardest sell of Burke's tenure in Toronto to legitimize further patience with a coach who's ineffectiveness in addressing the PK is seeing the Leafs fall out of the golden top eight spots in the conference.
Is a trade in the future? Is there a player out there who can help the Leafs' penalty killing woes? Wasn't Ron Wilson supposed to be a defensive-minded coach to begin with? These questions have been held off by the progress of the Leafs under Wilson, and their stellar five-on-five play, as stated, but the worst fears have finally reared their heads in Toronto:
The Leafs' early success this season will not last unless the penalty kill changes immediately. What's Burke's move to save this season, the season that by any other account should see an otherwise competent Maple Leafs team reach the postseason?
This is a legitimate reason for Ron Wilson to start considering his job security.