Strikeforce Results: Melendez Dominant, but Not Deserving of No. 1 Ranking
December 18, 2011
Gilbert Melendez stepped into the cage yesterday night and did everything expected out of a champion.  The only way he could have been better is if he had stopped Masvidal instead of winning the unanimous decision.
There was not one round he didn't seem to win and it was actually surprising to see one judge score it 49-46.  Melendez easily kept his spot as a top lightweight in MMA but going into the fight, fans expected that he would.  All he had to do was live up to what they and the betting odds predicted.
But has Melendez done enough to be called the best lightweight in the world?
In one word?  No.
Melendez did well, but fans should take into consideration that he was the favorite moving into this competition.  Making it worse, Masvidal admitted to terrible habits such as staying up late and eating junk food.  
Statements like that made it hard to take him seriously as a challenger, no matter how good his record was and what kind of fights he put on in the cage.
Melendez was impressive whenever the fight was on its feet, where he should have been in the most danger.  In what could have been a dangerous scenario, he was able to give Masvidal all he could when it came to striking and proved that he had nothing to worry about.
The only problem for Melendez when it comes to the rankings is that he did what was expected of him. He beat an opponent that fans thought wasn't as skilled.
When it comes to the rankings, Melendez has a different opponent then the one he faced in the cage. He has to face Frankie Edgar.  And as impressive as Melendez was, he is no Edgar.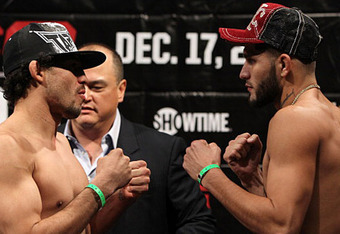 Frankie Edgar, who is the UFC lightweight champion, has been an underdog in all of his lightweight championship fights.  When he faced BJ Penn the first time, many thought he was not as skilled as Penn.
He won the title, proving them wrong.
Then he won a rematch with Penn when many felt the first decision had been somewhat dubious.  
Edgar then went on to face Gray Maynard, the only man who ever beat him, survived a horrible first-round beatdown and rally back fight to a draw.
He then took an immediate rematch with Maynard and survived yet another harrowing assault in the first stanza to come back and this time knock him out.
Compared to that, Melendez is a little lacking.  And yet it isn't really Melendez' fault.  He is fighting in a second-tier organization with many of the fighters in it being decent, but not quite making it to his level.
If he went to the UFC he might be able to improve his standing.
Sadly, he can't do that, and it leaves him stuck in a hard place.
In this case, that place is somewhere near the top, but not at the summit.