Dallas Cowboys Take Care of Tampa Bay, Now Face Biggest Games of the Season
December 18, 2011
Al Messerschmidt/Getty Images
Once again, the holiday season is upon us, and the Dallas Cowboys are in the playoff race.  And once again, fans hope this is the year that the inconsistency and disappointment that has plagued the Cowboys in recent Decembers can finally be overcome.
The Cowboys did what they needed to do Saturday night, overwhelming an inferior Tampa Bay Buccaneers team 31-15, but not before the Dallas defense was able to make things interesting.
Dallas started this must-win game with a near-perfect first half, featuring a defensive shutout, a fresh Felix Jones and Tony Romo throwing for three touchdowns and running for another.
However, despite gaining a dominating 28-0 lead, the Cowboys once again came out flat in the second half. 
The offense looked lost on their first series, which moved backwards and culminated in Tampa Bay returning a Tony Romo fumble for a touchdown.  Afterwards the offense played conservatively and relied heavily on Jones to eat up time on the clock.
The defense was inexplicably unable to stop Tampa Bay quarterback Josh Freeman in the third quarter.  After passing for a measly 14 yards in the first half, Freeman picked apart Dallas for a 12-play touchdown drive, cutting the Dallas lead to 31-15 and making it a two-score game.
In the final quarter, after surrendering a fourth-down conversion on an ugly missed tackle by Sean Lee, the defense was able to get stops on two subsequent fourth-down attempts and maintain the lead.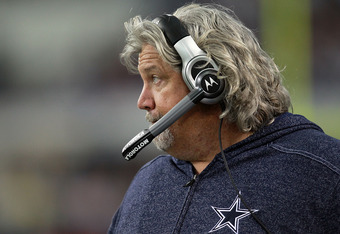 Ronald Martinez/Getty Images
There were several bright spots in this game, including an All-Pro caliber performance by Romo (QB rating of 133.9), a 108-yard rushing game by Jones and an impressive debut by Sammy Morris (53 yards rushing on 12 carries).  DeMarcus Ware collected his 15th sack, and the defensive front-seven starters were able to rest for much of the second half.
Now the Cowboys control their own destiny and can earn their spot in the playoffs by winning their remaining two games against division rivals the Philadelphia Eagles and New York Giants. 
If the Cowboys have any hope of making a playoff run, Romo will have to continue to play solid football.  As Romo goes, the Cowboys offense goes, and he once again has the chance to exorcise his December demons.
Most importantly, if the Cowboys are to keep winning, the defense will have to play a consistent four quarters.  Lapses like the ones in Tampa Bay have played a huge part in this season's late-game breakdowns and could be disastrous as the Cowboys face much tougher opponents in the next few weeks. 
Rob Ryan's defense was thoroughly whipped by Philadelphia in their last matchup and blew a 12-point lead in the final five minutes of the first game against New York.  Now they get rematches against both teams, and it's time to finally step up.