Vanessa Bryant: How Much Will Kobe Bryant Have to Give Up in Divorce?
December 18, 2011
Kevork Djansezian/Getty Images
Now that Kobe Bryant's divorce from his wife Vanessa is all but official, the question is, how much will the Los Angeles Lakers superstar have to relinquish?
TMZ first reported that the couple did not sign a prenuptial agreement when they married back in April of 2001 and that, as such, Vanessa is entitled to half of her soon-to-be-ex-husband's earnings since then.
The exact monetary value of those assets, though, remains in doubt. At this point, the only near-certainty is that Vanessa will get to keep the $4 million Mediterranean mansion in Newport Beach they bought together and the $4 million apology ring Kobe put on her finger after he was charged with sexual assault in the summer of 2003.
The rest is up in the air. CNBC sports business guru Darren Rovell estimated Kobe's net worth at around $360 million, which would require that Vanessa come away with a whopping $180 million or something thereabouts.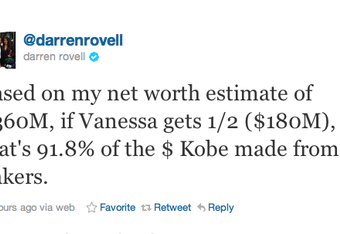 However, according to TMZ, Kobe's value is actually closer to $150 million, leaving Vanessa with a still-substantial $75 million but a full $105 million less than Rovell's predicted total.
It's entirely possible that none of those numbers are at all reflective of how much Vanessa will get as a result. The two parties have already resolved the numerous issues stemming from their somewhat surprising split, financial details included.
Regardless of the final tally, there's little reason to shed even a single tear for Kobe and his bank accounts. The Black Mamba is scheduled to earn $84 million over the next three years from his current contract with the Lakers.
That, of course, doesn't include the many millions more he'll rake in from his myriad endorsement deals, including contracts with Nike, Coca-Cola and Turkish Airlines.
Perhaps, then, Vanessa would've been wise to hold out for another few years before calling the whole thing off.