Tennessee Volunteers Football: What Does 2012 Hold for Tennessee?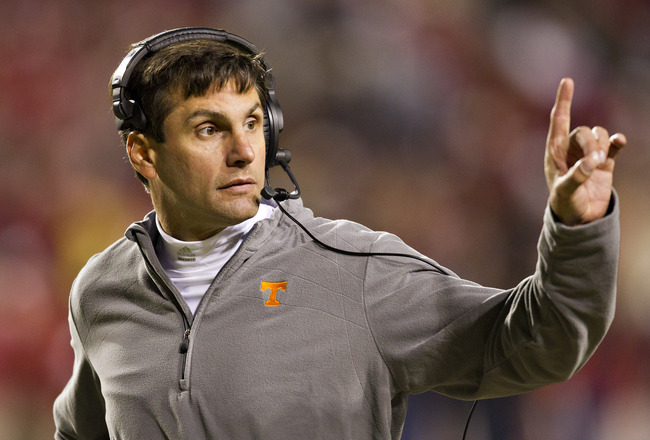 Wesley Hitt/Getty Images
Bowl season is upon us, but for Tennessee, the season is over. So...on to next season!
The full schedule isn't up and with the shifts in the SEC, no one knows what SEC West teams (other than Alabama) the Vols will be playing.
Here are the teams we know Tennessee is playing and when: NC State, Georgia State, Florida, Akron, Georgia, Troy, Vanderbilt and Kentucky.
Given that Tennessee plays Alabama every year and the remainder of the SEC East, we also know that Tennessee will play Missouri, Alabama and South Carolina. That just leaves one of the SEC West teams, and it could be anyone.
So, given what we know, what can we expect from Tennessee next year?
Here's a (very) early preview of all of the known games.
Week 1: NC State (Neutral Site)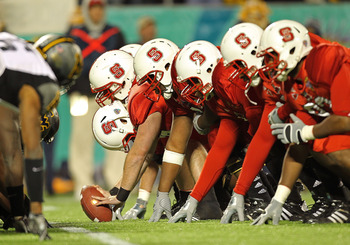 Mike Ehrmann/Getty Images
NC State, like Tennessee, had a disappointing season this year. They went 7-5 and get to face Louisville in the Belk Bowl, but their fans were talking 9-3 or better at the season's start.
They showed flashes of greatness at points in the season. For instance, they shut out North Carolina and held Clemson to only 13 points.
On the other hand, they were shut out by Florida State, lost to Boston College and were blown out by Cincinnati 44-14 (and the game wasn't even that close).
Part of their problem was injuries, but they were still just inconsistent. They'll lose a few players to the NFL or graduation, like their leading receiver T.J. Graham and quarterback Mike Glennon. But either way, they'll be returning a lot of starters, so they'll be tough.
Fun fact: The last time Tennessee played NC State in their opener, they went on to win every game of the regular season and claimed a National Championship the next year.
Week 2: Georgia State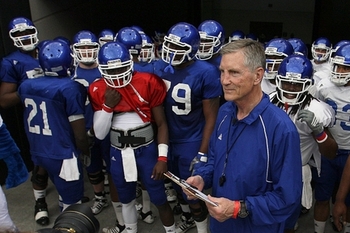 Georgia State is an FCS team. Nuff said.
But seriously, Tennessee completely spanked Montana this last season, and they nearly got to the FCS national championship.
That's just how big the difference is between FCS teams and the SEC. Furthermore, Georgia State was 3-8 this season.
This won't even be fair.
Week 3: Florida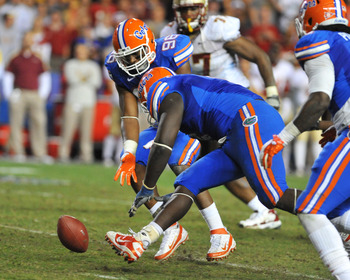 Al Messerschmidt/Getty Images
The good: Florida only went 6-6 this year, lost their hot shot offensive coordinator and will have to travel to Neyland next season to face Tennessee.
The bad: Florida beat us, yet again, in 2011.
Florida will be losing a lot of offensive steam when they lose both of their running backs, Jeff Demps and Chris Rainey, to the NFL this season. They will also lose a good bit of defensive talent with defensive tackle Jaye Howard leaving.
Still, Florida has great recruits sitting right behind them, so they won't be pushovers by any stretch of the imagination.
However, Tennessee returns all its stars from this season except for Malik Jackson, Tauren Poole and Austin Johnson, so we ought to have the stronger team. However, if injuries pillage Tennessee like they did last season, then we could lose to anyone.
I'm trying to stay optimistic for next year though.
Week 4: Akron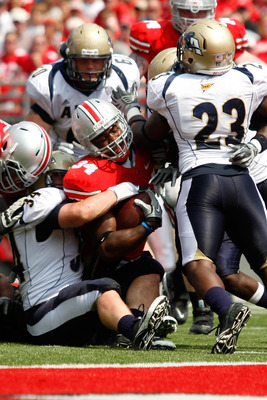 Kirk Irwin/Getty Images
Again, this shouldn't be close.
Akron is a bottom-dwelling MAC team that only won one game this season. That's pretty bad.
Like Georgia State, Tennessee should win this one handily with just the backups in.
Week 5: At Georgia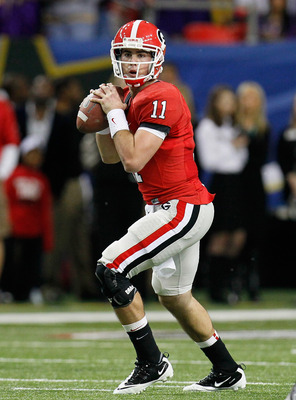 Kevin C. Cox/Getty Images
This one is tough to call.
Georgia has landed top recruiting classes for several years in a row but will lose cornerback Brandon Boykin, center Ben Jones, left tackle Cordy Glenn, tight end Orson Charles, along with a few other defensive starters.
However, they will return running back Isaiah Crowell, receiver Malcolm Mitchell, and most importantly, quarterback Aaron Murray. They will also have the home-field advantage.
Of course, predictions made 11 months in advance are rarely even remotely accurate, but I'd say that, with all the talent Georgia is losing this season, Tennessee should be able to edge them out in 2012.
Week 10: Troy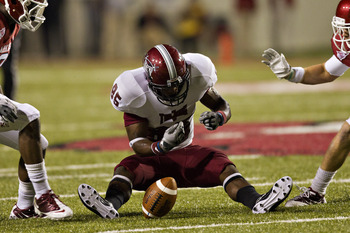 Wesley Hitt/Getty Images
No, you didn't just skip a bunch of slides. After Georgia, the next scheduled game, at this point, is in Week 10 against Troy.
Troy usually fields a pretty good team, but this year, they faltered, going 3-9 in a better than average Sun Belt.
One of their wins was a 38-35 victory over Middle Tennessee State. You might remember them as the team Tennessee beat 24-0 with a backup quarterback who threw about 30 interceptions against South Carolina.
Another win for Troy came against Florida Atlantic, who didn't win a game this season.
The out of conference schedule for Tennessee is starting to look pretty easy again.
Week 12: At Vanderbilt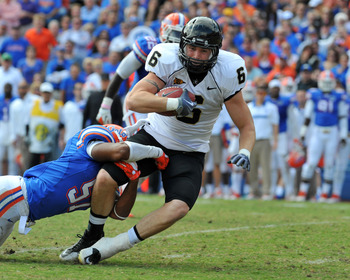 Al Messerschmidt/Getty Images
Tennessee barely did it this season, but we managed to hold on in a close game and come out with a victory over Vandy.
Next year, Vandy will be a little weaker, and Tennessee will be a little stronger. Standout corner Casey Hayward and middle linebacker Chris Marve will be gone to the NFL, but they'll return Jordan Rodgers for his senior season.
They'll also have a special running back in future freshman Brian Kimbrow, from Memphis. He reportedly runs a 4.28 second 40. For reference, Chris Johnson ran a 4.26.
Furthermore, Vandy will have the home-field advantage as well. Still, I think Tennessee will be able to keep the streak alive against them.
Week 13: Kentucky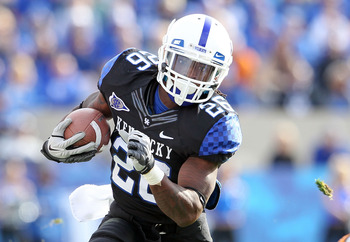 Andy Lyons/Getty Images
No. Tennessee will not let it happen twice.
Kentucky's streak against Tennessee ends at one.
TBA: At South Carolina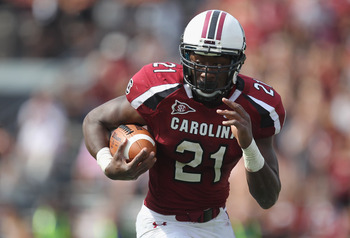 Streeter Lecka/Getty Images
South Carolina will return Marcus Lattimore for what's likely to be his NFL season. Hopefully, some of what made him great was South Carolina's running backs coach Jay Graham, who Tennessee hired away this season.
South Carolina will lose wide receiver Alshon Jeffery, corner Stephon Gilmore, defensive ends Melvin Ingram and Devin Taylor and tackle Rokevious Watkins to the NFL. That's a lot of talent to replace.
But again, and I can't stress this enough—Marcus Lattimore!
Also there's Jadaveon Clowney, who had a phenomenal freshman season.
South Carolina will continue to be tough next season.
TBA: Missouri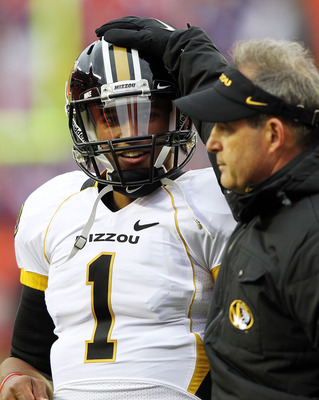 Jamie Squire/Getty Images
Since they're new to the SEC East, there's no telling whether or not this game will be home or away, and it could be either.
Missouri was a tough squad this season. They went 7-5 in a very tough Big 12 and had wins against Texas A&M and Texas. Other than that, however, they lost against every tough opponent they faced.
They're gonna lose tight end Michael Egnew, left tackle Dan Hoch, defensive end Jacquies Smith, defensive tackle Terrell Resonno and linebacker Zavier Gooden.
That's a lot to replace, but they were definitely a better team than Tennessee this year.
This ought to be a very close match.
TBA: Alabama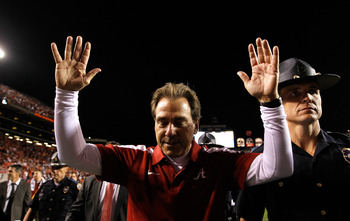 Kevin C. Cox/Getty Images
The only SEC West opponent that Tennessee knows it will be facing is the same one it's faced 93 times before—Alabama.
Alabama has owned this rivalry in the last decade, but they will lose about 32 players to graduation this year, not to mention the many underclassmen that will be leaving early for the NFL.
However, it's still Alabama. They turn out top recruiting classes every single season and then coach them into winners.
However, if there was ever a time that Alabama will have an off year, it'll be next season. Furthermore, Tennessee will get to host them in 2012, which may finally shift the game into Tennessee's favor.
Don't get me wrong, I'm not saying Tennessee will beat Alabama next season, but I am saying that, with a team full of juniors and seniors, we'll have the best chance we've had in years.
Recap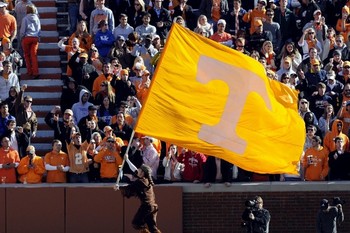 Next year, Tennessee's expectations will be high. Pretty much all of the starters are returning, the schedule should be easier (unless that last unknown game is against LSU again), and everything will be on the line.
After a 5-7 season, Derek Dooley is officially on the hot seat. If he doesn't win at least eight games, he'll probably be fired.
But again, I'm optimistic. Tennessee should finally be Tennessee again next year. The defense was starting to really look good at the end of the season, and it'll be better next season.
On the other side of the ball, Tennessee's offense looked phenomenal at the beginning of the season when everyone was healthy. When Tyler Bray and Justin Hunter are back at 100 percent, with Da'Rick Rogers and a revitalized run game in there as well, I'm not worried about Tennessee's ability to score.
Eight games ought to be easy to get. With a little good luck next season (all we had in 2011 was bad luck, it seems), a 10 win season isn't entirely out of reach.
Keep Reading

Tennessee Volunteers Football: Like this team?