New York Knicks Rumors: Baron Davis Would Be Perfect Fit
December 18, 2011
Jared Wickerham/Getty Images
Baron Davis cleared the waivers on Friday and the New York Knicks would be wise to pick up the veteran point guard.
Davis has reportedly drawn interest from several title contenders, as his list of possible teams includes the Knicks, Miami Heat and Los Angeles Lakers.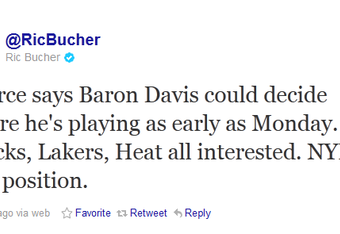 If the Knicks are smart, they'll do whatever it takes to get him to New York.
Throughout his career, Davis has battled weight and motivation issues. But when his head and body are in the right shape, he's as effective as any point guard in the league.
It's also no secret that he loves the spotlight.

New York, with its media, passionate fans and bright lights, would be a perfect situation for Davis.
He was born to play in Mike D'Antoni's run and gun, defense be damned system. He can throw alley-oops to Amar'e Stoudemire and Carmelo Anthony, let Tyson Chandler bail him out on defense and bask in the glory that only Madison Square Garden can provide.
He is 32 years old and will miss at least eight weeks with a bulging disk in his back, but I think this is a low-risk, high-reward scenario for New York.
He wouldn't be signed for more than $2.5 million and he clearly has a lot left in the tank. It was just last season that a revitalized BD was delivering Blake Griffin alley-oops on a silver platter.
Davis wouldn't make the Knicks favorites in the East, but he is more than capable of leading them on a deep playoff run.
The Knicks took a huge step forward when they signed Chandler. Now they need to round out their lineup by picking up Davis.